BOYCOTT MFC GLOBAL INVESTMENT MANAGEMENT*, JOHN HANCOCK INSURANCE and MANULIFE.

July 2012: College Creek Wipeout! FSC/AFS certified Clearfells in site of National Conservation Significance/Rainforest Reserve

New: Strzelecki Cores and Links Background Information here. Cores and Links spared by February 2009 fires.

Boycott F.S.C. certifiers Smartood who like Hancock are also profiting from threatening Victorian rainforest.

Google Earth Image of Morwell River East Branch, highlighting cool temperate rainforest (in green). Rainforest buffer destruction by Hancock on a catchment scale. All of the logging of rainforest buffers in this image has occurred post FSC certification. Morwell River East Branch Rainforest is regionally significant, College Creek is a site of state significance for its rainforest attributes and national conservation significance for its conservation attributes. This kind of practice would not be allowed elsewhere in Victoria, yet Hancock and their shareholders continue to profit whilst threatening the long term survival of rainforest. You do not have to log rainforest to kill it!

College Creek Strzelecki Ranges June 29, 2008: Local community protest Hancock's upcoming plans to log College Creek. College Creek was supposed to be protected under a Heads of Agreement signed in October 2006. On May 31 2008: Hancock and the State Government, with support from The Wilderness Society and Victorian National Parks Association, agreed to allow the gutting of this site of national conservation significance. Noone from the local community was informed of this betrayal.

Strzelecki Cores and Links Rainforest Reserve. Image on left shows what the community lobbied for. Image on the right is Hancock's agenda. Logging coupes in white. Red represents cool temperate rainforest - extremely vulnerable to disturbance.
*MFC Global Investment Management is the institutional investment management arm of Manulife Financial. MFC Global Investment doubled its size in April 2004 through the merger of Manulife Financial and John Hancock Financial Services.

Hancock Natural Timber Resource Group is a subsidiary of MFC Global Investment Management.

Strzelecki Ranges, a privatised forest. All of the shaded land (above) is now classed as private land and controlled by Hancock. Purple is leased land for 99 years, Orange is leased land for 60 years and Gold is private land.

STRZELECKI KOALA FACING EXTINCTION!!!
In October 1998 Hancock first purchased large amounts of land in the Strzeleckis. Almost one decade later; "We do not have a Specific BMP for Koala's. Grand Ridge Plantations is currently working with the Australian Koala Foundation on a Koala Management Plan. This project is awaiting the completion of the current EVC mapping project in the Strzelecki ranges." Owen Trumper Manager Grand Ridge Plantations January 22, 2007.
Why should Australia's environment suffer so that American and Canadian's can enjoy a comfortable retirement?
Hancock Victorian Plantations were certified by the Forest Stewardship Council (FSC) (Feb 2004) for their timber operations throughout Victoria. The certification was premature and has been an ecological disaster in the Strzelecki Ranges. It is our belief that many of the plantations purchased by Hancock were initially established with limited environmental considerations. Is it responsible to certify a land use that was initially created by unsustainable practices? What onus is there on the company to significantly improve their logging practices in plantations established with limited ecological foresight 40 years ago?
We also urge people to get in contact with the World Rainforest Movement whose recent publication 'Certifying the Uncertifiable' addresses a number of concerns regarding FSC and their role in certifying plantation monocultures). World Rainforest Movement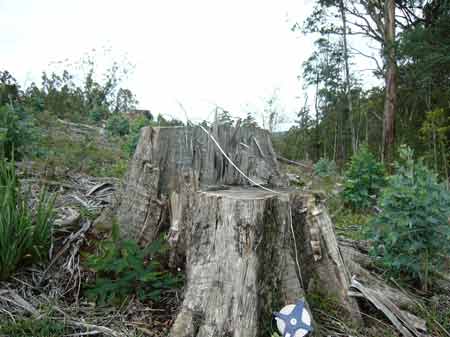 Native forest removal by Hancock late 2007 (Mirboo Gippsland). This stump had a circumference of over 20 feet.
Historical Perspective by Hancock Watch retained on this website for historical purposes.
August 2000.
We have heard that in the United States, Hancock have denied that they are logging native forest and koala habitat. Bob Sundmacher, vice president of corporate communications, asserts that the company is not logging native forest in the Strzelecki Range, but only its "plantations". (Source: The Institutional Real Estate Letter. Volume 12, Number 7. July 2000. Hancock Timber, Conservation Foundation to Map Koala Habitat. Scientist notes that aims are worthy, practices questionable. By Nancy Gordon). We have been forced to create this website in order to convey to the American and Australian public that Hancock are indeed logging native forest and koala habitat in the Strzelecki's. This situation has also recently come to light through the FSC Assessment.
We have called this site Hancock Watch. We are very interested in anyother groups or people out there who have had any problems dealing with Hancock, particulary in regard to their forestry operations.
If we see that Hancock's 'on the ground' practices improve,we will be happy to include those improvements on this website. We are also willing to lift the boycott on Hancock if significant improvements are made - especially in the Strzelecki Ranges. We realise that Hancock have 'inherited' many problems, and we hope that the company can significantly improve its performance in the following years.
WHY SHOULD AMERICAN AND AUSTRALIAN PENSION AND SUPERANNUATION HOLDERS BECONCERNED ABOUT HANCOCK TIMBER RESOURCE GROUP AND THEIR ACTIVITIES INTHE STRZELECKI RANGES OF VICTORIA AUSTRALIA?
The purchase of the Victorian Plantation Corporation (VPC) by Hancock Timber Resource Group (HTRG are a subsidiary of John Hancock Mutual Life Insurance Company) in November 1998, and Australian Paper Plantations (APP) is Hancock's largest purchase of forested land and their first foray into the overseas market. Many people living in Victoria have been concerned about the lack of sustainability of both VPC and APP for many years. They now have concern that a US based multi-national will not properly respond to issues concerning environmental and social implications of broad scale plantation based forestry.
Why should Australia's environment suffer so that American's can enjoy a comfortable retirement?
Much of the capital financing Hancock's operations in the U.S, and Australia is likely to be retirement funds of U.S and Australian teachers and university staff. In Australia these funds are called superannuation funds. It is crucial that the average American worker is told the truth about where their retirement funds are being invested. How many Hancock insurance holders realise that their retirement could be funded through the extinction of possibly the most significant koala population remaining anywhere in Australia. Victoria's cool temperate rainforest is suffering from a similar plight.
We are convinced that if information can be circulated throughout the United States about the activities of Hancock in Australia, many insurance holders with Hancock will be unhappy and many will want their concerns properly answered. That is why it is vital that our message by heard.
If this information can be circulated amongst environmental organisations and shareholder organisations in the US, we would greatly appreciate it. There is not much time left for the Strzeleckis. Hancock are deliberately targeting the best of what little remains of an area that once grew the largest trees on the planet.
Please take the time to contact the following address. Ask them to stop logging native vegetation in the Strzelecki Ranges and to protect the Strzelecki Koala.
STRZELECKI KOALA FACING EXTINCTION