STRZELECKI RAINFOREST HOTSPOTS
JUNE 2003
JEERALANG CREEK EAST BRANCH

Logging in close proximity to Jeeralang Creek rainforest. Google Earth image probably taken early 2007.
This rainforest area extends for approximately 3-4km's along the east branch of Jeeralang Creek on the northern slopes of the Strzelecki Ranges. The area can be accessed via a track from Jeeralang West Road. To some people the area is known as 'The Hidden Valley'. The rainforest is located in the Parish of Jeeralang with rainforest found in allotments currently mortgaged with Westpac Bank (The allotments include 9, 8 and 7 Section D). A large portion of the catchment is Crown Land (allotment 10 section D) that was initially leased by Hancock's predecessor Australian Paper Manufacturers (APM) under the 1961 Wood Pulp Agreement which saw some 8000 acres of the Strzelecki's leased to APM for 'reafforestation'.
Hancock Watch has been unaware of the significance of this catchment until quite recently. Most work conducted by Hancock Watch has been focussing on the southern slopes of the Strzeleckis that were controlled by the Victorian Plantations Corporation. Northern Strzelecki slopes were controlled by Australian Paper Plantations who Hancock purchased in August 2001.
It is clear that this catchment is high ecological significance. The only other rainforest area in the northern Strzeleckis that could rival Jeeralang Creek East Branch would be College Creek. Because of the significance of the area Hancock Watch is calling for buffers of 250 metres to be implemented in the Jeeralang Creek East Branch. Hancock has been very busy logging within these buffer zones in the past year. It is vital that logging activity is kept to a minimum in case air and water borne inoculum spread the disease Myrtle Wilt into the catchment. Numerous threatened species have been sighted in this catchment.
Unsatisfactory Response from Hancock (Ian Sandeman General Manager Grand Ridge Plantations) to Friends of the Earth Forest Network (25/6/03).
"Thank you for your letter of 10th June 2003 regarding Grand Ridge Plantations' management of rainforest in the Jeeralang Creek East Branch.
The company is currently mapping all EVC's on our estate with particular emphasis on the Strzelecki Ranges. We have completed approximately 65% of the Strzelecki Ranges.
The EVC mapping has to date identified approximately 600 hecatres of additional Cool Temperate Rainforest (CTR) not previously mapped by the Department of Primary Industry.
Work has commenced in mapping the CTR in the Jeeralang Creek East Branch and preliminary assessment of its significance suggests it is of Regional significance.
We are currently considering how to best manage CTR protection as we acknowledge that it is a threatened EVC and that Myrtle Wilt is potentially a threat.
The company does consider buffering requirements to protect CTR on a case by case basis. The minimum standard is our current Best Management Practices which prescribes 20 metre buffering from the edge of the CTR of Regional significance. This may increase in the case of Jeeralang Creek East Branch given the extent of native vegetation surrounding the CTR. There is also 50 metre buffers on all permanent streams in this catchment.
I trust that this has addressed your concersn.
Yours sincerely,
Ian Sandeman"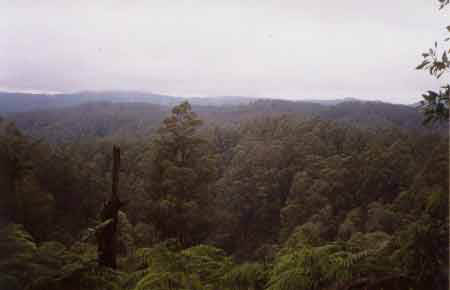 June 2003: View looking east into the Jeeralang Creek East Branch catchment.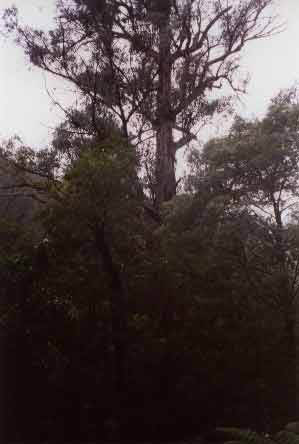 June 2003: Old Growth Trees are located in the catchment.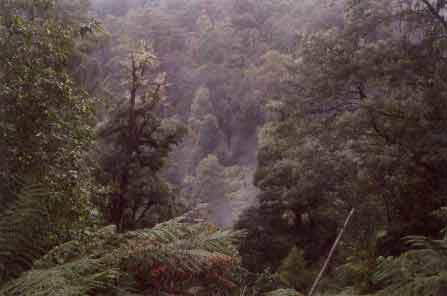 View looking down one of the tributaries of Jeeralang Creek East Branch into cool temperate rainforest.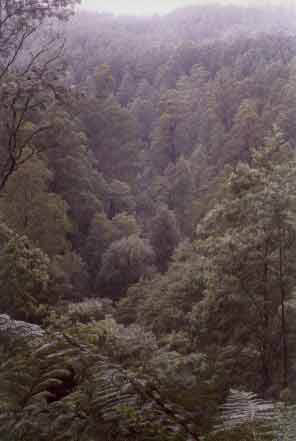 June 2003: Another view looking down one of the tributaries of this significant cool temperate rainforest areas, dominated by Myrtle Beech and Sassafras.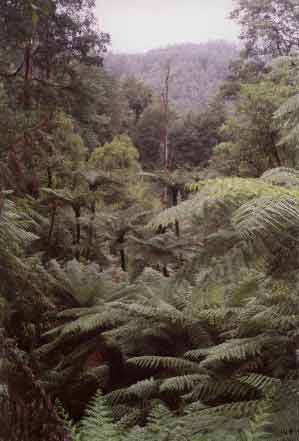 June 2003: Threatened species including Slender Tree ferns and Skirted Tree Ferns can be found in this catchment.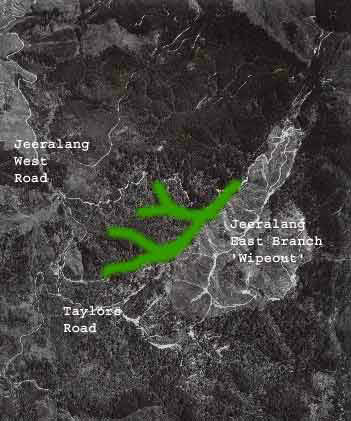 Aerial Photograph of Jeeralang Creek East Branch from December 1966 showing the extent of forest destruction implemented by Australian Paper Manufactuers. Forest, including rainforest, was cleared to the edge of Jeeralang Creek East Branch leaving minimal buffers along the eastern side of the creek. The battle now is that 'plantations' established too close to the rainforest in 1966 are being cleared again, increasing the likelihood of spread of Myrtle Wilt. Please note that rainforest location is approximate and is based on 2003 observations. 250 metre buffers are required at this site.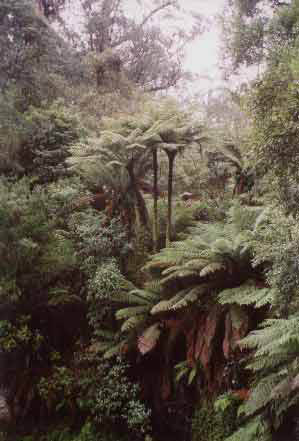 June 2003: More examples of threatened ferns in a gully.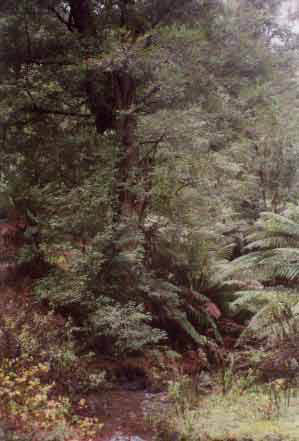 June 2003: Old Growth Myrtle Beech growing next to Jeeralang Creek East Branch near the creek crossing with Road 9.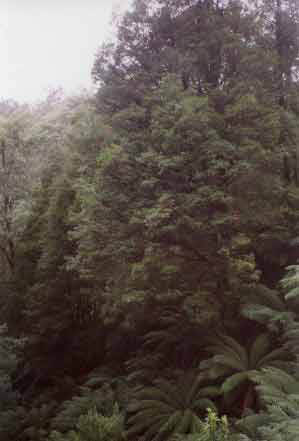 June 2003: Another excellent quality Myrtle Beech tree inside the catchment.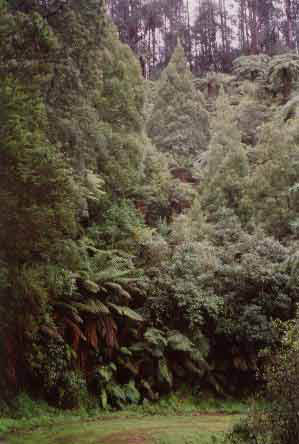 June 2003: Sassafras (tree with the conical tree head) growing in gully tributary of Jeeralang Creek East Branch.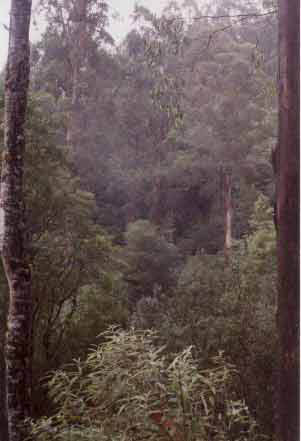 June 2003: Looking over gully into stand of old growth forest inside the Jeeralang Creek East Branch catchment.