Gippsland Hardwood Plantations: One Big Unproven Experiment
E. globulus (Blue Gum) plantations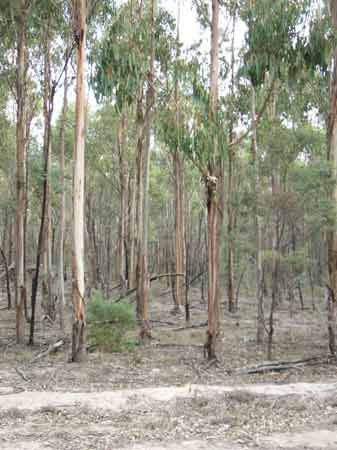 Central Gippsland April 2007: Exceedingly poor growth rates (>50% less than predicted) in Hancock E.globulus plantations - The plantations in background in this photo were twelve years old and were soon bulldozed by Hancock (see image below). See here for more information. Podzolic soils and E.globulus plantations do not mix.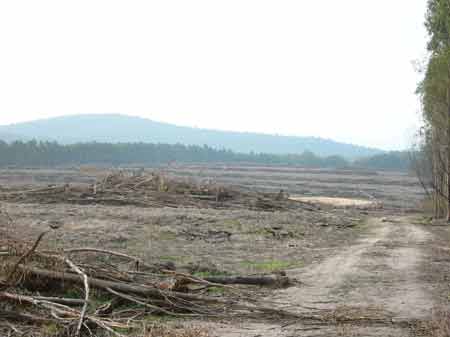 "In Gippsland, poor performance on low-rainfall sites has led to E. globulus being established only where MAR is >800 mm (Grand Ridge Plantations 2004)...Growth has been disappointing in Gippsland on poorly drained duplex soils with MAR <800 mm (Grand Ridge Plantations 2004)...Copper (Cu) deficiencies in Gippsland and in western Victoria (Bail et al. 2002) are common on sandy soil types. Zinc (Zn) deficiencies have also been reported on duplex soils in <800 mm MAR regions in Gippsland. In 2004, Grand Ridge Plantations (GRP) were recommending the addition of phosphorus (P), potassium (K), Cu and Zn at planting to second-rotation, flat, well-drained sites in Gippsland (Grand Ridge Plantations 2004). From results of later-age nutritional research in Victoria, Feikema (2005b) concluded that while growth responses to later-age fertiliser applications may be obtained in some plantations, these are unlikely to be economic...One of the major reasons for the sub-optimal performance of E. globulus managed by Hancock Victorian Plantations (HVP) in Gippsland is speculated to be mycosphaerella leaf disease...Historically E. globulus has been regarded as a reliable performer when planted on suitable sites. In recent years it has become apparent that the overall performance of most E. globulus plantations managed by HVP across their entire Gippsland estate has been disappointing; the performance of E. globulus on second-rotation sites has been particularly poor across HVP's estate. The reasons for poor performance in some cases can be related to site requirements of the species not being met. Of particular concern, however, is that many high-rainfall sites on good soils have also failed to meet productivity expectations. The precise reason for this is not clear, although MLD is speculated as a contributing factor." Source: http://www.dpi.vic.gov.au/__data/assets/pdf_file/0009/5679/woolybutt.pdf
E.nitens (Shining Gum) plantations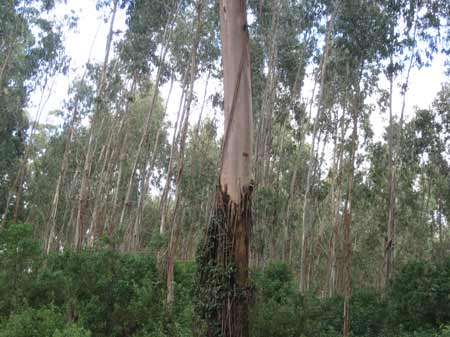 Strzelecki Ranges July 2012: Exceedingly poor growth rates in E.nitens plantations - The plantations in background of this photo (not tree in front) are ten years old and are increasingly being observed in the Strzeleckis.
"The minimum MAR for E. nitens ranges from 700 to 850 mm. Industry managers prefer sites that receive >800 mm y –1 (Grand Ridge Plantations 2004) or >850 mm y –1 (Laffan 2002). This species is regarded as being less tolerant of dry conditions than E. globulus (Battaglia 2006): E. nitens is considered sensitive to hot, dry winds and drought (Hall et al. 1972 cited by Bird 2000). In Gippsland, E. nitens performed more poorly than E. globulus on sites with a low ratio of MAR to evaporation (Duncan et al. 2000), confirming observations for Tasmanian E. nitens plantations (Battaglia 2006). On second-rotation sites in Gippsland the MAI of E. nitens at age 11–12 y declined dramatically from 25–29 m 3 ha –1 to <15 m 3 ha –1 when MAR was <950 mm (Duncan et al. 2000)...The evidence suggests that E. nitens should not be established in southern Australia where MAR <800 mm. In Gippsland and other areas of Victoria, there is a good argument for not establishing this species on sites with <1000 mm MAR. The distribution of rainfall is critical to the performance of E. nitens and it is inferior to E. globulus in tolerating summer moisture deficits...Eucalyptus nitens is expected to require higher available soil water contents than E. globulus to sustain satisfactory yields. There are many examples of failed E. nitens plantations, particularly in north-eastern Victoria, on sites with MAR >1000 mm and altitudes >300 m..." Source: http://www.dpi.vic.gov.au/__data/assets/pdf_file/0009/5679/woolybutt.pdf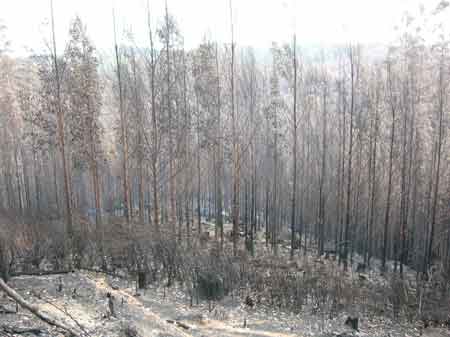 February 2009: Hancock loses 25% of its hardwood plantations (possibly >50% of its E.Nitens plantations) in one week due to fire.
June 20 2012: Timber Giant Fears Hancock Prices To Cost Jobs
June 15 2012: Fears Unsustainable Contracts Sending Sawmillers 'Broke'
March 10 2011: Jobs To Be Cut In Sawmill Closure (Latrobe Valley Express)
ANOTHER surge in job losses for the Latrobe Valley is expected in the coming months with McCormack Demby Timber notifying employees it is closing its doors. One concerned senior worker said there were almost 60 workers who would be "thrown out the door". The employee, who asked to remain anonymous for fear of jeopardising his redundancy payment, said workers have been notified the business is closing but not of their "official" redundancy. "They have just told us there won't be any work," he said. In regard to redundancy notification and payments, the company's Morwell site manager Rod Smith said "it is all up in the air at the moment". McCormack Demby Timber general manager Ross Smith confirmed the sawmill would cease operating mid-May. Construction, Forestry, Mining and Energy Union solicitor Timothy Wetherell said the company had "absolutely not" approached the closure in the appropriate way. "There has been a totally lack of transparency," he said. Mr Wetherell said the CFMEU had been working with the company since last year over various concerns. "We sought a pay increase last November and they said 'absolutely not'," he said. "There was suspicion then they were going to make a lot of people redundant soon. "We also allege there are underpayments in relation to a couple of workers." Mr Wetherell said another concern is the possibility of sending the jobs offshore. "It is noted they will be sourcing their timber from overseas," he said. "Obviously there are environmental consequences that float from that. "Asia's regulations are not as sound as they would be in Australia." He said it was a disappointing decision because jobs are "tight" in the Latrobe Valley. McCormack Demby Timber part-owner Garry Demby said the company was "looking at different options". He said one option would be to source their products from overseas markets, with America and Asia being considered. He said the impact of the Australian dollar had encouraged more imports, and the cost of sawlogs had also been contributing factors to the closure.
Sep 7 2010: Willmott Forests Collapse
July 26 2010: Advisers Called in to Review Ailing Willmott
"During the year, HVP signed an agreement with Willmott to make up to 10,000ha of HVP land available to its MIS for pine plantations in the period to 2008. HVP will receive a lease fee up front and will be entitled to ongoing management fees" Hastings Fund Management 2006.
Hancock Victorian Plantations "Land Deal". The arrangement involved Willmott Forests establishing softwood plantations on high quality plantation land in all of Victoria's major plantation growing areas" Willmott 2009.
"The receipt of Australian Securities and Investments Commission (ASIC)'s approval of Willmott forests for the utilisation of licensed land for MIS purposes enabled a record amount of land (3019ha) to be transacted with Willmott Forests over the 12 month period. Hastings Fund Management 2008.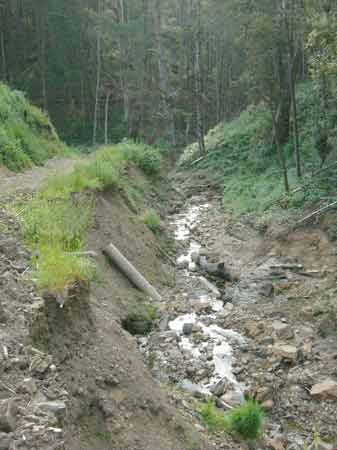 Were Willmott letting MIS investors know what they were actually investing into when they took on leasing some of Hancock's estate? This photo in the Traralgon Creek area shows what happens downstream of one of these leased areas. Hancock unloading unwanted land to naive MIS investors perhaps (see below Willmott leased land Traralgon Creek Catchment/Strzelecki Ranges)?
May 18 2010: Queensland Sells Off Forestry Plantations Queensland for $603m to Hancock Queensland Plantations
Queensland Government PR Blurb Spruiking the Sale of their Plantations.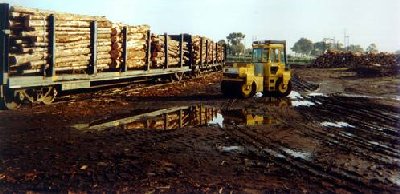 Hancock logs waiting unloading at export site in Geelong
COMPANY INFORMATION: HANCOCK VICTORIAN PLANTATIONS PTY LTD
Click here for detailed background on the sale of VPC to Hancock: Sale of Victorian Plantations Corporation - Report on Ministerial Portfolios - May 1999 Victorian Auditor General's Office
HTRG is a subsidiary of John Hancock Life Insurance Company that is wholly owned by John Hancock Financial Services, Inc. John Hancock is a leading U.S. financial services company, providing a broad array of insurance and investment products and services to retail and institutional customers. As of December 31, 1999, John Hancock and its subsidiaries had total assets under management of $127.3 billion.
HTRG operate in Alabama, British Columbia, California, Oregon, Washington, Alabama,Arkansas, Florida, Georgia,Louisiana, Mississippi, North Carolina, Oklahoma, South Carolina, Texas, Virginia, Maine, New Hampshire, New York, Vermont and Victoria Australia.
According to information supplied by the Australian Securities Commission February 2003;
Hancock Victorian Plantations Pty Ltd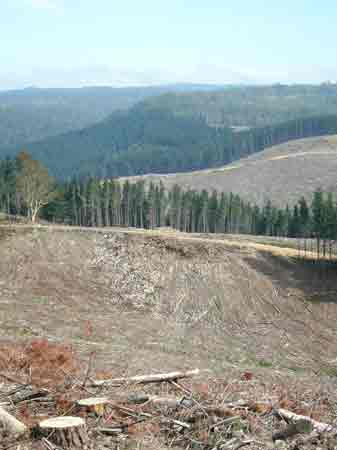 Warrnambool's water supply

Registered Office: Level 3, 517 Flinders Lane, Melbourne, Victoria, 3000

Directors (addresses suppressed for ethical reasons)

Daniel Christensen - Londonderry, USA. Director since 19/10/98.

Michael Morgan - Lexington Ma, USA. Director since 19/10/98.

Bruce McKnight - Livingston, Montana, 01983, USA. Director since 19/10/98.

Ian Ferguson - Camberwell, Victoria, 3124, Australia. Director since 3/12/98.

Martin Smith - Vaucluse, NSW, 2030, Australia. Director since 3/12/98.

Courtland Washburn - Andover, Massachusetts, USA. Director since 1/1/05

Karl Kny - Romsey, Vic3434. Director since 22/9/05

John Gee - Dawes Point NSW. Director since 27/5/04

Raphael Arndt - Malvern East, Vic. Director since 2/2/06

Alan Beanland - Somers, Vic. Director since 23/5/06

Alternate Directors

Michael Morgan - Lexington, Massachusetts, USA - since 1/1/05

Alistair Barker - Kensington, Vic - since 21/2/06

Alan Beanland - Somers, Vic - since 23/5/06

Ian Ferguson - Camberwell, Vic - since 23/5/06

Ultimate Holding Company: Hancock Victorian Plantations Holdings Pty Ltd - 105090459 ORD shares

Share Structure (Sep 2006): 105090459ordinary shares. All shares are owned by Hancock Victorian Plantations Holdings Pty Ltd. Directors are the same for both companies.

There are 6 types of shares in Hancock Victorian Plantations Holdings Pty Ltd;

Class A, B, D, E, F and G.

Class A: 33236631 shares all owned by Hancock Victorian Plantations Australia I Pty Ltd.

(Directors of Hancock Victorian Plantations Australia I Pty Ltd are Daniel Christensen, Michael Morgan and Karl Kny. Ultimate Holding Company: John Hancock Financial Services. 10159862 shares owned by Boston based Forestree Australia I LLC).

Class B: 17247089 shares all owned by Hancock Victorian Plantations Australia II Pty Ltd.

(Directors of Hancock Victorian Plantations Australia I Pty Ltd are Daniel Christensen, Michael Morgan and Karl Kny. Ultimate Holding Company: John Hancock Financial Services. 20358240 shares owned by Boston based Forestree Australia II LLC).

Class D: 16797150 shares all owned by National Nominees, a subsidiary of the National Australia Bank - Superannuation funds.

Class E: 9023368 shares all owned by MLC Investments Limited.

Class F: 9331750 shares owned by SAS Trustee Corporation, a company which manages public servants superannuation in New South Wales. 3732700 shares owned by Perpetual Trustee Company Ltd.

Class G: 2747947 shares owned by Hastings Funds Management Limited. 8701832 shares owned by Utilities of Australia Pty Ltd.
Grand Ridge Plantations Pty Ltd (February 2003).

Mt Tassie - Traralgon Creek catchment. Feb 2002 cable logged ex Australian Paper Plantations (APP) plantation.
2001: Grand Ridge Plantations Pty Ltd control all the ex-plantation assets of both Victorian Plantations Corporation and Australian Paper Plantations in the Strzelecki Ranges and Gippsland Regions of Victoria.
Registered Office: Level 3, 517 Flinders Land, Melbourne, Victoria, 3000.
Directors
Clark Binkley - Cambridge Massachusetts, USA.
Ronald Champion - Camberwell, Victoria.
Daniel Christensen - Londonderry, NH, USA.
Michael Morgan - Lexington, Massachusetts, USA.
Ian Ferguson - Camberwell, Victoria.
Bruce McKnight - Topfield, Massachusetts, USA.
Martin Smith - Paddington, NSW.
David Bartholomew - Pymble, NSW.
Charl Piennar - Artarmon, NSW.
Alternate Director
Marjorie Dolan - Milton, Massachusetts, USA.
Ultimate Holding Company.
PaperlinX Limited, 685-687 Burke Road, Camberwell, Vic, 3124.
Shareholders: 73000000 ORD shares.
Hancock Victorian Plantations: 73000000 shares.
---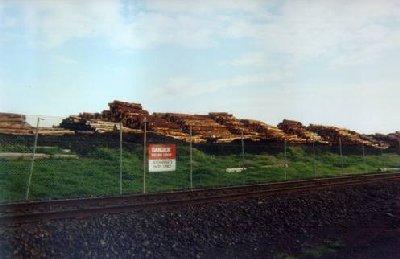 More softwood logs waiting for export.
HANCOCK FOREST LICENCE COMMITMENTS - (UNCOMPLETED)
Victorian Plantations Corporation Act 1993
Act No. 61/1993

Section 30. Forestry Acts and Wood Supply Agreements

(1) On and from the date of commencement of this section, a forestry agreement has effect by force of this section in so far as it relates to softwood, as if it had been entered into by the Corporation instead of the Director-General or the Forests Commission (as the case requires).

(2) Despite anything to the contrary in a forestry Act or forestry agreement, in so far as it relates to softwood, the Corporation -
(a) has the rights and powers conferred on the Director-General by the agreement; and
(b) is subject to the obligations of the Director-General by the agreement; and
(c) is responsible for carrying out the agreement.

(3) To the extent that a forestry Act or forestry agreement relates to softwood, a reference to the Director-General or the Forests Commission (as the case requires) in -
(a) a provision of a forestry Act authorising or requiring the Director-General or the Commission to carry out a forestry agreement; or
(b) a forestry agreement - must, on from the date of commencement of this sub-section, be taken to be a reference to the Corporation.

(4) Despite anything to the contrary in a forestry Act or a forestry agreement, the Corporation may collect and retain for its own use any royalty, fee or charge payable in accordnace with that Act or agreement in so far as it relates to softwood. . .

VICTORIAN ACTS OF PARLIAMENT RELATING TO HANCOCK OPERATIONS

1. Forests (Wood Pulp Agreement) Act 1996
Area to be supplied from Central Highlands native forest, Gippsland native forest and Strzelecki native forest. This quantity is supplied by the State Government. Hancock have a seperate contract which supplies the mill with 'plantation' hardwood and plantation softwood pine.

Area of supply
(a) in each of the years 1996-1997 to 2003-2004 inclusive - 500,000 cubic metres
(b) in each of the areas 2004-2005 to 2006-2007 inclusive - 450,000 cubic metres
(c) in each of the years 2007-2008 to 2009-2010 inclusive - 400,000 cubic metres
(d) in each of the years 2010-2011 to 2029-2030 inclusive - 350,000 cubic metres

Hancock Strzelecki 'plantation' eucalypt contracts for the years 2006 - 2027 are;
| | |
| --- | --- |
| 2006 | 200,000 cubic metres |
| 2007 | 250,000 cubic metres |
| 2008 | 250,000 cubic metres |
| 2009 | 250,000 cubic metres |
| 2010 | 300,000 cubic metres |
| 2011 | 300,000 cubic metres |
| 2012 | 300,000 cubic metres |
| 2013 | 300,000 cubic metres |
| 2014 | 300,000 cubic metres |
| 2015 | 300,000 cubic metres |
| 2016 | 350,000 cubic metres |
| 2017 | 350,000 cubic metres |
| 2018 | 350,000 cubic metres |
| 2019 | 350,000 cubic metres |
| 2020 | 325,000 cubic metres |
| 2021 | 325,000 cubic metres |
| 2022 | 325,000 cubic metres |
| 2023 | 325,000 cubic metres |
| 2024 | 325,000 cubic metres |
| 2025 | 325,000 cubic metres |
| 2026 | 325,000 cubic metres |
2. Forests (ANM Ltd) Act 1980 - Amending Act No 41 CF&L.
Area of supply - means softwood plantations in Victoria within 200km by road from the principal post office at Wodonga: Norwegian company Norske Skogindustrier ASA purchased Australian Newsprint Mills from Fletcher Challenge in April 2000.
years 84-85 to 09-10 inclusive 120 000 tonnes

3. Forest (Dunstan Agreement) Act 1987*

A.Dunstan Timber Sales Ltd 7/4/87. 83-85 Thomas Mitchell Drive, Wodonga, 3690. (Koetong Plantations). Remains in force until 30/6/2026.

d) 2000-01 to year 2025-26 100,000m3 per annum of which up to 20,000m3 from Ovens Plantations*

1997-2026 (no less than 65,000m3 per annum of sawlogs equal to or greater than 20cm - not exceeding 375,000m3 in any 5 year period.

*Amendment 1997
1996-97 to year 1999-2000:72,000 m3 from Koetong plantations.
2000-2025/26: 96,000m3 from Koetong plantations.

4. Forests (Laminex Industries Agreement) Act 1989

For supply of softwood round timber to Laminex Industries from the Ballarat and Otways Softwood Management areas. (Connected to ACI Australia Ltd). Remains in force until 30/6/10. Licence fee $1 per cubic metre commencing 1/7/90.
5. Forests (Softwood Timber Agreement) Act 1969 repealed.

Victree from Otways and Portland region.
iv)2000-01 to 2004-05 90,000m3
v)2005-06 to 2009-10 125,000m3
vi)2010-11 to 2028-29 140,000m3

6. Forests (Softwood Timber Agreement) Act 1969

A.V.Wehl Industries (22-26 Webb Rd Niddrie)
To make particleboard from Ballarat. Plantations from Ballarat, Beaufort, Castlemaine, Creswick, Daylesford, Macedon, Trentham.
1970 2 million board feet
1970-79 6 million board feet
1980-83 9 million board feet
1984 12 million board feet
1985-89 16 million board feet

7. SEAS Sapfor Agreement 1993

180,000m3 per annum - but only if new sawmilling complex capable of sawing and processing 180,000m3 is built. From pine plantations from Portland Softwood Management Area - South West.
2000-01 to 2029-2030 180,000m3
8. Forests (Bowater Scott) Australia Ltd - In 1995 Carter Holt Harvey brought out Bowater Scott. Forest area - 30 miles from Myrtleford Railway Station. CHH now sold to International Paper.
Sited at Myrtleford, AFI is the major production unit of the Forest Products Division of Bowater Tissue Ltd. Its intergrated site operation consists of a sawmill and pulpmill, both commissioned in 1974, and a plymill (the largest site plymill in Australia) commissioned in 1981. The have about 300 staff and 150 staff via contracting companies in logging and transport. In excess of 190,000m3 are processed at the sawmill annually with more than 35,000m3 of wood products being converted in the plymill.
Bowater Scott (1986 Amendment). Now applies to International Paper.
Consumption to rise to 65,000m3 by 2020. Sourced from Benalla Plantations, Koetong Plantations, Ovens Plantations logs for sawlog/veneers
2000-01/2004-05 360,000m3 Ovens (+Koetong)
2005-06/2025-26 400,000m3 Ovens (+Koetong)

9. Forests (Victree Forests Agreement)

Timber sourced from Ballarat, Otways and Portland plantations.

2000-2001 to 2004-05 90,000m3
2005-2006 to 2009-10 125,000m3
2010-2011 to 2028-29 140,000m3


---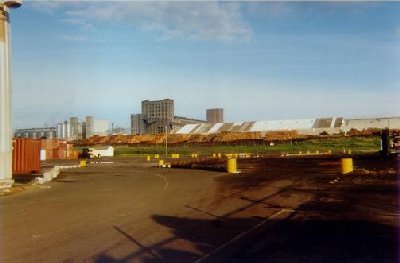 'One area where Hancock has generated huge growth is in softwood woodchip exports. The joint venture, Softwood Plantation Enterprises at Geelong, exported more than 250,000 tonnes of forest residues last year, more than a third of Victoria's total softwood chip exports, with sales valued at $40 million. Hancock has expanded this market mainly through logs created by thinning forest . . . Of SPE's softwood plantation residue exports, 70 per cent are pulp logs and 30 cent is woodchip from saw mills . . . Victoria's softwood chip exports have grown dramatically in recent years. SPE's general manager, Adrian Hatch, tipped that softwood chip exports would exceed $100 million this year'. Melbourne Age June 01.
---
Hancock Timber Resource Group and Hastings Funds Management Announce Alliance
MELBOURNE, Australia, March 14, 2000 -- Hastings Funds Management (Hastings) and Hancock Timber Resource Group (HTRG) today announced a strategic alliance whereby Hastings will exclusively market HTRG's timberland investment products to Australian institutions. Investors, including large superannuation funds as well as financial services firms and qualifying individuals will be able to access these opportunities through a new pooled vehicle, Hastings Hancock International Timberland (HHIT).
Founded in 1985, the U.S.-based HTRG is the world's leading timberland investment management organization. The firm is an investment unit of John Hancock Financial Services. HTRG develops and manages timberland portfolios for institutional investors and currently oversees 3.1 million acres, worth US$3.0 billion, in the major timber-growing regions of North America -- the Pacific Northwest, the Southeast and the Northeast. HTRG also invests in British Columbia, Canada, and Victoria, Australia, and considers investment opportunities throughout the world.
Established in 1994,Hastings is one of the largest independent managers of alternative assets in Australia (including infrastructure, high yield debt, private equity and timberland), currently managing an investment portfolio in excess of A$1.8 billion.
Funds managed by Hastings have already invested in two HTRG transactions, the 1998 privatisation of the Victorian Plantations Corporation, and last month's acquisition by HTRG of US Alliance's 402,000-acre property in Alabama. This latter asset forms the initial investment of the new fund.
"We are delighted to have formed this alliance with Hancock," said Mike Fitzpatrick, Managing Director of Hastings. "This agreement brings together HTRG's exceptional understanding of the international timberland investment industry and access to quality investment opportunities with Hastings Australian institutional relationships and track record in the management of alternative assets. Our experience has shown that both groups have very similar investment philosophies.
"Our partnership with HTRG complements Hastings' strategy of providing our clients access to a full range of appropriate non-traditional investment products," Mr. Fitzpatrick said.
Dan Christensen, Chief Operations Officer of HTRG, said, "Hancock is pleased to have reached agreement with Hastings to ensure our product receives the widest possible distribution within Australia, and that our joint clients will have access to personalised local service from individuals actively involved in the investment process. This is the first time HTRG has concluded such an arrangement anywhere in the world."
Timberland provides institutional investors with a number of benefits, including attractive long term returns, excellent capital preservation, portfolio diversification and low to moderate risk.
---
LETTER OF ENQUIRY FOR U.S. ENVIRONMENT AND SHAREHOLDER GROUPS REGARDING THE LOGGING ACTIVITIES OF HANCOCK VICTORIAN PLANTATIONS PTY LTD – 60% OWNED BY U.S. INVESTMENT COMPANY, HANCOCK TIMBER RESOURCES GROUP, A WHOLLY OWNED SUBSIDIARY OF JOHN HANCOCK FINANCIAL SERVICES.
LOGGING ACTIVITIES OF HANCOCK IN THE STRZELECKI RANGES, SOUTH EAST VICTORIA, AUSTRALIA.
(By Friends of the Earth Melbourne - September 1999).

In March 1998, the Victorian State Government announced its decision to privatise the Victorian Plantations Corporation (VPC). In October 1998 VPC was sold to Hancock Victorian Plantations Pty Ltd for $550 million, a substantial premium above VPC's book value of $352 million. The privatisation was facilitated by the sale of a licence to over 170,000 hectares of land vested with VPC. This licence grants Hancock the right to operate a plantation business on that land in perpetuity. The licence is transferable, registrable and divisible and all royalties or rents were received by the State in an up-front fee as part of the sale proceeds. Along with the licence, all of VPC's other assets, liabilities and timber supply contracts were transferred to Hancock.

VPC stated that the overall statewide landholding of the Corporation in 1998 was 167,921 hectares. The 1998 Corporation annual report however stated a net statewide plantation area of 106,976 hectares, meaning that almost 61,000 hectares of land vested in the VPC is not plantation.

In the Strzelecki Ranges total land vested to the VPC was about 40,000 ha comprising 20,000 ha of plantation (hardwood and softwood). This leaves a potential amount of 20,000 ha of native forest which could possibly be logged by Hancock. Much of this remaining native forest exists along streamsides and in gullies.

A comprehensive report entitled Plantation Logging in the Strzeleckis has recently been written by Tim Ealey (Ph.D. M.Sc). The report was published in August 1999 and details activities by VPC and Australian Paper (A subsidiary of Amcor). Prior to this Friends of the Gippsland Bush had been extremely active since 1996 monitoring logging operations of both Amcor and VPC. Their work has been central in pushing this debate so far.

Mr Ealey's report is quite critical of current logging practices in the Strzeleckis. Although Ealey states that breaches to the Code of Forest Practices (the legal document governing timber harvesting in Victoria) were documented as being the responsibility of VPC prior to the Hancock sale, it is Friends of the Earth's position that management has not significantly improved since Hancock purchased VPC in late 1998.

"It is significant that Mr Henry Whittemore representing Hancock has stated that whatever happened under the stewardship of the VPC is now past and management may be different under the new company" p15 Ealey Report.

Hancock has maintained the same management staff as VPC since the purchase and recent field trips into Hancock land by Friends of the Earth reveal that many of the environmental problems highlighted by Tim Ealey's report are still occurring throughout active Hancock logging coupes in the Strzeleckis.





COOL TEMPERATE RAINFOREST – UNDER THREAT

Of major concern in the Strzelecki's is the removal of native vegetation by Hancock under the guise that all their timber holdings are plantations. In many active logging coupes Hancock are still extending their plantations by deliberately logging ecologically crucial older trees from gullies and rainforest areas and then replanting these areas with genetically modified, fast growing introduced species such as shining gum. These activities are placing enormous stress on the remnant stands of cool temperate rainforest in the region. Cool temperate rainforest is listed by the Victorian State Government as being a threatened community under the 1988 Flora and Fauna Guarantee Act.

Cool temperate rainforest needs adequate buffer zones to protect it from the threat of fire and disease. In many instances VPC/Hancock have logged right to the edge of rainforest gullies thereby threatening Myrtle Beech stands. The most definitive document on Myrtle Wilt – Survey and Monitoring of Myrtle Wilt within Victoria's Cool Temperate Rainforest in Victoria, D.G. Cameron, L.A. Turner – Department Natural Resources and Environment 1996, categorically states that: A direct relationship between road construction or maintenance and the wounding of Myrtle Beech was established. Trees subsequently developed symptoms of Myrtle Wilt and, in some instances, were considered to have become the focus for the spread of infection into undisturbed forest. Damage to Myrtle Beech trees can lead to infection by Myrtle Wilt, a disease fatal to all infected Myrtle Beech trees. Elevated levels, (due to increased human activity), of this disease can lead to die back and Myrtle Beech trees are definitely suffering from this disease in the Strzeleckis, in some cases infecting whole stands.





STRZELECKI KOALA ENDANGERED

Also of major concern is the long term survival of populations of the Strzelecki and South Gippsland Koalas whose entire habitat is now owned by Amcor and Hancock.

An investigation carried out by Dr Bronwyn Houlden, School of Biological Science, University of New South Wales, 20th March 1997 and 6th April 1998 confirmed that the genetic pool of these koalas has not been compromised. Dr Houlden indicates that on a national basis koalas generally are not considered to be threatened. She advises that this assessment has unfortunately led to an extremely simplistic view of conservation of biodiversity in the species.

Through extensive analysis by herself and her collaborators she has revealed that the species is composed of highly differentiated populations with low levels of gene flow between populations throughout their range. The Strzelecki Koala population constitutes a separate management unit and is significant in terms of management of biodiversity on a regional and state basis. Dr Houlden found that the Strzelecki Ranges had the highest level of genetic variation, of any Victorian population she has analysed. This is important, given the low levels of genetic variability found in many populations in Victoria, which have been involved in the translocation program.

The Strzelecki koala population has high levels of genetic variability which have been detected by rare and unique genetic markers. These animals are statistically significantly differentiated from other Australian populations and therefore constitute a separate management unit. Because biodiversity in the species as a whole is dependent of conservation of populations throughout the species range, the Strzelecki Ranges population, together with the South Gippsland population is nationally significant as well. The lack of genetic diversity amongst Australian koalas could be critical to the survival of the species as a whole.

"My results suggest that the conservation of South Gippsland and Strzelecki Ranges population is of local, State and National significance for conservation of biodiversity in koalas, and managers and landholders should ensure that enough habitat is protected and/or available for the populations to maintain an effective population size that is viable." Dr Bronwyn Houlden.

It remains unclear what Hancock intends to do in regard to forest management plans regarding this unique animal.

Conclusions and Suggestions of Tim Ealey's report (p15-16).

The Code of Forest Practices has been interpreted in a minimalist way and its provisions are being used to override other legislation such as the Flora and Fauna Guarantee Act and the Native Vegetation Retention Controls.

Rainforest has been threatened and damaged. There are reliable reports on the spread of Myrtle Wilt in the area.

Buffers and filter strips have been removed or damaged.

Native bush has been cleared and wildlife habitat has been willfully destroyed either with permits or illegally, not only to obtain timber but also to increase the area for plantation. Gullies have been filled in for this purpose.

Steep slopes have been logged.

Erosion has occurred and will continue.

Siltation can be observed in streams.

The Environment Protection Authority is concerned and has made recommendations that as yet have not been implemented.

The West Gippsland Catchment Management (CMA) is concerned and is attempting to establish a Regional approach to forest management on private land.

Shires are attempting to play a regulatory role. However the current fragmented approach with varying levels of expertise is showing major shortcomings.

The extent of training and the philosophy of accredited foresters is questioned.

The official role and culture of some members of the Department of Natural Resources and Environment is questioned, while other members are greatly concerned.

Co-operation between responsible conservationists and the forest industry gives cause for optimism.

Stated policies of Australian Paper Plantations and Hancock Victorian Plantations show reasonable environmental awareness, which should hopefully change on ground practices.

There is emerging evidence that although the industry has not been capable of self regulation in the past there is optimism for the foreseeable future.

Recommendations (p16-17 Ealey report).

There is a great opportunity to create a web of wildlife corridors between plantations, which will greatly enhance ecological diversity with little loss to plantation productivity. This will reduce the pressure for additional National Parks.

A professional forester and civil engineer from outside the system and this area should be commissioned to report on operations in the field.

There should be a project to identify and clearly map areas of old growth and regrowth native vegetation in Gippsland and to identify areas of significance. The extent of plantations should be adequately mapped. An independent consultant should be employed. Once accomplished this would settle many arguments forever and allieviate the atmosphere of conflict and mistrust.

A multidisciplinary Panel including a forester, botanist soils expert, etc and members of the community should be formed to set up terms of reference and a project brief. The Catchment Management Authority (CMA) has set up a working group, which hopefully could fulfil this role if not sidetracked.

The Coastal Board should investigate in detail the contribution of private forestry to nutrient and sediment loads.

A stream monitoring project such as agreed to by Amcor should also be carried out by Hancock in conjunction with the EPA, the Shire and the CMA.

The importance of the agreement between Amcor and reliable conservationists should be recognised, endorsed and used by authorities.

Industry should always be compensated if land is removed from production for conservation purposes.

DNRE has the in-house ecological expertise to demonstrate leadership by:

-monitoring the work of Accredited Foresters

-assisting shires with their plantation responsibilities

-assisting landowners with advice concerning better ecological management of their plantations

-helping to ensure flora and fauna are sustained on a regional basis

-refusing to ratify further permits for clearance of native vegetation until a complete ecological review has been completed.

Buffer and filter strips cleared illegally should be rehabilitated using indigenous species.

Rainforest buffers should be a minimum of 100 metres and the definition of rainforest should be clarified.

The Code of Forest Practices should be respected by the forest industry, DNRE Forestry Division and Shires and be interpreted more generously in the light of the Environmental Care Principles Chapter 1 of the Code.

Shires in conjunction with the CMA should by means of their planning schemes and local prescriptions strengthen the Code in relation to

-rainforest, fauna and flora and landscape.

-address the ambiguity, weaknesses and ecological inappropriateness regarding buffers and filter strips.

-play a more proactive role in plantation management

-review the definition of drainage lines in the Code.

Conservationists should acquaint themselves with the Code of Forest Practice, relevent legislation and Local Government prescriptions before monitoring the operations of logging contractors to ensure (that) they comply with recent progressive policies of plantation logging companies.





WHY SHOULD AMERICANS BE CONCERNED ABOUT HANCOCK TIMBER RESOURCE GROUP AND THEIR ACTIVITIES IN FAR OFF AUSTRALIA?

The purchase of the VPC by Hancock is Hancock's largest purchase of forested land and their first foray into the overseas market. Since that time another two American companies have purchased plantations in Australia. In April 1999 Weyerhauser purchased much of the pine plantations in Victoria's south west. In June 1999, Boston-based insurer Grantham Mayo van Otterloo in a $120 million joint venture with Forestry Tasmania announced plans to clear 23,000 ha of native forest for softwood plantations in northern Tasmania. Management in Tasmania undertaken by US/NZ company Rayonier.

It is the stated goal of both federal and state government's to treble the existing plantation base in Australia by the year 2020. For Victoria that means an extra 32,000 ha of plantations will have to be established each year. Many Australian's are concerned that their precious native forest is being cleared to establish fast growing genetically engineered plantations, to fund Americans in their retirement!

Australian's are also becoming aware of the lack of rights they have in arguing against plantation companies. For instance in the Strzelecki's the state government handed all environmental monitoring power to local shire councils in 1993 with the corporatisation of the VPC. This was done by the Victorian state government knowing full well that local councils do not have the will or resources to adequately monitor logging operations on private land. What was once a state held asset, has now been sold off. In Tasmania recently drafted forestry/agriculture legislation removes people's rights to have any say whatsoever in opposing plantation development. Thus Australian's democratic rights are being eroded by government's convinced that to attract foreign investment environmental and social safeguards are stripped away.

Much of the capital financing Hancock's operations in the U.S, and Australia is likely to be retirement funds of U.S workers. In Australia these funds are called superannuation funds. It is crucial that the average American worker is told the truth about where their retirement funds are being invested. How many Hancock insurance holders realise that their retirement could be funded through the extinction of possibly the most significant koala population remaining anywhere in Australia. Victoria's cool temperate rainforest is suffering from a similar plight. The fact that Hancock have not even identified the koalas or cool temperate rainforest as being important in regard to specific management plans is an inditement on the company's environmental standards. And how can they be trusted in regards to any environmental issues if their performance is so totally lacking any kind of credibility in Australia?

We are convinced that if information can be circulated throughout the United States about the activities of Hancock in Australia, many insurance holders with Hancock will be unhappy and many will want their concerns properly answered. That is why it is vital that our message by heard.

If this information can be circulated amongst environmental organisations and shareholder organisations in the US, we would greatly appreciate it. There is not much time left for the Strzeleckis. Hancock are deliberately targeting the best of what little remains of an area that once grew the largest trees on the planet.

Bibliography

Gippsland Pilot Study – Timber harvesting (coupe) plan certification. Friends of Gippsland Bush Inc. Response to Final Report – LaTrobe Shire – August 1998.

Plantation Logging in the Strzeleckis. The Code of Forest Practices and Self Regulation. Discussion Paper. E.H.M. (Tim) Ealey Ph.D. M.Sc. Environmental Scientist and Ecologist. August 1999.

Strzelecki Koala Facing Extinction – Native Forest Network – March 1999.

Benchmark Magazine – June 1999 Issue 21. Newsletter from the Department of Treasury and Finance for the Victorian public sector.

Various correspondance and mail, pers comm with Friends of Gippsland Bush, Native Forest Network, Friends of the Earth, Hancock Victorian Plantations.

Contact Addresses

Hancock Timber Resource Group
99 High Street, 26th floor, Boston, MA 02110-2320
ph: 617-747-1600
fax: 617-747-1516

John Hancock Financial Services
200 Clarendon Street, Boston, Massachusetts, 02117
Investor Relations
ph: 617-572-0521
617-572-4799


---

Taken from Amcor Corporate Profile - Native Forest Network June 1999
"Interestingly Paperlinx (old name was Amcor) sources woodchips from forests held by Hancock Victorian Plantations, who have long raised the ire of Strezlecki conservationists because of the appalling logging practices of Victorian Plantation Corporation who were granted 40 000 hectares of forest lands in the Strezlecki Ranges in 1993, 20 000 of which is native forest including old growth and cool temperate rainforest. Hancock, a subsidiary of an American insurance company John Hancock Mutual Life Insurance Company, purchased VPC in November 1998. The Planthard Mill (owned by the Thomas P Clarke group of companies) sources 100 000 cubic metres of Hancock owned Strezlecki timber each year. Marketed as 'Planthard' and sourced supposedly from 'plantation grown sources in the Strezleckis', the mill generates a 40% log recovery, meaning that over 40 000 cubic metres of woodchips would be generated by this $20 million 'value adding' mill, most likely making their way to the Maryvale mill). It should also be pointed out that current timber harvesting of Paperlinx's plantations located in the Strezleckis is far from satisfactory and is having devastating impacts upon the environs of South Gippsland and the Strezlecki Ranges."


---
Taken from Friends of the Earth submission into the Gippsland Regional Forest Agreement - March 2000.

"The Hancock situation is an ecological disaster, with that company targeting and then logging, the best of what remains of indigenous vegetation left in their land holdings. I have personally witnessed buffer zones and filter strips logged and remnant old regrowth cleared by that company, acting in total knowledge that local councils will find it next to impossible to prosecute breaches of the Code of Forest Practices due to the watering down of the Code. The fact that Hancock now controls the headwaters of numerous rivers and streams in the Strzeleckis will have long term impacts on the freshwater ecology of the region for many years.
From details released by the Australian Securities Commission it shows that Ian Ferguson - Professor of Forestry at Melbourne University is a director of Hancock Victorian Plantations. The fact that a fellow with wide spread respect from many in the forestry field is a director of a company which is acting so environmentally irresponsibly is a sad inditement on the state of forestry in Victoria.
I understand that the timber sourced from Hancock's holdings in the Strzelecki's is sent to the Planthard mill in Morwell, where they have a licence to cut 100,000 cubic metres each year. 40,000 cubic metres of woodchips is sent to Amcor's Maryvale papermill from Planthard. This amount is clearly unsustainable. On what basis was Planthard granted the rights to cut such an enourmous amount of timber? I understand that Planthard is owned by the Thomas P Clark group of companies whose Victorian directors include Roger Clark, John Clark and Lorraine Clark. In 1996 a company called Fitzmaurice Pty Ltd directed by John and Roger Clark sold their office and land in South Melbourne to Crown Casino for $10,500,000. Crown Casino needed that land for their carpark. At this stage the Clark's apparently had invested some $20 million in refurbishing the SECV site in Morwell to begin their Planthard business, which incidently is the largest hardwood sawmill in Australia. Planthard signed a deal from the Victorian Plantation Corporation to access timber from the Strezlecki's.
A inaugral member of the VPC board was George B Little who left his position of Deputy Director of the Victorian Casino and Gaming Authority in 1993. Given that the sustainable yield calculations have been proved to be erroneous (see Age Newspaper Page 13, 16/2/00) and that VPC was brought out by Hancock, a subsidiary of the John Hancock Mutual Life Insurance Company, what happens if the sustainable yield from the Strzelecki's just doesn't add up. Does this mean that Hancock will have to cut every stick of timber out of the Strzelecki's to meet their licence agreements? Does it mean that Hancock will have to be given access to State Forests to meet this shortfall in demand.
---
JOBS AT RISK AS MILL FACES AXE
Herald Sun 1/2/01 Page 2
By Felicity Dargan
More than 80 jobs are at risk as the struggling LaTrobe Valley town of Morwell searches for a buyer to save its sawmill . . .
The Morwell mill was built in 1997 on a former SEC site.
It is the only mill in Victoria using plantation hardwood logs instead of timber from state forests.
Family company Thomas P. Clark, which owns Plantation Hardwood Sawmills, went into recievership last month along with its wholesale division and retail stores in Morwell, Euroa and Harcourt.
Last year it closed its Healesville mill, which cost 17 jobs.
A company spokesperson said the Morwell mill once employed more than 120 workers, but 40 had been laid off in the past year.
"The GST and the downturn in the building industry have had a big impact," the spokesman said.
"The mill is operational and the receivers are actively looking for a buyer. It was a huge step for the company to establish such an innovative mill, and it has not received any government assistance. That would certainly help now. We have the potential to employ more people and , in an area like Morwell, that is crucial."
Gippsland MP Philip Davis urged the government to help.
"John Brumby is chairing a taskforce to revitalise the LaTrobe Valley and it would be sad if its first achievement was the loss of the sawmill and 60 jobs." Mr Davis said.
---
TIMBER FIRM CRASHES

Herald Sun - October 18, 2001
One of Australia's oldest companies has collapsed, leaving debts of almost $36 million and 255 people jobless.
The Thomas Clark group, whose origins go back 149 years to a corner store in South Melbourne, was Australia's oldest timber company.
After being under the control of the same family for five generations, the timber business is swamped in debt and in the hands of a receiver.
Gone are its sawmills in Morwell, Warburton and Healesville, along with the Dandenong headquarters and wholesale and retail stores in Morwell, Euroa and Harcourt.
Managing director Roger Fitzmaurice Clark, operator of the well known Richmond jazz bar Dizzy's, told the Herald Sun the collapse had left him with nothing.
Mr Clark blames the post - GST slump in building activities for the collapse of his seven companies.
But business sources say his investment of $18-$20 million in a state-of-the-art sawmill at Morwell, making it the biggest in the southern hemisphere, contributed to the collapse of the historic company.
The Morwell plant, opened by then premier Jeff Kennett four years ago, was the world's first sawmill to process hardwood from designated plantations, and not from state forests.
But the business was overgeared and funded mostly out of bank debt. "He bet the family jewels on Morwell - and lost," a business source told the Herald Sun this week.
One of Thomas P. Clark (Aust) Pty Ltd's major creditors is the National Australia Bank which is believed to be owed about $20 million.
Sources said the mill experienced complications from the beginning because imported hi-tech equipment had not been tested in Australian conditions.
There were also problems with the quality of logs, and the considerable drying time for newly milled timber, which in turn restricted the company during the pre-GST rush for building supplies.
And by the time the timber was ready, the post-GST slump had hit, resulting in a 40 per cent drop in demand.
Mr Clark said he had been forced to borrow more from the bank. "I walked out of the bank having to pay double the repayments - every month I was out of pocket," he said.
As part of the agreement the NAB also installed accountants KPMG to keep a close watch on the business operations and report back to the bank.
Mr Clark said the monitor cost him "ten of thousands of dollars" a month. He said three months later the bank called in the loan, and when a buyer for the timber group could not be found it went into receivership.
KPMG were then appointed receivers.
Mr Clark said the collapse had cost all his employees their jobs, which he described as a "crying shame".
He declined to reveal the extent of the company debts, but according to documents seen by the Herald Sun the estimated company deficiencies total $35,949,860, of which $21,660,599 is owed to unsecured creditors.
. . . Negotiations were expected to be finalised this week for the new owner, believed to be Drouin West, to take over the Morwell mill.
Steep Highly Eroding Slopes Parish of Callignee (Traralgon Creek Catchment) Strzelecki Ranges. What are Willmott investors being told about the environmental quality of such MIS sites. Are these the sites that Hancock don't want anymore?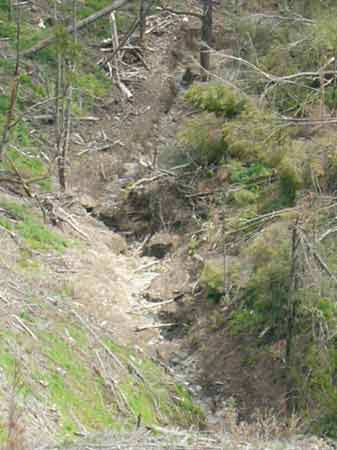 Terrible creek erosion Traralgon Creek catchment immediately downstream of recently cleared pine plantation.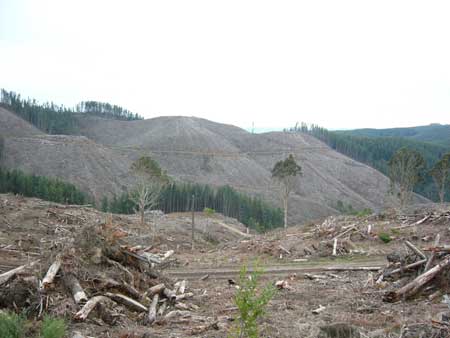 Flynns Creek. Another poor environmental outcome in the Strzelecki Ranges.