College Creek - Site of National Conservation Significance
Recent 2009 College Creek Logging Updates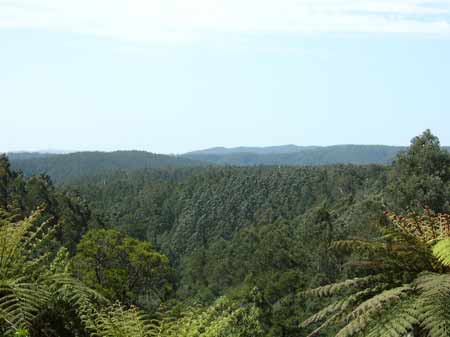 Hancock Start Logging College Creek February 13 2009.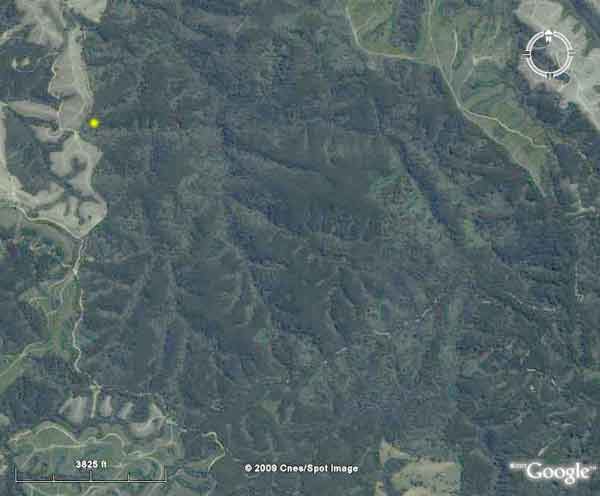 First entry point into College Creek Feb 13 2009 (marked in yellow).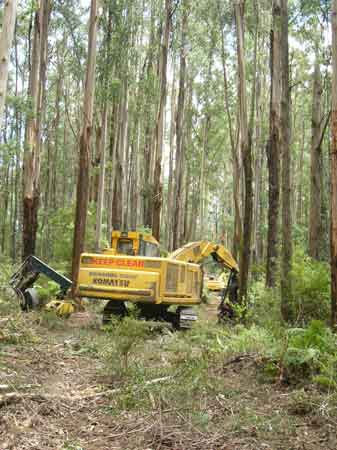 June 29, 2008: 100+ concerned residents rally to save College Creek.
Stronghold of following Slender Fork Ferns on Mainland Australia is College Creek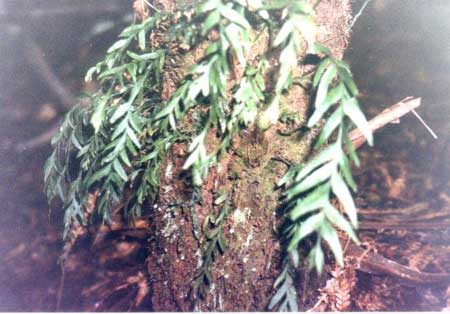 Tmesipteris-elongata (Critically Endangered on Mainland Australia)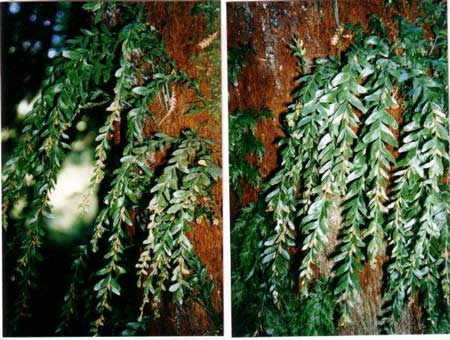 Tmesipteris obliqua (Endangered on Mainland Australia)

In 1967 College Creek was native forest not cleared farmland. In 1966 College Creek came under the Wood Pulp Agreement Act, but logging in the catchment by APM didn't occur until the mid 1970's. Replanting of Mountain Ash occurred in 1977. This logging would have put the remaining rainforest under enourmous stress. The logging would also have 'wiped out' both old growth and younger native forests. To log such a sensitive rainforest area again is not sustainable.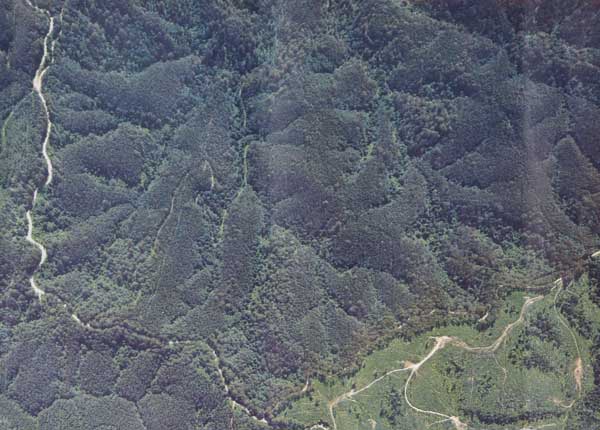 College Creek in the late 1990's
Likely logged areas if Hancock log College Creek 2008.
College Creek Cool Temperate Rainforest and Wet Forest Buffers now threatened May 2008
For further details also go to;
see australianpaper watch website
see australianpaperwatch website (2)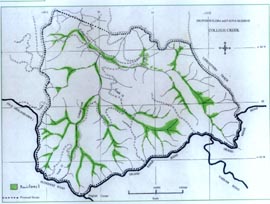 College Creek and the surrounding catchment was controlled by PaperlinX - Australian Paper Plantations (APP) (ex-Amcor, ex - Australian Paper Manufacturers) up until August 2001, when Hancock consumed the assets of APP.
Much of the catchment is actually Crown Land (leased from the Crown) and was going to be the site of an Agricultural College in the 1940's. The more sensitive areas of the catchment are leased from the Government to Hancock approximately until the year 2030.
During 1998/99 a number of myrtle beech have died from myrtle wilt. Most of these trees were along Track 12 and occurred as a result of track maintenance work and erosion.
Some trees in Tributary Four also have myrtle wilt. This is a tributary damaged during plantation operations during the late 1980s.
In a number of areas damaged by plantation work, there is vigorous regeneration of myrtle beech and southern sassafras on the fringes of the plantation and on tracks.
College Creek Catchment - Paperlinx leasehold.
The College Creek catchment is unusual because of its;
* Location. A northerly facing aspect and the significance of its flora and fauna.
* The extent of Cool Temperate Rainforest, listed under schedule 3 of the Flora and Fauna Guarantee Act, is larger than that contained within Tarra Bulga National Park.
*The area is mapped as an endangered and rare Ecological Vegetation Community, EVC, in Victoria.
Rare and vascular plant species identified by the Department of Natural Resources and Environment (DNRE) botanists and plant specimens lodged with the Victorian Herbarium.
* Slender Cyathea cunninghamii Rr (and Skirted Tree Ferns to be listed) - Rare in Australia and rare in Victoria.
* The stronghold in Victoria for the Slender Fork fern, Tmesipteris elongata Rv - Rare (in Australia) and vulnerable (in Victoria) abd is known in only 3 localities in Australia.
* Oval Fork fern Tmesipteris ovata r-Rare in Victoria. State Significance.
* River Hook sedge Unicia nemoralis r-Rare in Victoria.
Rare Fauna includes identified by samples sent to Barbara Triggs and DNRE Zoologists identifying recorded Owl calls.
* The Broad tooth-rat with a restricted habitat and disjunct distribution in Victoria.
* Strzelecki (endemic) Koala.
* Yellow-bellied Glider (chewballs and sighting). State significance outside its recorded range. Requires further verification.
* Powerful Owl - threatened species listed under Schedule 2 of the Flora and Fauna Guarantee Act. dependent upon hollow bearing trees.
* The Strzelecki burrowing Crayfish provisional listing under Schedule 2 of the Flora and Fauna Guarantee Act.
Many species of arboreal mammals are restricted to mature vegetation stands, eg Mt. Brushtain Possum, Bobuck, Yellow-bellied and Greater Gliders. These mammals are all dependent upon hollow bearing trees, which take over 100 years to form.
Gliders, Koalas and several bat species are sensitive to clearfelling and may die during clearfelling operations.
The density of these mammals affects the abundance of predators such as the Powerful Owl.
The species diversity and age composition of forests are determinants of the faunal composition of the forests.
Clearfelling chnages floristic composition of the overstorey and short rotations select against favoured tree species of many mammal, forest and woodland birds.
Recent listing on Schedule 3 of the Flora and Fauna Guarantee Act of Human activity which results in artificially elevated or epidemic levels of Myrtle Wilt within Nothofagus-dominated Cool Temperate Rainforest. A disease fatal to all infected trees.
Listing under Schedule 3 of the Flora and Fauna Guarantee Act, Habitat Fragmentation as a Threatening Process for Fauna in Victoria.
College Creek Catchment was designated to be of State Significance. Bill Peel Rainforest and Cool Temperate Mixed Forest of Victoria. DNRE.
College Creek catchment is the last substantial area within APP land holdings in the Strzeleckis, which contains Cool Temperate Rainforest. It forms a natural linking corridor between the Agnes and Franklin Catchments, West Branch Morwell River, Albert River, Jack River, South Middle Creek, Merriman Creek to Tarra Bulga National Park.
Slender and skirted tree ferns
All tributaries of College Creek contain numerous examples of slender and skirted tree ferns. These tree ferns are classified as rare in Australia and Victoria and are included in Schedule 2 of the Flora and Fauna Guarantee Act 1988.
Tmesipteris elongata is known only in two localities in Victoria, in South Gippsland and the Otway Ranges. This fem grows on the trunks of soft tree ferns and is found on two tributaries of College Creek. One tributary has over 35 tree ferns containing colonies of this fern and the other about 12 tree ferns.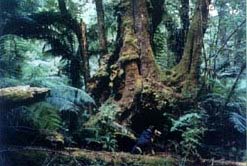 Another example of rare flora found within College Creek is River Hook Sedge.
Gypsy fern and Weeping Spleenwort, though not classified as rare, are dependent on rainforests for their survival. They, too, are found in College Creek.
Fauna Habitat
English's Corner (College Creek) was selected as having local and scientific interest by Mansergh and Norris in 1982. It was selected because it was one of two localities south of the Princes Highway where the Broad-toothed Rat has been recorded. This is a rare animal in Victoria with a restricted and disjunct distribution.
College Creek also contains a large population of Strzelecki koalas. It is very important that their habitat be protected because of their genetic variability.
The Powerful Owl has also been taped at College Creek. It is listed under schedule 2@ of the Flora and Fauna Guarantee Act 1988 and is totally dependent on hollow- bearing trees.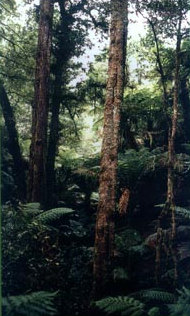 Other species recorded in 1996/97 from scat and hair tube samples analysed by Barbara Triggs, Genoa, were: Long-nosed Bandicoots, Brushtail Possum, Mountain Bobuck, Ringtail Possum, Yellow-bellied Glider (chew balls), Sugar Glider, Black Wallaby, Brown Antechinus, Dusky Antechinus, Bush Rat, Swamp Rat, Water Rat, Wombat and Short-beaked Echidna. Greater Gliders were recorded in this catchment in 1982.
There are still areas of mature age mountain ash, mountain grey and messmate in this catchment. There is also a rich understorey of Blackwood, Hazel pomaderris, Austral Mulberry and Blanket Lead in much of this catchment. It is essential that this remaining diversity of age and species of eucalypts and other native vegetation be retained if the native fauna are to survive.