Region: Strzeleckis
Legal Number: LEGL/93-106
Plantation: Callignee
Conservation Priority: High
Declared Water Catchment Area: ALMOST ENTIRE PLANTATION LIES WITHIN MERRIMANS CREEK (SEASPRAY) WATER SUPPLY CATCHMENT. PROCLAIMED 24/4/90.
Located in Yarram Water Supply Protection Area - Groundwater
Located within Rosedale Groundwater Management Area

Rough map of plantation area (area within yellow lines), most of which is located on north face of the Grand Ridge Road. An extensive area, most of which was originally planted out in the late 60's/early 70's.
This plantation was very likely to be aerially sprayed with 2,4,5-T between 1968 and 1974. The Dioxin TCDD may still exist in soil in this plantation. For more historical data on 2,4,5-T click here. For more information concerning the continuing health crisis concerning 2,4,5-T please forward to here.
Merrimans Creek Catchment (between yellow lines) showing extent of plantations within catchment (numbers eg 76 refer to the year of plantation establishment).
Prior to September 1976, it is highly likely that aerial application of 2,4,5-T @ 1.1 litres a hectare occurred. ~1200ha would have been aerially sprayed with 2,4,5-T in 1975 north of the Grand Ridge Road. Total amount used 1968/74 would have been 1320L mixed with 60,000 litres of diesel. How much of this ended up in Merrimans Creek and how many local residents were exposed to dioxins through aerial spraying? This area is one of the most intensively 2,4,5-T sprayed areas in the Strzeleckis by the ex Forests Commission.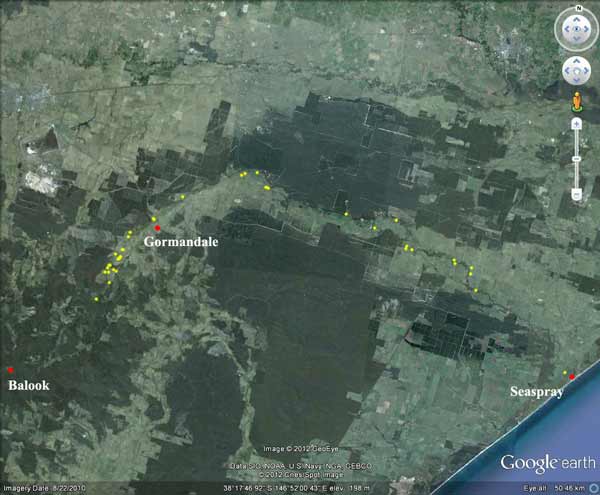 Perhaps 35 houses (120 people) - excluding Gormandale and Seaspray lie downstream of Hancock Plantations in the Merrimans Creek catchment. How many of them pump directly from the creek for drinking water?

October 2001: Eastern side of Sassafras Creek, near the headwaters.
Area within PaperlinX area of supply.
Area within Planthard Hardwoods (Drouin West Sawmills) area of supply.
Area within Brown and Dureau Softwoods (Morwell) area of supply.
Herbicide Regime: (from incomplete information sourced from Gippsland Water).
Herbicides Used by Grand Ridge Plantations - Strzelecki Ranges and Gippsland Victoria
| | | | | | |
| --- | --- | --- | --- | --- | --- |
| Herbicide | Label Rate max as kg/ha | Used to control | Euc/Rad | Notes | Application |
| Clopyralid | 2.55 | Woody Weeds | Radiata and Eucalypts | Highly Toxic/Potential Ground water Contaminant | aerial or ground |
| Glufosinate Ammonium | 1 | Woody Weeds | Radiata | | aerial or ground |
| Glyphosate | 3.6 | Herbaceous and woody weeds, noxious weeds | Radiata, Eucalpts and Custodial | | |
| Haloxyfop-methyl | 0.13 | Annual and Pernneial Grasses | Eucalypts | Carcinogen | aerial or ground |
| Hexazinone | 4 | Woody Weeds | Radiata | Ground Water Contaminant | Aerial, ground, spot |
| Metsulfuron-Methyl | 0.06 | Woody Weeds, Noxious Weeds | Radiata, Eucalyptus and Custodial | Potential Ground Water Contaminant | Aerial, ground or spot |
| Sulfometuron Methyl | 0.6 | Annual and Perennial Grasses and broadleaf weeds | Eucalyptus | Potential Ground Water Contaminant | Aerial or Ground |
Sep/Oct 1999: 45ha sprayed in the Blackwarry area.
April 2000: 59ha sprayed with 205.32kg of Trounce (glyphosate and metsulfuron methyl) and 11.8kg of Pulse (a surfactant) to kill silver wattle and dogwood.
October 2000: 86.5ha sprayed with 1149.5 kg of Velmac G, 520 kg of Velmac CR, in order to kill regenerating blue gum and silver wattle.
April 2001: 105.9 ha sprayed with 252.6kg of Roundup Max, 5412 Litres of Metmac, 18.04 Litres of Pulse (a surfactant) and 486.9 Litres of Simazine to kill weeds and blackberrys.
August 2001: 28 ha sprayed with 532 kg of Velmac G to kill woody weeds (indigenous species). APP also sprayed an unknown amount of area in August 2001.
Responsible Authority: Wellington Shire Council
Soils according to 1978 Currujung Geological Survey Map:
Kls: Cretaceous (Lower Aptian) Paludal - Strzelecki Group: Feldspathic, lithic sandstone, siltstone and mudstone, minor black coal, quartzose sandstone, conglomerate, local carbonate concentrations. Abundant plant remains.
Tvo: Palaeocene/Eocene: Dense augite and olivine basalt, tuff, claystone and siltstone. Often extremely weathered and ferruginized.
Hancock Watch Site Visit October 01: This is a large amount of plantation and native forest established in an area extending from Callignee South in the west to Carrajung in the east (a distance of about 9km). It also extends from Blackwarry in the south to almost Gormandale Heights in the north (a distance of about 6km). The area is made up of disjointed radiata pine plantations, mountain ash plantations, farmland and native vegetation. It is apparent that much of the radiata pine had most likely been established on already cleared farmland. High conservation significance is granted to the area because of the amount of native vegetation found within its boundaries.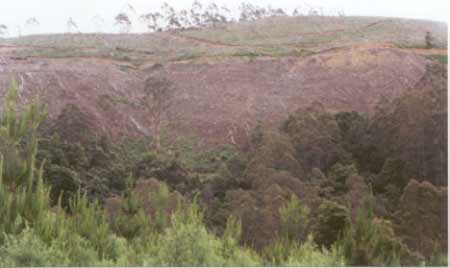 October 2001: Merrimans Creek catchment. Recent pine logging on relatively steep slopes with potential soil movement. Adequate buffer zone on Merriman Creek tributary may dissipate much of the disturbed soil.
Entry into the site was made from the Callignee South Road onto Barker Road. From here a number of recently cleared radiata plantations were observed (see September 2001 updates), some on excessively steep slopes. It appeared that some native vegetation buffer zones were left along tributaries of Merrimans Creek. An unmade creek crossing at Merrimans Creek denied access across to the other side. Heading back to Callignee South we headed along a ridge road and witnessed some poor logging operations. The main problem appeared to the the steepness of the terrain and the quality of the logging roads. Large amounts of siltation was occuring from the roading, in some cases it was easily observed eroding down the embankments. Heavy rainfall would probably play havoc with this site.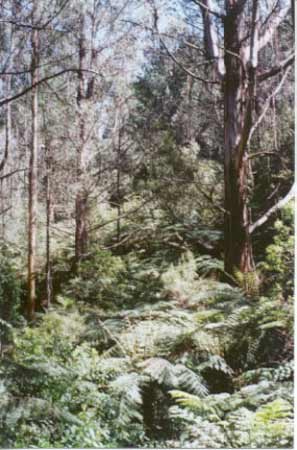 October 2001: Tributary of Sassafras Creek consisting of Mountain ash in the gullies and messmate on the ridges. Native vegetation on the eastern side of Sassafras Creek extends for some 3 kmís much of it within Hancockís holdings. Male Koala heard calling from near this location.
An hour later access was made into the centre of the plantation mass from the Grand Ridge Road near Blackwarry along Chilvers Road. The road traversed through some farmland and native forest, although it appeared that the native forest was probably located on private land. At a crossing about 3km south of Blackwarry we observed a large amount of native vegetation on the eastern slopes of Sassafras Creek. This area appeared to stretch for about 3km. It is dissected in the middle by private land, however the entire stretch of bush makes a very important habitat refuge. There is also likely to be a large portion of native vegetation in the Morrison Creek catchment near Gormandale Heights. More work needs to be done in this large area.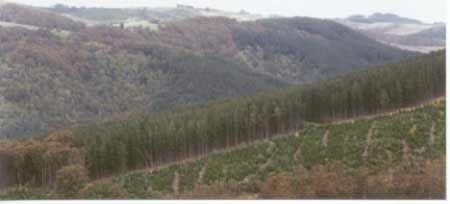 October 2001: Merrimans Creek - Callignee South. Note regenerating native vegetation on eastern slopes interspersed with radiata pine plantations.
Hancock Watch site visit October 01: Drove to Milne Road. Entered the plantation via The Boulevard. Walked into Sassafras Creek catchment. Came upon native vegetation west of the established pine plantations. Came upon a tributary of Sassafras Creek with significant stands of Mountain Ash in the gully with Messmate regrowth forest on the ridges. Some of the Mountain Ash could have been approximately 80-100 years in age. Heard two male koalas at this site. Due to steepness of country did not walk into areas of potential old growth.
Drove down Sassafras Creek Track. The headwaters of this creek have mostly been cleared of 1967 established pine plantations, however there was some regenerating native forest occurring on the western edge of Sassafras Creek. The country here was quite steep and the sound of rapids could be heard from Sassafras Creek. It was also clear that much of the eastern side of the creek is native vegetation - probably regrowth as some old Ash stags were evident appearing through the canopy of the younger trees. Walked for several kmís down track until I crossed tributary of Sassafras Creek. Much of the native vegetation on the western side of track appears to be private land.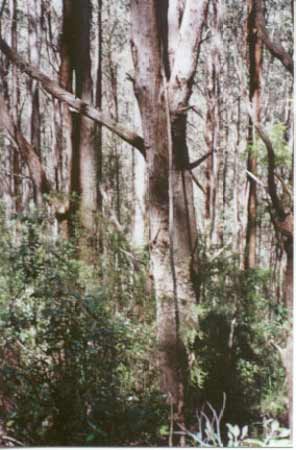 October 2001: A ridge on the eastern slopes of Sassafras Creek.
Drove down Sisters Road (Carrajung Gormandale Road) which is partly on the ridge of the Morrison Creek catchment. There is quite a substantial amount of native vegetation on the eastern side of Morrison Creek on very steep country - possibly too steep to clear. The topography on the western side of Morrison Creek is much flatter and is covered with 1991 pine plantations.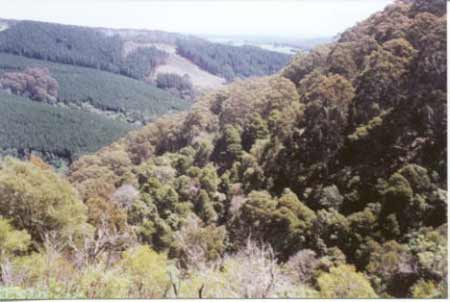 October 2001: Native vegetation within Hancockís holdings on the eastern side of Morrison Creek. Possibly too steep to log in the past. Pines dominate western slopes.
Hancock Watch site visit November 01: Entered plantation from south - Kiergaard? Road. Headed north for about 4km into recent pine logging. Some very steep slopes recently logged were observed including some abysmal bulldozer work where the contractor appeared to not to use the marked road for much of his activities. As a consequence a great deal of disturbed soil was seen in very close proximity to the gravel road. In places it was evident that the machinery operator had driven right through roadside drains and soil was seen in many places in deep ruts and pools filled with water. This operation is quite unsatisfactory in a water catchment.
For further photos of this 'plantation' region please go to the following links:
http://www.hancock.forests.org.au/docs/logging_practices_update-0101-02.htm
http://www.hancock.forests.org.au/docs/logging_practices_update-10-11-2001.htm
October 2003 Hancock Watch Updates
Plantation Catchment:
a) 2 creeks + 1 HW Merriman Creek
b) Several tribs + Morrison Creek/Sassafras Creek/Merriman Creek
c) Several HW Morrison Creek/Sassafras Creek/Merriman Creek
d) 2 tribs Merriman Creek + 4 tribs Sassafras Creek/Merriman Creek
e) HW Sassafras Creek/Merriman Creek
f) 2 tribs Merriman Creek
g) 2 tribs Merriman Creek
h) 2 tribs Merriman Creek
i) 2 tribs Merriman Creek
j) 2 HW Hampton Creek/Merriman Creek
k) 2 HW Burgess Creek/Flynns Creek/LaTrobe River
Catchment Managment Authority: West Gippsland Catchment Management Authority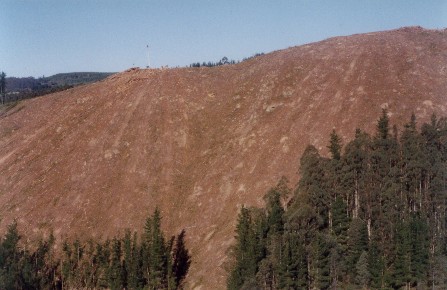 October 2003: Recent cable logging near Mount Joy.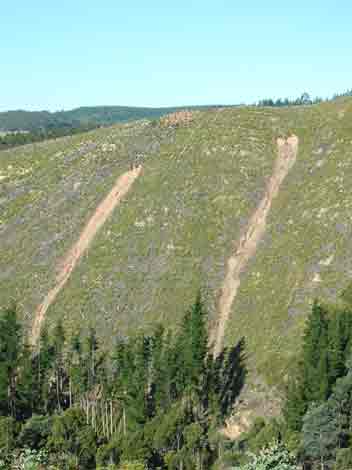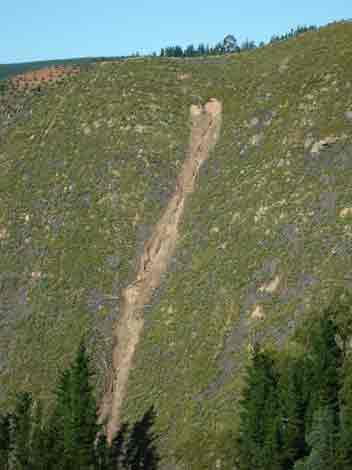 February 2005: Landslips occurring 16 months after logging. For more information see here
"Rainforest Merrimans Creek: The section of rainforest at Merrimans Creek does not extend very far down the creek but is very wide, extending high up the slope on the eastern side. There is also a very small section of old growth on the eastern edge of the rainforest. The western side of the creek was cleared for plantation purposes in late 1998 and no buffer was left for the rainforest." Rainforests in the Strzeleckis by Elaina Fraser.
Merriman Creek, Gormandale: The estuary contains bream, sea mullet, estuary perch, luderick and yellow-eye mullet.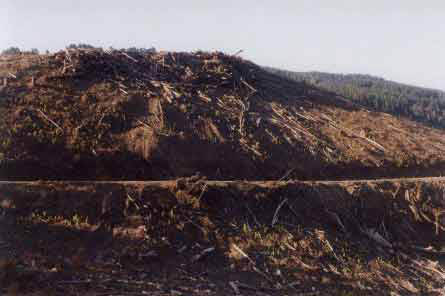 October 2003: Log dump and associated roading erosion at Kiergaard Road inside the Merrimans Creek domestic water supply catchment.
Flynns Creek, Flynn: A small creek with some deep pools in its middle and upper reaches. Flows through open farmland, mud and gravel bottom. Occasionally stops running in summer, lower reaches are badly silted. Contains some brown trout average 250g, maximum 650g, eels, spiny freshwater crayfish, carp, goldfish and tupong.
Source: A Guide to the Inland Angling Waters of Victoria by BR Tunbridge, PL Rogan, CA Barnham. Department Conservation and Environment. Arthur Rylah Institute for Environmental Research, 123 Brown St, Heidelberg, 3084. (4th ed - 1991).