Region: Portland

Legal Number: LEGL/94-10

Plantation: Billywing

Conservation Priority: High




94-10b Mar 01: Recent logging inside Billywing Plantation. The Western escarpment of the Grampains National Park lies in the background.
Plantation within S.E.A.S Sapfor (Auspine) area of supply?
Plantation within AKD Softwoods area of supply.
Plantation to revert back to Crown Ownership 1/1/15. Plantation located in highly significant grassy woodland, and is surrounded on three sides by the Grampians National Park. Poor location for a plantation.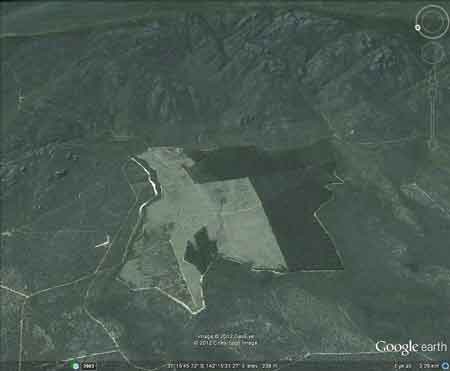 The plantation within a National Park - looking east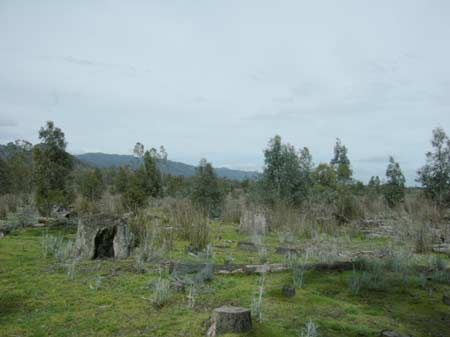 October 2009: Revegetation occurring on northern aspect of plantation.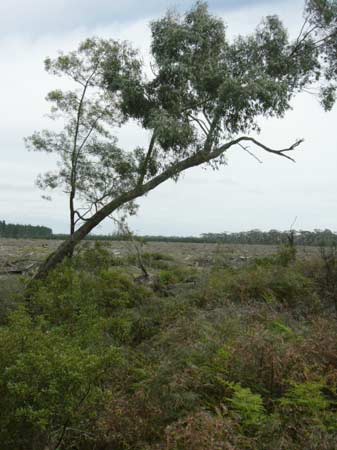 October 2009: Recent logging of Billywing Plantation. This plantation will be retired in January 2015.
Declared Water Catchment: Plantation located in Rocklands Proclaimed Water Catchment. Proclaimed 17/9/58.
Plantation maps of region here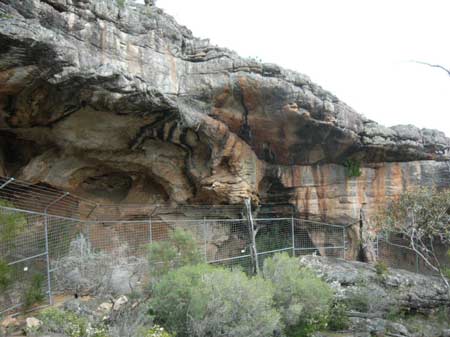 About 1 km away from Billywing Plantation is a unique Aboriginal rock art site. People wishing to visit this site must first drive past a rather unimpressive view of logged pine plantation. Not a good look in a National Park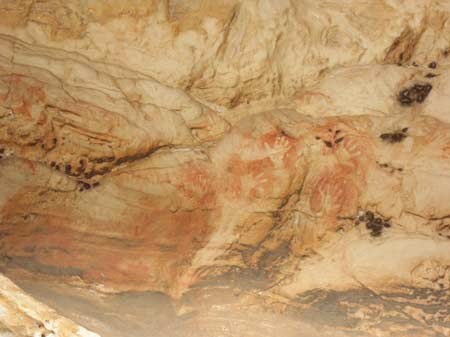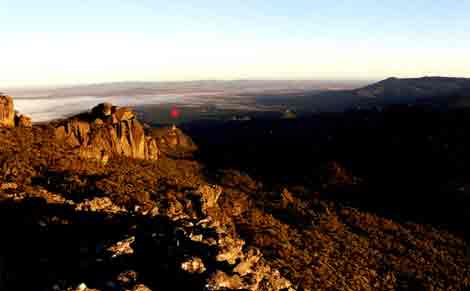 Jan 05: View from the Grampians National Park, looking north west. The plantation is located where the red mark is shown on this photo, in full view to bushwalkers.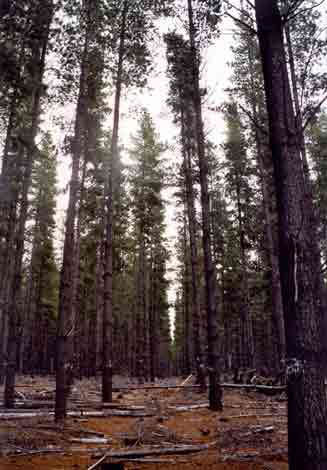 Jan 05: This part of the plantation has been recently thinned.
This plantation was very likely to be aerially sprayed with 2,4,5-T between 1968 and 1977. The Dioxin TCDD may still exist in soil in this plantation. For more historical data on 2,4,5-T click here. For more information concerning the continuing health crisis concerning 2,4,5-T please forward to here.
Herbicides Used by Hancock in Pine Plantations South Western Victoria
| | | | | |
| --- | --- | --- | --- | --- |
| Herbicide | Label Rate max as kg/ha | Used to control | Notes | Application |
| | 2.55 | Woody Weeds | Highly Toxic/Potential Ground water Contaminant | air or ground |
| | 3.6 | Herbaceous and woody weeds, noxious weeds | | |
| | 4 | Woody Weeds | Ground Water Contaminant | Aerial, ground, spot |
| | 0.06 | Woody Weeds, Noxious Weeds | Potential Ground Water Contaminant | Aerial, ground or spot |
| | 3 | Woody and Noxious Weeds | | Ground, spot, basal bark |


Responsible Authority: Southern Grampians Shire Council

Plantation Catchment: Northern aspect borders Cultivation Creek, which in turn flows into Red Rock Creek and then into Rocklands Reservoir. Deep Creek/drains at SE tip, leading into swampy ground. At headwaters of Glenelg River.
Jan 05: Grampians National Park surrounds Billywing Plantation to the west, south and east.

Catchment Managment Authority: Glenelg-Hopkins Catchment Management Authority.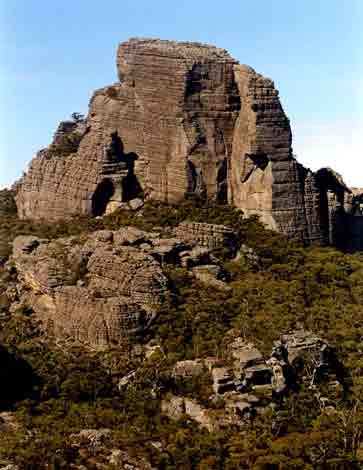 Jan 05: "The Fortress" which lies within Grampians National Park only a few kilometres east of Billywing Plantation.

Hancock Watch Site visit Mar 01: Drove into site from the north. Crossed over Cultivation Creek? which was running completely dry. There was remnant vegetation along the creek on the upside of the plantation. Downstream the buffer had been depleted somewhat. Drove through recent clearcut. Took some photos of trashed drainage line running through the plantation. Drove along track that took us through to eastern side of the plantation? Noticed some native vegetation along a gully line and also took photos of trashed drainage line inside the plantation with trees cut into gully. Very sandy soils on mainly flat slopes. Appears that buffers are being respected, although as with most plantations buffers protecting drainage lines are non-existent.
History Lesson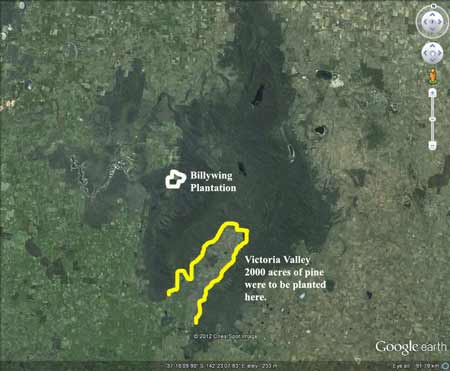 12 June 1958: Horsham office of Forests Commission Victoria argues for pine development in Grampians.
5 June 1959: Victorian Sawmillers Association also supported pines in Grampians "particularly in locations such as Victoria Valley and Billywing..."
29 June 1959: "We are most anxious to use every possible influence to try and get the Forests Commission to establish a pine plantation in the Victoria Valley. The establishment of such a plantation would help to ensure the future of our industry" L.G Brown Stawell Timber Industries
June 1959 - July/August 1961: VNPA, Field Naturalist Groups, Wildlife Preservation Society of Australia all opposed to pines being established in Grampians.
Jan 1963: Forests Commission Victoria (FCV) plans to plant large scale softwood plantations in the Grampians Victoria Valley.
16 July 1963: Stawell Timber Industries Pty Ltd lobbying for pine in the Grampians, as have Stawell Development Association as early as 1960..
6 August 1963: Memorandum for the Acting Chief, Division of Forest Operations (FCV) "The Minister has requested that a commencement be made this year with plantings in "Billywing" area, Grampians State Forest. Latest reports relating to that area appear to justify its acceptance as a PX project of an area with upper limit approaching approximately 2000 acres. It is requested that arrangements be made for the clearing this summer and planting in 1964 of an area of 100 acres..."
6 August 1963: 2500-3000 acres in Phillips Island-Moora Section of Victorian Valley might be suitable for pine (FCV)
22 August 1963: Local Shire writes to Forests Commission Victoria objecting to pine.
21 February 1969: Division of Forest Management to Forests Commission Victoria Secretary - Softwood Establishment in the Grampians.
"Extension of the Billywing plantation is no longer justified since it was established to provide future timber supplies to Stawell Timber Industries, who are now provided for in the more recently established Beaufort plantation... I am firmly convinced that it is in the best interests of the state, that no further softwood planting should be attempted in the Grampians and that such plantations as exist should be liquidated at the earliest opportunity..."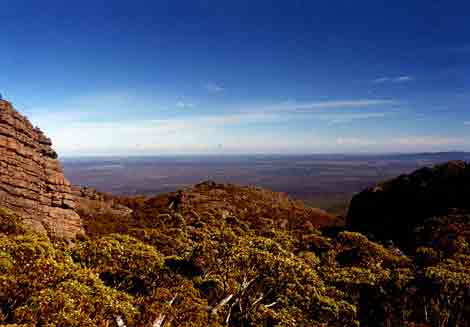 Jan 05: View looking west from Grampians National Park. Billywing Plantation lies of this photograph just to the north.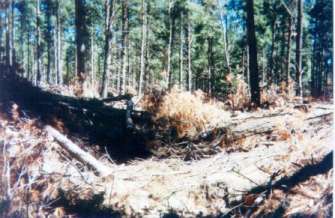 94-10c Mar 01: Drainage line inside plantation cluttered with dead trees and debris.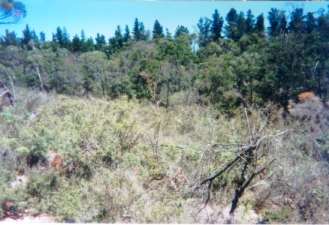 94-10d Mar 01: Creek buffer zone with indigenous species.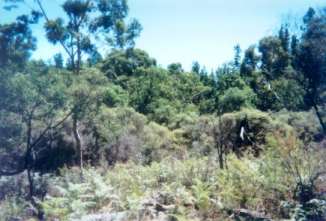 94-10e Mar 01: Native Vegetation. Eastern Creekline inside plantation.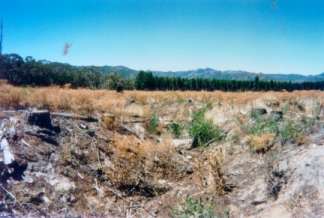 94-10g Mar 01: Drainage line (Glenelg Catchment). Note lack of buffer zones with pines logged to edge of drainage line.
"Groundwater: "In south-western Victoria the Otway Basin stretches from the South Australian border almost to the west of Geelong. It contains older sediments of Upper Cretaceous and Lower Tertiary age, up to 2000 m in thickness. These include four sand aquifers and two limestone aquifers. The sand aquifers of the Wangerrip Group are confined over most of the Basin and their recharge zones are located on the margins of the Otway Range in the east and the Merino Tablelands in the West. The groundwater moves towards the coast, increasing in salinity along its floorpath . . ." p268 State of the Environment Report 1988 Victoria's Inland Waters. Office of the Commissioner for the Environment.
"Shallow aquifers in the Glenelg River Basin occur in four main geologic units. Extending from the north-east of the Basin is a fractured rock basement aquifer composed of folded sediment, metamorphics and granite. In the north-east and also in the vicinity of the confluence of the Glenelg and Wannon Rivers, the basement aquifer is overlain by alluvial aquifers from the Quaternary period. The third unit is a Newer Volcanic aquifer which lies along much of the Basin's southern boundary, particularly in the east. This fractured rock aquifer is composed of basalt, scoria and tuff. The fourth unit is composed of dune sand and beach deposits extending from the south-west corner of the Basin up to the western boundary and along the northern boundary. It is known as the Bridgewater formation.
A deep aquifer system exists in the south-west of the Basin and extends to the top of the western boundary and half-way across the southern boundary. This sand aquifer, which is significant as a water source, occurs within the Wangerrip Group.
Generally, groundwater quality in the Basin decreases towards the north where it is saline. A large reserve of fresh water is held in the north-east corner of the catchment and in the south-west the water is of marginal quality . . ." p295 Water Victoria A Resource Handbook - Department of Water Resources Victoria 1989.