Region: Otways

Legal Number: LEGL/93-45

Plantation: Boonah

Conservation Priority: Med/Low

Plantation within AKD Softwoods area of supply.

Plantation within SPE Exports (Geelong) area of supply.

Click here for Otways map.






93-45a Feb 01: Pine wildings off East Wormbete Creek Road.

Land System: Penny Royal Rainfall: 700-1050mm
Landscape: Hillslopes with gentle crests.
Native Vegetation: Open Forest - E.obliqua, E.radiata, E.ovata, E.viminalis.
Soils: Mottled yellow and red duplex soils; yellow brown duplex.
Nutrient Decline: Sheet, gully and landslip erosion.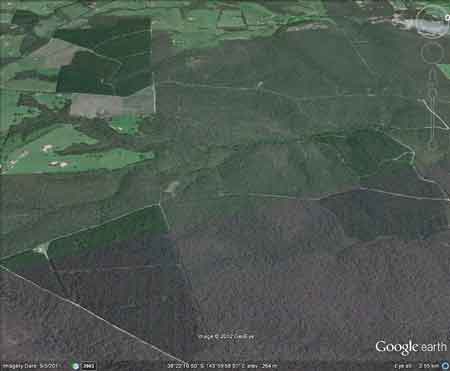 This plantation was very likely to be aerially sprayed with 2,4,5-T between 1968 and 1977. The Dioxin TCDD may still exist in soil in this plantation. For more historical data on 2,4,5-T click here. For more information concerning the continuing health crisis concerning 2,4,5-T please forward to here.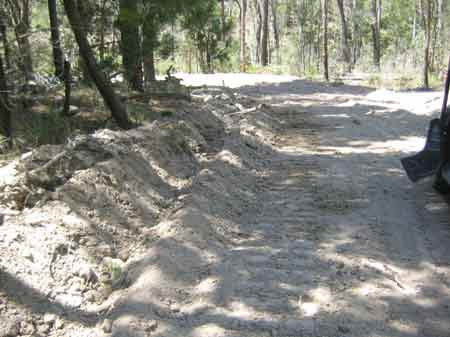 Feb 09: Dodgy roading with very poor drainage on East Wormbete Road.
Herbicides Used by Hancock in Pine Plantations - Ballarat Region Victoria
| | | | | |
| --- | --- | --- | --- | --- |
| Herbicide | Label Rate max as kg/ha | Used to control | Notes | Application |
| Clopyralid | 2.55 | Woody Weeds | Highly Toxic/Potential Ground water Contaminant | air or ground |
| Glufosinate Ammonium | 1 | Woody Weeds | | |
| Glyphosate | 3.6 | Herbaceous and woody weeds, noxious weeds | | |
| Hexazinone | 4 | Woody Weeds | Ground Water Contaminant | Aerial, ground, spot |
| Metsulfuron-Methyl | 0.06 | Woody Weeds, Noxious Weeds | Potential Ground Water Contaminant | Aerial, ground or spot |
| Triclopyr | 3 | Woody and Noxious Weeds | | Ground, spot, basal bark |
Incomplete Spray Regime:
December 1988 - 15 ha sprayed with 150 litres of Velpar on areas that were planted in 1984.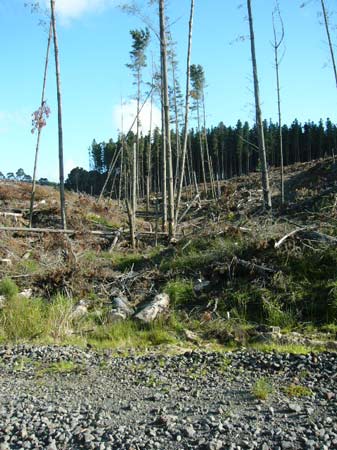 Sep 11: Trashed tributary of Wormbete Creek West Branch off Paddy Swamp Road. Will this logged plantation be aerially sprayed with Hexazinone and will downstream users be informed?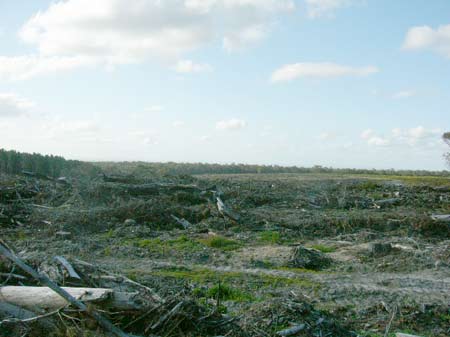 Sep 11: About 100ha of this plantation has been recently clearfelled
THREATENED FISH NOTES - BARWON RIVER: Probably Blackfish in mid to upper reaches. The lower reaches have 1 of 2 of the main spawning areas for Australian Grayling west of Melbourne.

Responsible Authority: Surf Coast Shire Council/Colac-Otways Shire Council
Quote of the year 2002: "Colac Otway Shire 6/12/02. Freedom of Information Request.
In response to your request for information relating to the use of herbicides by plantation companies, I advise that there are no records within Council, as plantation companies are not yet required to advise either Council or the Department of Natural Resources and Environment of their intention to conduct herbicide applications.
Yours sincerely - Freedom of Information Officer - Colac Otway Shire".
Plantation Catchment: 3 separate plantation areas.
2) HW Wormbete Creek West Branch and start of Wormbete Creek and creeks flowing into Wormbete Creek West Branch/Barwon River
3) Creek flows west into Wormbete Creek East Branch/Wormbete Creek/Barwon River.

Catchment Managment Authority: Corangamite Catchment Management Authority

Hancock Watch Site visit Feb 01: (a) Drove into plantation from the north along Paddys Swamp Road. Saw some recent examples of thinning. Slopes very minimal. Stopped off in area of native vegetation which protects gully line that drains to the north. Saw some old growth trees - possibly manna gums. Kept driving north through plantation. Workers were in the area making observations difficult. Stopped at an area which had recently been thinned and noticed quite a large amount of soil disturbance. Slopes not a problem. Probably OK.

Site visit Feb 01: b) Checked out this plantation from the eastern edge - East Wormbete Creek Road. Saw some wildings growing along the native forest along roadside. Plantation from this side looked OK on flat of small hillside.

Site visit Feb 01: c) Located on flat land - looked OK with roads OK. Company had just laid bluestone.
A study of the Land in the catchments of the Otway Range and Adjacent Plains - Soil Conservation Authority 1981.
p143 "Both establishment and harvesting of hardwood and softwood forests cause serious changes to the natural hydrological balance. Pine establishment on disused agricultural land and previously forested land has led to widespread deterioration. The steep north and west facing slopes of Lorne, Forrest, Moggs Creek, Aire, Mt Mackenzie, Bunker Hill and Yahoo Creek land systems are the most severely affected.
Sheet erosion losses can be minimised by working in coupes along the contour, and by maintaining adequate vegetative cover with litter layers over the soil surface. The incidence of landslips increases following harvesting, when the binding effect of tree roots is removed and the soil is subject to saturation for longer periods. The study area share the current trend to reduce the total area of productive forest land and manage this smaller area for higher yields. As with agriculture, nutrients removed in forest produce need to be replaced through the use of fertilisers. The fertiliser requirements of soils designated for long-term hardwood and softwood production require investigation.
p142 Steep slopes in and around drainage lines are more stable under hardwood than softwood forestry, because of longer growth period and more selective logging practices."

Barwon River above Winchelsea: Usually a slow flowing river with extensive shallow reaches and pools up to 2.5m deep. Flows from moutainous forested country upstream of Forest to grazing land, sand and mud bottom. Lower section modified by agriculture and flow is controlled by water releases from West Barwon Reservoir. Trout spawning occurs in the headwaters. Contains river blackfish to 140g, some brown trout to 600g, redfin, short-finned eels and spiny freshwater crayfish.

Source: A Guide to the Inland Angling Waters of Victoria by BR Tunbridge, PL Rogan, CA Barnham. Department Conservation and Environment. Arthur Rylah Institute for Environmental Research, 123 Brown St, Heidelberg, 3084. (4th ed - 1991)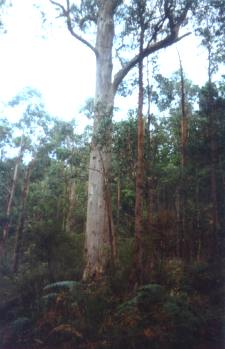 93-45: Feb 01: Boonah plantation. Otways. Paddy's Swamp Road. Native forest gully inside plantation. Tributary of Wormbete Creek West Branch.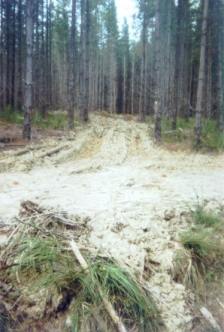 93-45b Feb 01: Erosion from thinning operation in mid summer. Paddy's Swamp Road.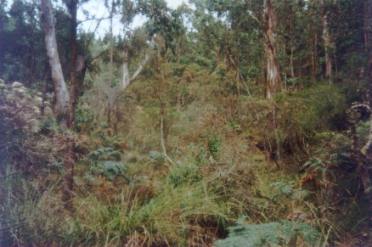 93-45c Feb 01: Gully vegetation on trib of Wormbete Creek West Branch inside plantation.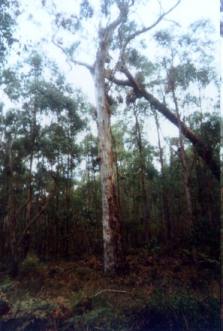 93-45d Feb 01: Old tree inside plantation buffer zone vegetation. Near Paddy's Swamp Road on trib of Wormbete Creek West Branch.
HOME