Region: Ballarat

Legal Number: LEGL/93-58

Plantation: Macedon

Conservation Priority: High

Plantation within AKD Softwoods area of supply.

Plantation within SPE Exports (Geelong) area of supply.

Responsible Authority: Macedon Ranges Shire Council

Approximate Size: 900ha.




93-58b: Feb 01: Native vegetation outside of plantation on a tributary of Gisborne Creek.
Click here for map of Hancocks' Ballarat region plantations.
Water Catchment Area: The southern 'half' of this plantation lies in the Rosslynne Reservoir (Jackson Creek) Water Supply Catchment. LAND USE DETERMINATION (LUD) 18/5/77. Drinking water for DIGGERS REST, GISBORNE, SUNBURY. LUD's now defined as Special Area Plans under the Catchment and Land Protection Act 1994.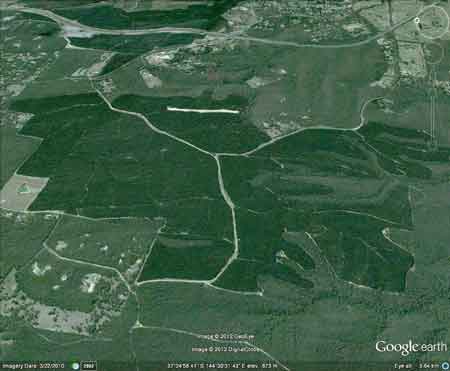 Click here for map of Port Phillip region domestic water supply catchments.
Geology for plantation in Rosslynne catchment: Lower and Lower - Middle Ordovician Sediments.
Soil for plantation in Rosslynne catchment:: Acidic reddish - yellow duplex soil.
Dominant Original Vegetation in Rosslynne catchment: : Messmate (E.obliqua), Narrow-Leafed Peppermint (E.radiata), Mountain Grey Gum (E. Cypellocarpa), Manna Gum (E.viminalis), Silver Wattle (Acacia Dealbata), Common Heath (Epacris impress).
Herbicides Used by Hancock in Pine Plantations - Ballarat Region Victoria
| | | | | |
| --- | --- | --- | --- | --- |
| Herbicide | Label Rate max as kg/ha | Used to control | Notes | Application |
| Clopyralid | 2.55 | Woody Weeds | Highly Toxic/Potential Ground water Contaminant | air or ground |
| Glufosinate Ammonium | 1 | Woody Weeds | | |
| Glyphosate | 3.6 | Herbaceous and woody weeds, noxious weeds | | |
| Hexazinone | 4 | Woody Weeds | Ground Water Contaminant | Aerial, ground, spot |
| Metsulfuron-Methyl | 0.06 | Woody Weeds, Noxious Weeds | Potential Ground Water Contaminant | Aerial, ground or spot |
| Triclopyr | 3 | Woody and Noxious Weeds | | Ground, spot, basal bark |
Proclaimed Water Catchment Area: The northern 'half' of this plantation lies in the Lake Eppalock Water Catchment. Proclaimed 20/7/60.
Click here for map of North Central Water Supply Catchments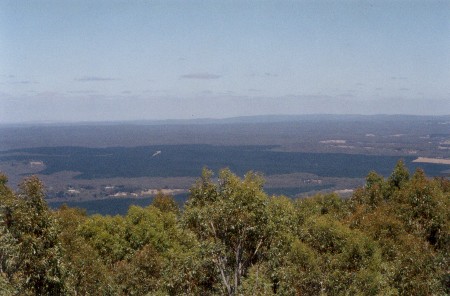 January 2003: View looking west from Mount Macedon into LEGL93-58. This plantation straddles both sides of the Great Divide and stretches over 5km north to south and 4km north east to south west.
Drinking water for HEATHCOTE, TARADALE, STRATHFIELDSAYE, BENDIGO, CASTLEMAINE, MALDON,ELPHINGSTONE, FRYERSTOWN, HARCOURT, NEWSTEAD, RAYWOOD, SEBASTION.
Plantation Catchment: HW - numerous tribs of Gisborne Creek/Rosslynne Res./Macedon River(Jacksons Creek). HW of unnamed creek flowing into Five Mile Creek/Campaspe River.
Catchment Managment Authority: North Central Catchment Management Authority/ Port Phillip Catchment and Land Protection Board
Hancock Watch Site visit Feb 01: Entered this large plantation from west. Drove on pretty good roads. Not much evidence of recent clearing. Drove into southern part of plantation - Gisborne Creek tribs. These tribs appeared to be quite well buffered but I could not determine whether they were actually located in the plantation itself. Came out on boundary road and took photos of Yellow Tail Black Cockatoos in the pines.
Hancock Watch Site Visit Sep 02: Small area (a couple of hectares) had been logged about one year ago on the eastern side of the plantation in the Rossylnne Reservoir catchment. This area was regenerating back into native species as it appeared that herbicides had not been used to 'knock down' the emergent species.
Notes from 'A Proposed Land Use Determination for the Rosslynne Reservoir (Jackson Creek) Water Supply Catchment - Soil Conservation Authority 1977'
"p11 Most land in this catchment would suffer a low level of sheet erosion under producing forest. An annual soil loss level of the order of 1 tonne per hectare would be expected from a 15% slope. This is quite significant when it is considered that a permissable level of total solids (500mg/1-WHO) in domestic water supply is equivalent to a soil loss of approximately 0.7 tonne per hectare when expressed entirely as suspended and colloidal material in mean annual flow and averaged over the catchment . . .
With greatly intensified land use, figures of around 90 tonnes per hectare per year could be expected, leading to gross deterioration of water quality and hydrologic changes to the water flow pattern . . . Turbidity in storm runoff is also a major problem particularly after disturbance of the relatively dispersible subsoils found in a large proportion of the catchment..."
Other Notes: Eppalock Catchment Project - Dept Conservation, Forests & Land & Soil Conservtion Authority 1985.
"p6 . . . The 2000km2 Eppalock Catchment occurs on gentle gradients, to the north of the Great Dividing Range, extending from the Divide almost to the Riverine Plain. The main streams are the Campaspe and the Coliban . . . The basement rocks are Ordovician slates and sandstones . . . Land System: Sandon - Geology: Ordovician, interbedded slates and sandstones with quartz reefs. Topography: Dissected ridges with narrow alluvial swales. Soils: Shallow stony gradational soils. Reddish duplex soils. . . . the excess of rainfall over potential evapotranspiration during the cooler months ranges from 635mm in the south to 150mm in the north, illustrating how the major contribution to stream flow originates in the Head Waters of the catchment . . ."
Gisborne Creek: Rises in state forest and then flows through private agricultural land. Gravel and cobble substrate, with bad silting in some stretches. Contains some deeper holes with better fish but these areas are difficult to reach because of private land. Contains brown trout to 350g, average 90g.
Campaspe River: Upstream from Kyneton - The river is small and shallow, and flows through grazing country. Carries a few small brown trout and rainbow trout.
Source: A Guide to the Inland Angling Waters of Victoria by BR Tunbridge, PL Rogan, CA Barnham. Department Conservation and Environment. Arthur Rylah Institute for Environmental Research, 123 Brown St, Heidelberg, 3084. (4th ed - 1991)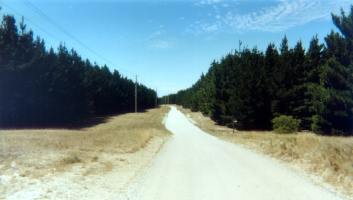 Feb 01: Photo taken on Great Dividing Range. This plantation straddles both side of the Great Divide. This view looking east. Rosslynne Reservoir catchment on right, Campaspe catchment on left.,
HOME