Region: Ballarat

Legal Number: LEGL/93-57/1

Plantation: Railway

Conservation Priority: High

Plantation within AKD Softwoods area of supply.

Plantation within SPE Exports (Geelong) area of supply.

Approximate Size: 450ha.




93-57a: Feb 01: Creek flowing into Riddells Creek flowing east of plantation. Note colour of the water.
Click here for map of Hancocks' Ballarat region plantations.
Water Catchment Area: Part of the plantation (north east aspect) lies in the Macedon and Mount Macedon Water Supply Catchment. LAND USE DETERMINATION (LUD) FOR CATCHMENT 8/4/64. LUD's now defined as Special Area Plans under the Catchment and Land Protection Act 1994.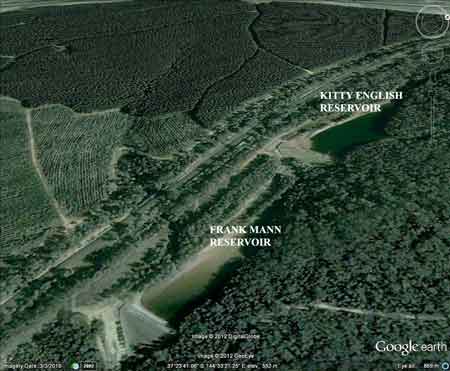 March 2012: About 150ha of this plantation appears to drain into Frank Mann Reservoir (and possibly Kitty Reservoir), managed as a water supply catchment by Western Water. Several hectares appears to have been logged when this image was taken several years ago. Are residents drinking this water in Macedon aware of herbicide spraying in their drinking water supply?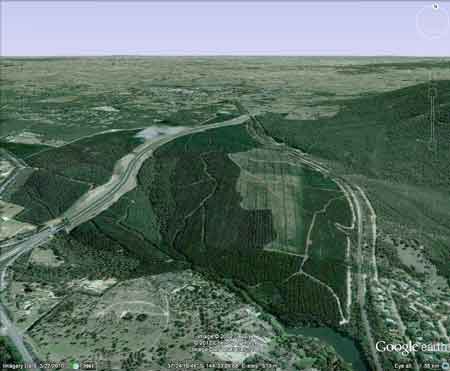 View looking north into plantation - Calder Highway cuts a swathe through western portion of plantation. Mount Macedon on the right of image. Southern portion of plantation drains into Riddells Creek which is dammed.
(A tiny portion of the plantation also lies north of the Great Divide in the Lake Eppalock Declared Water Catchment). Proclaimed 20/7/60.
THREATENED FISH NOTES - MARIBYRNONG RIVER: Lower reaches probably have a spawning population of Australian Grayling.
Herbicides Used by Hancock in Pine Plantations - Ballarat Region Victoria
| | | | | |
| --- | --- | --- | --- | --- |
| Herbicide | Label Rate max as kg/ha | Used to control | Notes | Application |
| Clopyralid | 2.55 | Woody Weeds | Highly Toxic/Potential Ground water Contaminant | air or ground |
| Glufosinate Ammonium | 1 | Woody Weeds | | |
| Glyphosate | 3.6 | Herbaceous and woody weeds, noxious weeds | | |
| Hexazinone | 4 | Woody Weeds | Ground Water Contaminant | Aerial, ground, spot |
| Metsulfuron-Methyl | 0.06 | Woody Weeds, Noxious Weeds | Potential Ground Water Contaminant | Aerial, ground or spot |
| Triclopyr | 3 | Woody and Noxious Weeds | | Ground, spot, basal bark |
Responsible Authority: Macedon Ranges Shire Council
Plantation Catchment: HW Riddells Creek/Jacksons Creek/Maribyrnong River as well as a couple of creeks flowing North into Five Mile Creek/Campaspe River/Lake Eppalock.
Catchment Managment Authority: North Central Catchment Management Authority/ Port Phillip Catchment and Land Protection Board
Hancock Watch Site visit Feb 01: Drove into plantation from south. Got to area where creeks converge. Many of the buffers dominated by pine trees and blackberries. Yet to be harvested but the impacts will be serious. Drove north through pine trees of harvestable age. Drove to north face of coupe where freeway is dissecting plantation. Took road that headed towards Mount Macedon (East). Came across recent clearing of pine. One drainage line very exposed with no riparian vegetation. Drove to eastern boundary road in order to get a better look at the gully line. (Trib of Riddells Creek). Came across cement creek crossing with creek in poor shape. Road connecting creek crossing extremely steep - gully. Drove 50 meters on road out of gully and saw large earthworks. Walked down towards creek gully line and saw old creek crossing - basically road running through creek. Very bad erosion continuing. Lots of silt entering stream. Water was a very dark red and nasty looking colour.
Hancock Watch Site Visit December 2002: It appeared that no further logging had taken place in the plantation since last year. The regenerating coupe was inundated with the weed English Broom and indigenous silver wattle (see photo below). The appalling creek crossing had eroded badly, although traffic on this crossing had been kept to a minimum. Pine Wildings were seen heavily infesting nearby native forest on private land and nearby state forest. Pine wildings were also seen infesting drainage lines. The part of the plantation draining into the proclaimed Macedon and Mt Macedon Water Supply Catchment appeared not to be logged at this stage.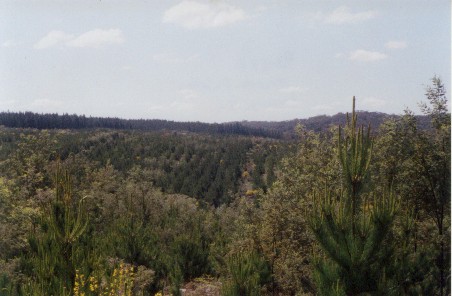 December 2002: Note proliferation of English Broom in this plantation. Plantations can harbour a wide range of weed species. Weeds are usually killed by aerial application of herbcides which is of major concern especially in domestic water supply catchments.
Other Notes: Eppalock Catchment Project - Dept Conservation, Forests & Land & Soil Conservtion Authority 1985.
"p6 . . . The 2000km2 Eppalock Catchment occurs on gentle gradients, to the north of the Great Dividing Range, extending from the Divide almost to the Riverine Plain. The main streams are the Campaspe and the Coliban . . . The basement rocks are Ordovician slates and sandstones . . .
Land System: Sandon.
Geology: Ordovician, interbedded slates and sandstones with quartz reefs.
Topography: Dissected ridges with narrow alluvial swales.
Soils: Shallow stony gradational soils. Reddish duplex soils. . . . the excess of rainfall over potential evapotranspiration during the cooler months ranges from 635mm in the south to 150mm in the north, illustrating how the major contribution to stream flow originates in the Head Waters of the catchment . . ."
Riddell Creek: Flows through forest and grazing land into Jacksons Creek, mud and rock bottom. During the summer it can become a series of pools. Contains some brown trout to 450g, small redfin and eels. Campaspe River: Upstream from Kyneton - The river is small and shallow, and flows through grazing country. Carries a few small brown trout and rainbow trout.
Source: A Guide to the Inland Angling Waters of Victoria by BR Tunbridge, PL Rogan, CA Barnham. Department Conservation and Environment. Arthur Rylah Institute for Environmental Research, 123 Brown St, Heidelberg, 3084. (4th ed - 1991)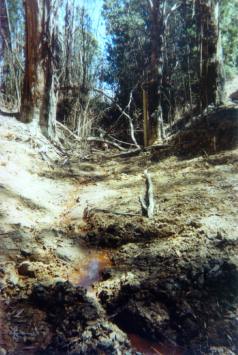 93-57b: Feb 01: Close up from creek crossing on eastern side of plantation just outside Mount Macedon's water supply. Note colour of the water.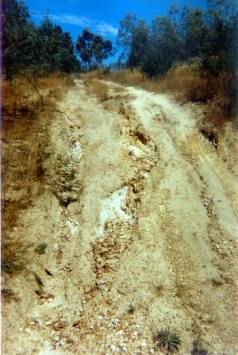 93-57c: feb 01: Roading problems near creeks.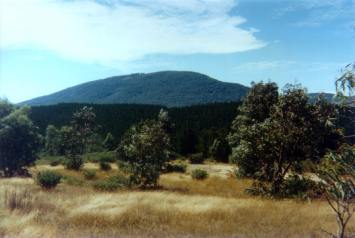 93-57d: feb 01: Railway Plantation with Mount Macedon in the background.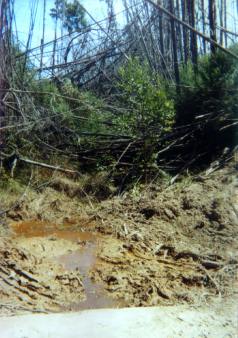 93-57e: Feb 01: Creek water quality issues.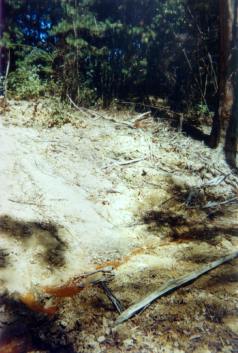 93-57f: Feb 01: Old creek crossing on eastern boundary of plantation. High erosion potential.
HOME