Region: Ballarat

Legal Number: LEGL/93-53

Plantation: Basalt




93-53a:Feb 01: Erosion inside plantation - most likely caused by old gold workings..
Conservation Priority: High
Plantation within AKD Softwoods area of supply.
Plantation within SPE Exports (Geelong) area of supply.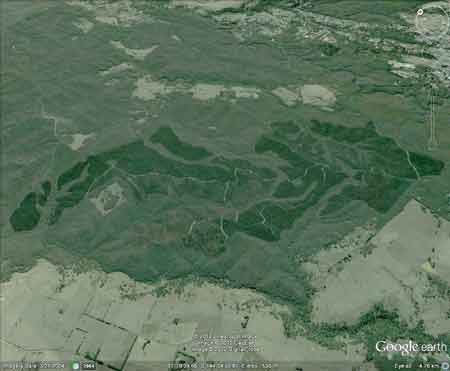 Plantation lies 4km west of the township of Daylesford.
Click here for map of Hancocks' Ballarat region plantations.
Declared Water Catchment Area: Plantation lies within Cairn Curran Proclaimed Water Catchment. Proclaimed 30/6/62.
Entire Plantation lies within Daylesford Mineral Springs Recharge Area.
Herbicides Used by Hancock in Pine Plantations - Ballarat Region Victoria
| | | | | |
| --- | --- | --- | --- | --- |
| Herbicide | Label Rate max as kg/ha | Used to control | Notes | Application |
| Clopyralid | 2.55 | Woody Weeds | Highly Toxic/Potential Ground water Contaminant | air or ground |
| Glufosinate Ammonium | 1 | Woody Weeds | | |
| Glyphosate | 3.6 | Herbaceous and woody weeds, noxious weeds | | |
| Hexazinone | 4 | Woody Weeds | Ground Water Contaminant | Aerial, ground, spot |
| Metsulfuron-Methyl | 0.06 | Woody Weeds, Noxious Weeds | Potential Ground Water Contaminant | Aerial, ground or spot |
| Triclopyr | 3 | Woody and Noxious Weeds | | Ground, spot, basal bark |
Ex Gold Mine Area: It is highly likely that Gold was mined in this plantation in the 19th century with an old gold shaft located on the eastern aspect of the plantation.
Water Catchment Area: LODDON RIVER CATCHMENT - POTENTIAL DRINKING WATER FOR BRIDGEWATER, DUNOLLY, INGLEWOOD, KERANG, LAANECOORIE, TARNAGULLA. MURRAY RIVER SUPPLIES WATER TO KERANG, PIANGIL, SWAN HILL, ROBINVALE, MILDURA
THREATENED FISH NOTES - LODDON RIVER: Tullaroop Creek is a good Blackfish water. Slaty Creek and Creswick Creek have popluations of Mountain Galaxias. The lower reaches of the Loddon also provide good habitat for Murray Cod and Yellow Belly.
Responsible Authority: Hepburn Shire Council
Plantation Catchment: Numerous creeks flowing west into McLachlan Creek/Joyces Creek/CairnCurran Reservoir/Loddon River. Numerous creeks flowing east into Jim Crow Creek/Loddon River.
Catchment Managment Authority: North Central Catchment Management Authority
Hancock Watch Site visit Feb 01: Drove into plantation from the south along Basalt Road. Saw some areas of native vegetation along Basalt Road. Appeared that many dams in plantation are surrounded by regenerating native vegetation. Drove along Schiester Road and saw pretty heavy gully erosion even though gully was vegetated with native vegetation. Also drove down Butterfly track and saw quite heavy erosion problems in gully running next to Butterfly track. Erosion probably caused prior to establishment of pines, however likely to be increased after pine harvesting
Jim Crow Creek: Small stream flowing through grazing land, sand and gravel bed. Joins the Loddon River above Cairn Curran Reservoir. Fish stocks can be affected by low summer flow and water level Self-supporting trout population supplemented by trout migrating from Cairn Curran Reservoir via the Loddon River. Trout most abundant above the junction. Considered best trout stream in the basin, but usually holds a large number of trout resulting in a poor growth rate and stunted fish.
Source: A Guide to the Inland Angling Waters of Victoria by BR Tunbridge, PL Rogan, CA Barnham. Department Conservation and Environment. Arthur Rylah Institute for Environmental Research, 123 Brown St, Heidelberg, 3084. (4th ed - 1991)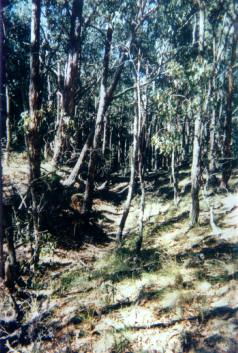 93-53b: Feb 01: Dry creekbed in late summer. Buffer zone inside plantation.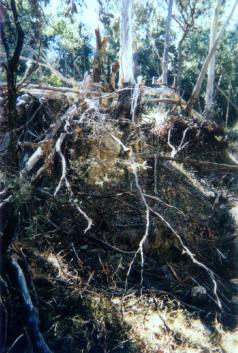 93-53c:Feb 01: Gully erosion inside plantation.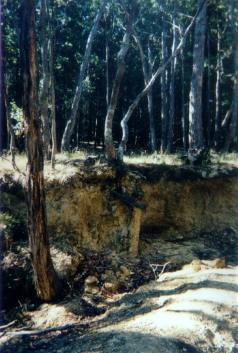 93-53e: Feb 01: High erosion potential after rainfall and harvesting.
93-53f: Feb 01: Dry creek bed inside plantation with buffer.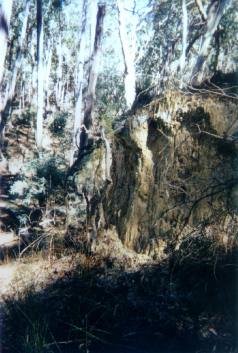 93-53g: Feb 01: More gully erosion inside this plantation.
HOME