Region: Ballarat
Legal Number: LEGL/93-32
Plantation: Shepherds Flat
93-32a. Feb 01: DNRE/Hancock licence area. This native forest area could possibly be logged in the future.
Conservation Priority: High
Approximate Size: 350ha
Plantation within AKD Softwoods area of supply.
Plantation within SPE Exports (Geelong) area of supply.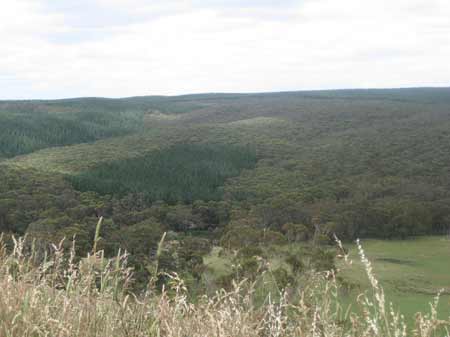 December 2012: Large extent of native forest attached to this plantation - This is land where DSE have retained specified rights to harvest hardwood sawlogs.
The Nationally Threatened Temperate Grassland & Grassy Eucalypt Woodland Ecological Community may occur in this plantation or in close proximity.
More Information:
http://www.environment.gov.au/epbc/publications/pubs/grasslands-victoria.pdf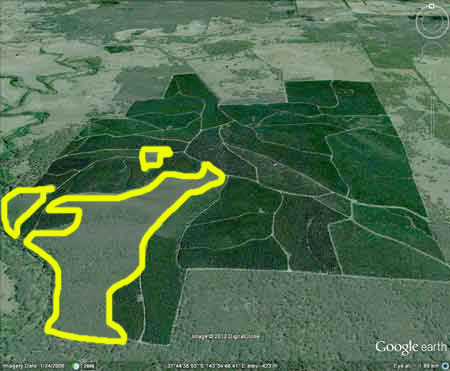 Plantation as seen by Google Earth. Area highlighted in yellow is where DSE have retained rights to log hardwood sawlogs.
Click here for map of Hancocks' Ballarat region plantations.
Plantation where the Secretary CNR retains specified rights to harvest hardwood sawlogs.
One of two plantations sprayed in November 1993 which were involved with the infamous Ballarat spray disaster of 1993 where 1150 Litres of Hexazinone and Ulvapron sprayed on two Victorian Plantation Corporation plantations, 'accidently' ended up covering a large region including Ballarat.
Herbicides Used by Hancock in Pine Plantations - Ballarat Region Victoria
| | | | | |
| --- | --- | --- | --- | --- |
| Herbicide | Label Rate max as kg/ha | Used to control | Notes | Application |
| Clopyralid | 2.55 | Woody Weeds | Highly Toxic/Potential Ground water Contaminant | air or ground |
| Glufosinate Ammonium | 1 | Woody Weeds | | |
| Glyphosate | 3.6 | Herbaceous and woody weeds, noxious weeds | | |
| Hexazinone | 4 | Woody Weeds | Ground Water Contaminant | Aerial, ground, spot |
| Metsulfuron-Methyl | 0.06 | Woody Weeds, Noxious Weeds | Potential Ground Water Contaminant | Aerial, ground or spot |
| Triclopyr | 3 | Woody and Noxious Weeds | | Ground, spot, basal bark |
THREATENED FISH NOTES - BARWON RIVER: Probably Blackfish in mid to upper reaches. The lower reaches have 1 of 2 of the main spawning areas for Australian Grayling west of Melbourne.
Soils: Sourced from Geological Maps of Victoria
Oll: Ordovician/Lancefieldian: Deep marine deposits: sandstone and mudstone and black shale; dominantly sand-rich turbidite facies, moderately to well sorted, variably rounded quartz with minor feldspar and lithic grains in quartz silt or clay matrix, medium to very thick bedded; sparsely fossil iperous with phyllocarids and grapholites, weathered to partly Kaolinised.
Qrc: Quaternary/Recent: Colluvial deposits, active outwash fans, scree aprons and colluvium, ubiquitous around hill bases and in gullies, polymictic gravel, sand, silt, clay: poorly sorted, variably rounded, stratified, laminated or massive.
Responsible Authority: Moorabool Shire Council
Plantation Catchment: Several creeks feed into tribuatory of Yarowee River. Several creeks feed into Williamson Creek/Yarowee River. SW portion of plantation-native veg borders Yarrowee River/Barwon River.
Catchment Managment Authority: Corangamite Catchment Management Authority
Hancock Watch Site visit Feb 01: Large plantation - all pine except for quite a large mass of scrappy regeneration in the south west quarter of the plantation. DNRE retains a licence to harvest this regrowth (as firewood perhaps?). Very limited and highly eroded soils/understorey. Native veg forms catchment of tribuatories of the Yarowee River which lies to SW of the plantation. Noticed inundation with blackberries of the Yarrowee River. Very little old growth trees of any sort. Area warrants some protection - saw examples of recent clearing for radiata in native forest - unsure whether this was carried out by Hancock or not.
Williamson Creek: A tributary of the Yarrowee River flowing through grazing land. Carries good redfin, small brown trout and eels. Last stocked with trout in 1951.
Yarrowee River: Also known as the Leigh River. Flows through grazing land, mud bottom. Polluted and is unsafe for drinking or swimming. Water level can become low in summer. Carries some brown trout to 900g, average size is smaller, redfin to 450g, eels and tench.
Source: A Guide to the Inland Angling Waters of Victoria by BR Tunbridge, PL Rogan, CA Barnham. Department Conservation and Environment. Arthur Rylah Institute for Environmental Research, 123 Brown St, Heidelberg, 3084. (4th ed - 1991)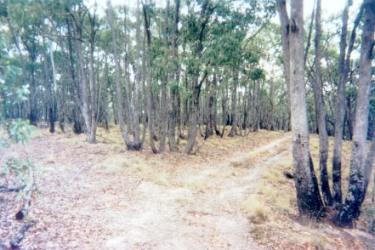 93-32bFeb 01: Close up of DNRE/Hancock licence area. This native forest could possibly be logged. Note lack of understorey or saw quality logs.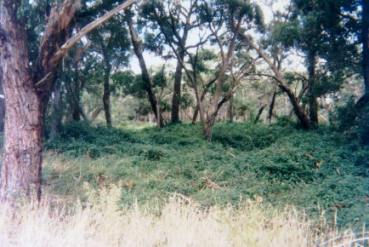 93-32c Feb 01: Looking west into Yarowee River just outside of Hancock's holding. Blackberry problems emerging.
HOME