Region: Ballarat

Legal Number: LEGL/93-30

Plantation: Cape Clear

Size: ~210ha

Conservation Priority: High

Plantation within AKD Softwoods area of supply.

Plantation within SPE Exports (Geelong) area of supply.




93-30 Feb 01: Stand of Sugar Gum inside radiata plantation.
Responsible Authority: Golden Plains Shire Council.
Click here for map of Hancocks' Ballarat region plantations.
The Nationally Threatened Temperate Grassland & Grassy Eucalypt Woodland Ecological Community may occur in this plantation or in close proximity.
Plantation located on Victorian Volcanic Plain Bioregion.
More Information:
http://www.environment.gov.au/epbc/publications/pubs/grasslands-victoria.pdf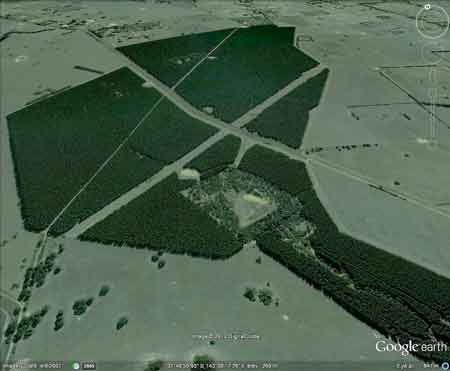 THREATENED FISH NOTES - WOADY YALOAK RIVER: Yarra Pygmy Perch possibly found in this river.
Plantation Catchment: A main tributory of Illabrook Creek starts in plantation/Woady Yaloak Creek/Woady Yaloak River/Lake Martin.
Catchment Managment Authority: Corangamite Catchment Management Authority
Herbicides Used by Hancock in Pine Plantations - Ballarat Region Victoria
| | | | | |
| --- | --- | --- | --- | --- |
| Herbicide | Label Rate max as kg/ha | Used to control | Notes | Application |
| Clopyralid | 2.55 | Woody Weeds | Highly Toxic/Potential Ground water Contaminant | air or ground |
| Glufosinate Ammonium | 1 | Woody Weeds | | |
| Glyphosate | 3.6 | Herbaceous and woody weeds, noxious weeds | | |
| Hexazinone | 4 | Woody Weeds | Ground Water Contaminant | Aerial, ground, spot |
| Metsulfuron-Methyl | 0.06 | Woody Weeds, Noxious Weeds | Potential Ground Water Contaminant | Aerial, ground or spot |
| Triclopyr | 3 | Woody and Noxious Weeds | | Ground, spot, basal bark |
'Scandal' cry over sugar gum harvest by Kim Quinlan - The Courier, Ballarat, 19/3/94
Cape Clear residents are up in arms over a decision to cut down a sugar gum plantation they claim is home to native birdlife.
Residents claim native birds - including a family of hawks - would be left homeless after the gums are cut down.
The sugar gums are part of a larger pine plantation in Ryans Rd, Cape Clear, owned by Victorian Plantation Corporation. The sugar gums will be cut down as part of a two-month harvesting operation.
The area in question is reserved by the Land Conservation Council for a production forest.
According to the Victorian Plantation Corporation, the Ryans Rd property is a commercial firewood operation which has been harvested for almost two months. Resident John Paull is unsure how long the gum trees have been in Ryans Rd, but said they were well established when he bought his property 12 years ago.
"Most of the trees are over 100 feet tall. They stand well above the pine trees in the plantation," Mr Paull said. The birdlife - including the hawks - which densely populate the gums, would suffer if the trees were removed, he added.
"These trees are magnificent. It would be a shame if they were cut down to put in more pine trees. "It's scandalous," he said.
"It's such a peaceful place; I often take my dogs for a walk through the plantation. If you remove the native trees, you lose the native birds."
Mr Paull said he first became concerned about the trees when he heard chainsaws at the weekends. "I was devastated."
Victorian Plantation Corporation zone manager Adrian Hatch said the sugar gums were introduced into the Cape Clear plantation to be routinely harvested for firewood and other products.
"Our records clearly show that the plantation was always earmarked for firewood. "If there are any undertakings given, we would be very pleased to look at them and talk to the concerned people."
Hancock Watch Site visit Feb 01: Area occurs on cleared farmland on flat ground. Some of the area was also grown with sugar gum - small area and one small portion of the plantation on the north side of road appeared to have some problem with erosion. Not a bad site though.
Woady Yaloak River, Cressy: Flows through forest and grazing land, mud, sand and gravel bottom. Wide fluctuation in flow. In many places the river is choked with acquatic vegetation. Also very turbid from erosion in the catchment. Some trout spawning occurs on the gravel beds in the headwaters. Also contains eels which enter through a diversion channel from the Barwon River. Other species are redfin to 750g, abundant river blackfish some to 400g, tench and goldfish. The best fishing is downstream from Cape Clear.
Source: A Guide to the Inland Angling Waters of Victoria by BR Tunbridge, PL Rogan, CA Barnham. Department Conservation and Environment. Arthur Rylah Institute for Environmental Research, 123 Brown St, Heidelberg, 3084. (4th ed - 1991)
HOME