Hancock's logging practices -
Update September 2000 Part 2
Albert River Headwaters - Crawford's track. 6/10/99. Removal of rainforest buffers. Disregard to Environmental Care principles of the Code of Forest Practices.
Logging extraction track culverts. Bell Blvd. August 1999.
Albert River Catchment, Yarram/Madalya Road. August 22nd, 1999. Filter strips removed with debris pushed into the gully floor.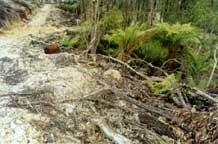 Extra access track - head gully of Rodgers Road. Photo taken September 1999. Note the lack of drainage and amount of soil disturbance - Contravening Code of Forest Practices.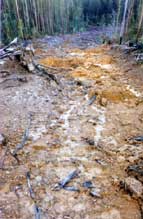 Yarram-Madalya Road. April 2000.
Silt running down entire length of slope.
Rodgers Road - September 1999. Wet Weather restrictions of the Code of Forest Practices ignored. It is common practce for the industry to continue works in unsuitable conditions compromising soil stability and water quality.
| | | |
| --- | --- | --- |
| Strzelecki Koala - Albert River Road. June 2000. Lack of habitat forces koalas onto roads where they can be killed by cars. | | Hemphill Way. May 21st, 2000. Removal and destruction of native vegetation, destruction of filter strips. |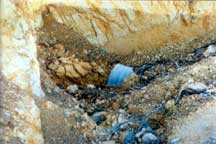 Yarram Madalya Road above Andrews Track. Culvert put in place after harvesting activities completed. Photo taken April 2000. Many culverts and drains on Hancock roads remain of extremely poor quality, leading to blow outs and blocakages.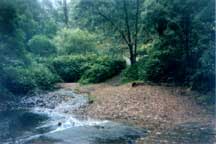 Mount Robinson Plantation - Shire of Murrundindi. Located on the north face of the Great Dividing Range,1 hour north of Melbourne, in the Murray Darling Basin. Water from this creek eventually ends up in South Australia. What hope is there of improving water quality for the Murray Darling Basin when the headwaters of these creeks are treated in such an environmentally irresponsible way? What do water users downstream of these areas think about these shoddy operations? Hancock Watch was informed by local fishermen of the extremely poor quality of logging roads in this plantation. Fishermen are extremely concerned about the effects of sedimentation on macroinvertebrates and fish populations. This creek is a tributary of King Parrot Creek. Please note that the road is actually a creek, contravening the Code of Forest Practices. Hancock were asked to close the road down as early as February 2000, but have yet to do so. Remedial work, has been most unsatisfactory. Road remains unclosed and can be accessed by four wheel drive vehicles.