Hancock Watch April 2011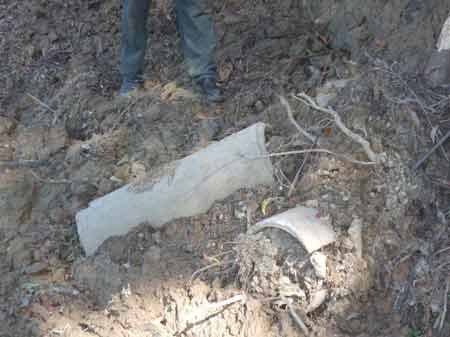 March 2011: College Creek, busted culvert during wet weather work in rainforest reserve.

Yellow dot marks approximate site of recent clearfelling in catchment that supplies drinking water to over 1000 people. Blue Indicates Cores and Links Rainforest Reserve. Red indicates cool temperate rainforest. More information on Agnes River here.

Strzelecki Ranges with domestic water supplies marked in light blue. Yellow = hardwood. Orange=pine.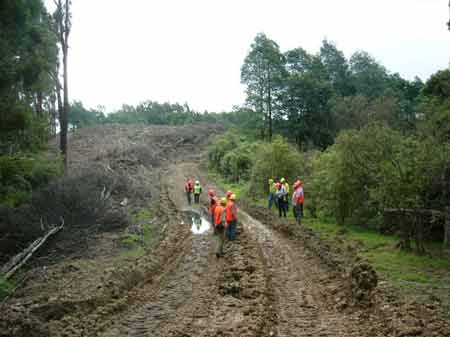 The Star. April 5 2011
Water's Okay: SGW by Matt Dunn
South Gippsland Water Managing Director Steve Evans said no more chemicals than permissible would be used to treat water sourced from the Agnes River.
Environmental group Friends of the Earth belived logging along the river's fringe will adversely affect drinking water in Toora, Welshpool and Port Welshpool.
The group said SGW may be forced to treat turbidity in the water by increasing concentrations of coagulant chemicals, such as aluminium sulphate (alum).
"There is a causal link between aluminium concentration and Alzenheimer's disease", landuse researcher Anthony Amis said.
"Aluminium has also been linked to Parkinson's Disease and can cause problems for people undertaking kidney dialysis.
"One hopes that dosing drinking water with high levels of alum does not occur, but it can't be ruled out, particularly if heavy rain occurs during and after logging."
But Mr Evans said that SGW was bound by strict standards and could only use a prescribed measure of the chemical.
"The flows we get from the Agnes are very turbid just in normal times. We have in place out treatment plant. The treatment plant deals with clarification and filtration" he said.
Yes, we do use alum, however that's to put in the raw water to drop out the solids and turbidity. At the end of the day though we're under very strict guidelines.
"We use what we need, but the national and state drinking guidelines state an amount we can't go over in relation to alum. There's just no concern it's going to blow out because we've got turbidity coming down".
Mr Evans said that if the river's turbidity levels were "massively high" there was "the ability to turn that water off".
"We could use the water that is stored in the service basin and we could continue that for one or two weeks" he said.
"An event might happen where the water becomes massively turbid, but we just wouldn't keep hitting it with chemicals."
HVP plantations external relations manager Steve Wentworth said the area that would be logged is part of a plantation and "it was not the first time that we've undergone our plantation activities in that catchment area".
"Poor forest practices or poor roading practices can contribute to sediment in the stream. There is some basis to that, scientifically" he said.
He said the company had been audited by two seperate authorities to prove it's bona fide as a good corporate citizen that adheres to stringent environmental practices.
"We're proud of our culture and it qualifies for certification with two independent bodies. It's a sustainable practice that we're engaged in. It's a renewable resource" he said.
"If this is done to a high standard then the impacts are minimised"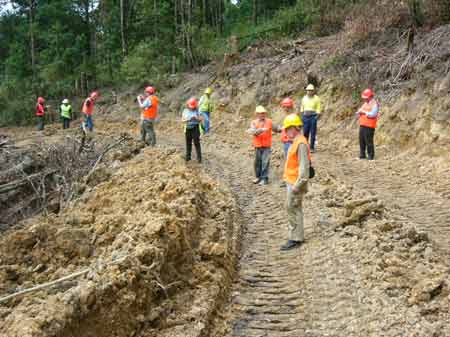 March 16 2011: Strzelecki Ranges/Agnes River Catchment: FSC auditors Smartwood, and ASI observe first hand Hancock roading in the Agnes River catchment.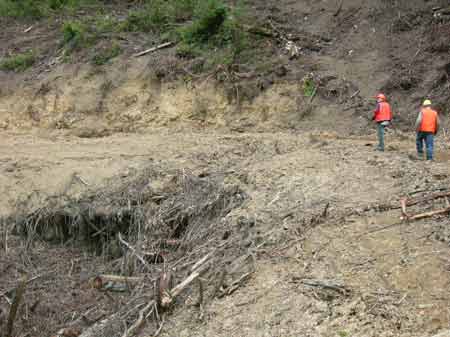 March 16 2011: Strzelecki Ranges/Agnes River Catchment: No drainage or culverts at this spot on Mount Mabel Track. Hancock used the excuse that this was a pre-road, used before logging occurs.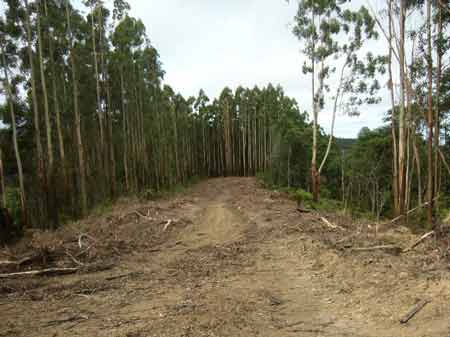 March 16 2011: Strzelecki Ranges/Agnes River Catchment: Where the logging road went to a logging coupe.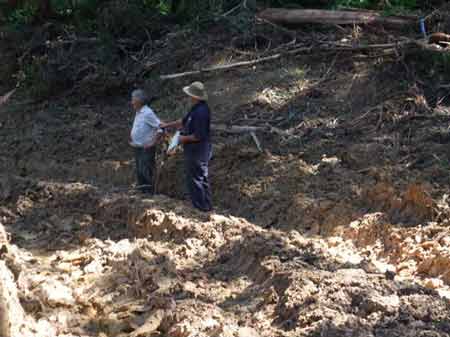 March 2011: Strzelecki Ranges/Agnes River Catchment: Mount Mabel Track a few weeks prior. Wet Weather work.
March 2011: Strzelecki Ranges/Agnes River Catchment: Remnant tree bulldozed.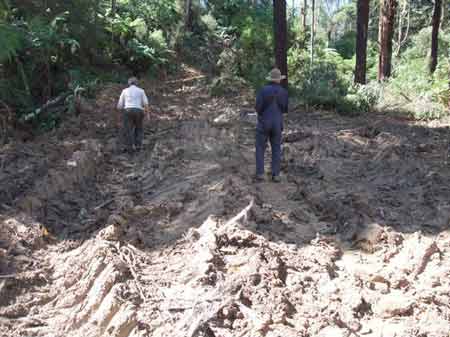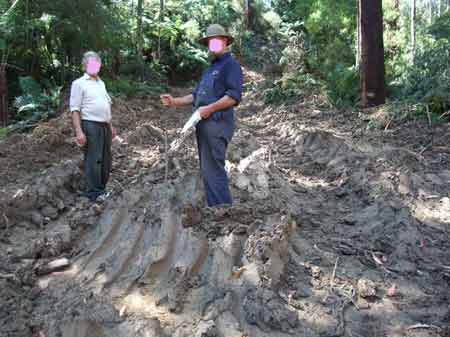 March 2011: Mt Mable Track, obvious signs of wet weather work in domestic water supply.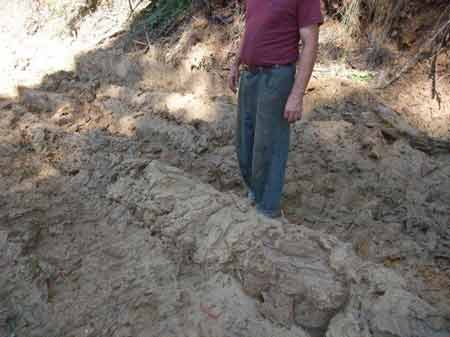 March 2011: Strzelecki Ranges/ College Creek: This road is below Budgeree Road and track 32 a Council road. The culverts and gabion from the Council road have been ripped out during these wet weather operations.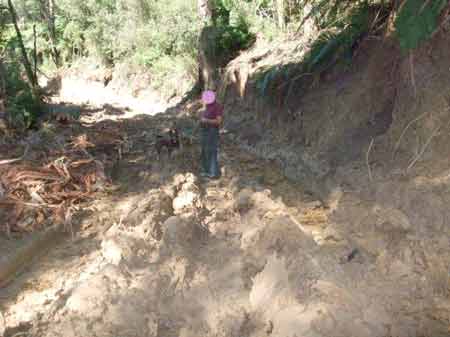 March 2011:Strzelecki Ranges/ College Creek: Roading inside rainforest reserve. Wet summer, appalling drainage. LaTrobe Shire, "asleep at the wheel".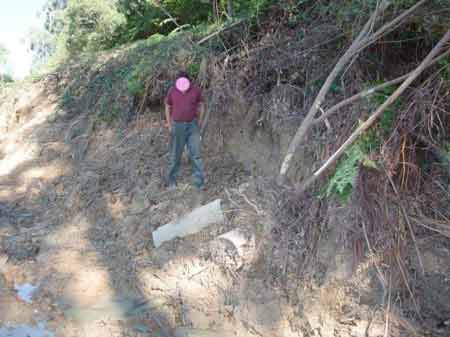 March 2011: Strzelecki Ranges/ College Creek below Track 32. More appalling wet weather work. Broken culvert.