Region: Upper Murray

Legal Number: LEGL/93-168/1

Plantation: Shelley

Conservation Priority: High




93-168a March 01: Native vegetation buffer bulldozed by contractors. Tributary of Pheasant Creek which in turn flows into Cudgewa Creek.
Plantation within Australian Newsprint Mill (ANM) Ltd area of supply.
Plantation within Carter Holt Harvey (now owned by International Paper) area of supply.
Plantation within Boral Timber (Tumbarumba) NSW area of supply.
Plantation within Dominance Industries (Alpine MDF Industries) area of supply.
This plantation was very likely to be aerially sprayed with 2,4,5-T between 1968 and 1977. The Dioxin TCDD may still exist in soil in this plantation. For more historical data on 2,4,5-T click here. For more information concerning the continuing health crisis concerning 2,4,5-T please forward to here.
Herbicides Used by Hancock in Pine Plantations - North East Region Victoria
| | | | | |
| --- | --- | --- | --- | --- |
| Herbicide | Label Rate max as kg/ha | Used to control | Notes | Application |
| Carfentrazone-Ethyl | 0.036 | | | |
| Clopyralid | 2.55 | Woody Weeds | Highly Toxic/Potential Ground water Contaminant | air or ground |
| Glyphosate | 3.6 | Herbaceous and woody weeds, noxious weeds | | |
| Hexazinone | 4 | Woody Weeds | Ground Water Contaminant | Aerial, ground, spot |
| Metsulfuron-Methyl | 0.06 | Woody Weeds, Noxious Weeds | Potential Ground Water Contaminant | Aerial, ground or spot |
| Triclopyr | 3 | Woody and Noxious Weeds | | Ground, spot, basal bark |
Plantation Possibly located on Tin Mine tailings: Tin was first worked in the Koetong area in 1873. In June that year, stream tin was being worked on Koetong, Dry Forest, Burrowye, Pheasant and Cudgewa Creeks and their branches. Stream tin was worked in much the same way as alluvial gold; the upper soil (called 'stripping') on the creek flats was shovelled away until tin-bearing washdirt was exposed; sluicing was then carried out.
Water Catchment Area: LAKE HUME SUPPLIES WATER TO BELLBRIDGE, TALLANGATTA. MURRAY RIVER SUPPLIES WATER TO ALBURY/WODONGA, TANGAMBALANGA, KIEWA, RUTHERGLEN, YARRAWONGA, COBRAM, BARMAH, ECHUCA , KERANG, PIANGIL, SWAN HILL, ROBINVALE, MILDURA
Plantation lies inside Lake Hume Designated Water Supply Catchment.
THREATENED FISH NOTES - CUDGEWA CREEK: Stocked with Trout Cod and Murray Cod. Also has Blackfish and Mountain Galaxias. Silt is major problem into its lower reaches.
Incomplete herbicide regime:
Spring/Summer 1993: 70 hectares of this plantation sprayed by the Victorian Plantations Corporation with 465 litres of Roundup, 1500g of Brushoff and 270 litres of Velpar L in order to kill a continuous mat of blackberry and bracken.
Responsible Authority: Towong Shire Council
Plantation Catchment: Numerous tributaries of Pheasant Creek/Beetomba Creek North Branch/Beetoomba Creek/Cudgewa Creek/ Murray River. Headwaters of Guys Forest Creek/Murray River. Tributaries of Keelangie Creek/Beetoomba Creek/Cudgewa Creek/Murray River
Catchment Managment Authority: North East Catchment Management Authority
Hancock Watch site visit Mar 01: Massive plantation. Huge management concerns. Entered plantation from Pheasant Creek Reserve. Headed east into recently cleared horizon logging. There were some small buffer zones surrounding some of the (Beetoomba Creek north branch) and some of the tributaries, however the extend of the logging completely overshadowed any sense of environmental concerns.
On Klippel road about 300 metres from the Beetoomba Road T-Junction we found many boxes left half covered by the side of the road. It appeared that the boxes had been dumped. On closer inspection these boxes were in fact Cut-Out herbicide boxes, some with the herbicide inside the boxes both inside and outside of plastic bags. Some of the plastic bags were left open. Cut Out is made by DuPont (Australia) Ltd. 168 Walker Street, North Sydney, NSW 2060.
In regards to Cut Out leaflets found inside dumped boxes, they read in part:
"PART A - HERBICIDE ACTIVE CONSTITUENT: 63.2g/kg METSULFURON METHYL 760.5 g/kg GLYPHOSATE
GROUP BM HERBICIDE
PART B - SURFACANT
ACTIVE CONSTITUENT: 1000g/l ALCOHOL ALKOXYLATE
Spray Preparation
Cut-out is a dry flowable/granular formulation and is contained within a water soluble bag. The water soluble bag dissolves readily in water. DO NOT excessibly handle water soluble bags or expose to moisture because this will cause breakage. DO NOT touch the bag with wet hands or place it on wet surfaces. Protect unused bags by resealing them in the bag provided . . .
PROTECTION OF WILDLIFE, FISH, CRUSTACEA AND ENVIRONMENT
DO NOT contaminate streams, rivers or waterways with the chemical or used containers.
STORAGE and DISPOSAL
Store in closed, original container in a dry, well ventilated area, as cool as possible out of direct sunlight. DO NOT store or expose product to wet conditions. Rough handling of the product may cause breakage of the pouches, especially at low temperatures . . . "
Further down Klippels Road there was what remained of a main tributary of Pheasant Creek. Some native vegetation buffers had been bulldozed - the first instance of this witnessed on Hancock lands outside the Strzelecki's. Many pine trees had been chopped into the creeks almost non-existent buffer zone. It also appeared that some shovel logging had been going on on the northern side of the creek and small fires were seen smouldering in piles of unwanted pine trees after harvesting. One of the worst examples of logging we had ever witnessed!
Upper Murray River: The Upper Murray Basin is drained by numerous small streams which comprise part of the headwaters of the Murray River. All the rivers, except the lower reaches of the northern streams, flow through inaccessible, heavily forested mountain country. The two best trout waters are the Cudgewa and Nariel Creeks. Koetong Creek is being stocked with Trout Cod as part of a program aimed at establishing additional viable populations of this endangered native fish species.
Cudgewa Creek, Cudgewa: Rises in heavily timbered country, then flows through grazing land, gravel, rock and mud bed. Erosion of banks and siltation requires control. Carries mostly brown trout average 480g, maximum 900g, rainbow trout to 450g and abundant river blackfish. Spiny freshwater crayfish are present. Lower reaches contain some redfin and occasional Murray cod to 6.6kg. Trout Cod are reported to be still present in the middle reaches. Last stocked with trout by Department in 1969. No further trout stocking will be considered because of the viable Murray cod population and reported trout cod. Source: A Guide to the Inland Angling Waters of Victoria by BR Tunbridge, PL Rogan, CA Barnham. Department Conservation and Environment. Arthur Rylah Institute for Environmental Research, 123 Brown St, Heidelberg, 3084. (4th ed - 1991)
The distribution of Trout Cod is more restricted than in the past (Cadwallader &Gooley 1984). They were once widespread in the Murray-Darling system, mostly in the upper reaches (e.g. Mitta Mitta, Ovens, King and Goulburn Rivers), though recorded as far downstream as Mannum in South Australia (Cadwallader & Backhouse 1983, Cadwallader & Gooley 1984). In Victoria the only known viable population occurs in Seven Creeks, upstream of Euroa between Gooram Falls and Polly McQuinns Weir, and originates from fish translocated from the Goulburn River in 1921 and 1922.
The Department of Conservation and Natural Resources (CNR) and its predecessors have released fish into Koetong, Hughes, Ryans and Buffalo Creeks and the Coliban and Broken Rivers. There are also unconfirmed reports of Trout Cod in a number of waters, including the King, upper Ovens, and lower Goulburn Rivers, and Cutting, Narial, Cudgewa, Morses and Broken Creeks.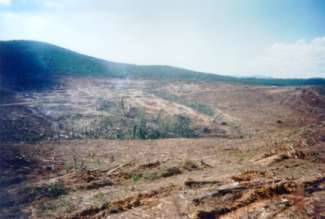 93-168b March 01: Recent logging of trib of Pheasant Creek. Lack of buffer zones. Small fires burning in background. Looking north.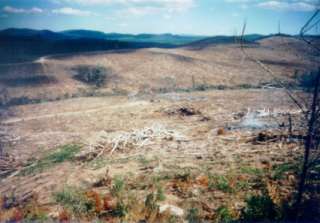 93-168c March 01: Looking south onto trib of Pheasant Creek which in turn flows into Cudgewa Creek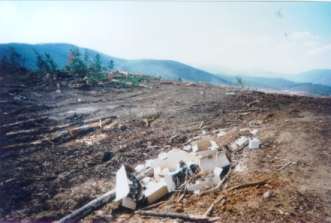 93-168f March 01: Cut-Out herbicide dumped on side of the road.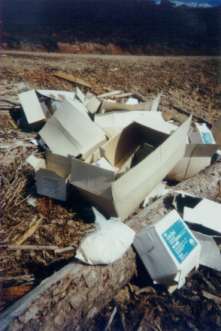 93-168g March 01: Dumped herbicide from a different angle. Note herbicide bag in foreground.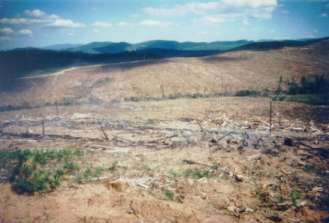 93-168h March 01: Looking south onto trib of Pheasant Creek. Plantation trees appeared to have been 'shovel logged' at this site.

93-168I March 01: View looking west along tributary of Pheasant Creek which in turn flows into Cudgewa Creek.

93-168j March 01: Wide angle shot of southern reaches of Shelley plantation. Shelley plantations stretch for an approximate 20 km x 14 km in the headwaters of the Murray River system.
HOME