Region: Upper Murray

Legal Number: LEGL/93-135

Plantation: Chiltern Water Reservoir




93-135a Mar 01: Remnant bush along trib of Black Dog Creek inside plantation.
Conservation Priority: Med
Plantation within Australian Newsprint Mill (ANM) Ltd area of supply.
Water Catchment Area:
Responsible Authority: Indigo Shire Council
North East Victoria Plantation Map here
Plantation Catchment: Several creeks flowing into Black Dog Creek/Diddah Diddah Creek/Murray River
Catchment Managment Authority: North East Catchment Management Authority
Herbicides Used by Hancock in Pine Plantations - North East Region Victoria
| | | | | |
| --- | --- | --- | --- | --- |
| Herbicide | Label Rate max as kg/ha | Used to control | Notes | Application |
| Carfentrazone-Ethyl | 0.036 | | | |
| Clopyralid | 2.55 | Woody Weeds | Highly Toxic/Potential Ground water Contaminant | air or ground |
| Glyphosate | 3.6 | Herbaceous and woody weeds, noxious weeds | | |
| Hexazinone | 4 | Woody Weeds | Ground Water Contaminant | Aerial, ground, spot |
| Metsulfuron-Methyl | 0.06 | Woody Weeds, Noxious Weeds | Potential Ground Water Contaminant | Aerial, ground or spot |
| Triclopyr | 3 | Woody and Noxious Weeds | | Ground, spot, basal bark |
Hancock Watch site visit Mar 01: Interesting plantation bordering on Barrambogie State Forest - the plantation is most likely downstream from a series of wells that supply Chiltern with drinking water. Small plantation located on flat land with very minimal slopes. This plantation had a significant area under native vegetation which appeared to be unlogged which is positive. There were some wildings growing on the northern boundary of the plantation and it did appear that some herbicides had been used to spray native vegetation regenerating alongside road boundary. There also appeared to be a 'protected' native vegetation wetland on the western edge of the plantation which was not logged as well as some older trees inside the plantation boundary on the southern edge of the plantations. Pines looked like they had been hervested in the past 6 months so native veg buffers appear to be maintained. Normally this type of plantation would warrant a high, but it appears to be well looked after.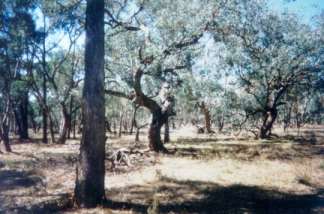 93-135b March 01: Some older remnant trees inside plantation.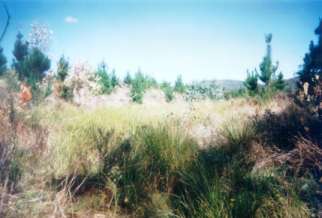 93-135c March 01: Pines established in drainage lines.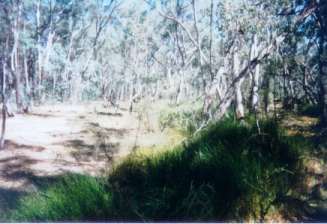 93-135 d. March 01: Native vegetation along trib of Black Dog Creek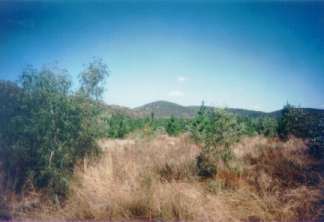 93-135e March 01: Newly planted pine.
HOME