Jack River Catchment (between yellow lines) showing extent of plantations within catchment (numbers eg 76 refer to the year of plantation establishment). Approximately 1000ha appear to have occurred in 1976 (plantations within red line). Plantations established in 1980/1 (`~1000ha) were most likely established with a concoction of Amitrole (Weedagol T.L. Plus) and (Gesaprim 500) Atrazine may have been sprayed. In 2002 scientists in the United States found that Atrazine at levels as low of 0.1part per billion altered hormones in frogs. Since then Atrazine has been found to have the same effect across a range of animals. 1000ha would probably have been sprayed with the Atrazine (4 l/ha/Amitrole 7l/ha) mixture. Totals 4000 litres Atrazine, 7000 litres Amitrole). The highest risk years for drinking water quality would have been between 1974-8 & 1980-1.
Prior to September 1976, it is highly likely that aerial application of 2,4,5-T @ 1.1 litres a hectare occurred. ~1000ha would have been aerially sprayed with 2,4,5-T in 1975 south of the Grand Ridge Road and west of Whitelaws Track. One could concur that ~1000ha of plantations in Jack River were aerially sprayed with 2,4,5-T in 1976. The areas marked in red show likely areas where 2,4,5-T would have been used.
Total 2,4,5-T amount used 1971-1977 would have been 1100L mixed with 50,000 litres of diesel. How much of this ended up in the Jack River?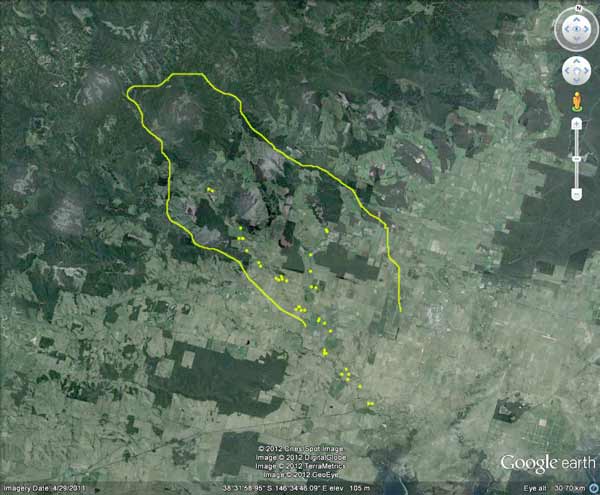 Rough map showing houses that may pump water directly from the JackRiver (area marked within yellow lines). Perhaps 40 houses could pump water from the Tarra River (80 people). All of these residences lie downstream of where 24,5,-T/Atrazine/Amitrole was sprayed, with the most pesticide loads likely for people south of Antonio Creek.
Catchment Managment Authority: West Gippsland Catchment Management Authority
www.hancock.forests.org.au/docs/jack.htm#content_top
www.hancock.forests.org.au/docs/middle.htm#content_top
"Jack River Rainforest:
Jack River rainforest is bounded by the Grand Ridge Road and Hour Track to the north, Jack Road to the east and south and the Yarram/Madalya Road to the west.
There has been a lot less plantation activity on the tributary flowing south/west from Hour Track than the tributary west of Cockrem Track. The rainforest within the tributary south of Hour Track is a great deal wider and more dense than that on the western tributary. In a number of places the rainforest extends up spurs for more than 100 metres. This tributary is also an extremely rich site for slender and skirted tree ferns. However, tracks and plantation activities into the headwaters from Hour Track and Jack Track have resulted in erosion and blocked water flow on the eastern side of the headwaters.
Most of the area surrounding the rainforest in this eastern tributary is native vegetation consisting of Wet Scherophyll forest containing large numbers of mature mountain ash and Blackwood forest. There are some areas of Messmate forest on the eastern side of the tributary, adjacent to Jack Track. In the northwest corner there has been some attempt to establish mountain ash plantation, mainly from Cockrem Track, but most of this is failed plantation and has reverted to native vegetation."
Rainforest in the Strzeleckis by Elaina Fraser.
A number of sections of the rainforest on this creek are quite wide and extend more than 100 metres up the slope on the northern side. The southern side tends to be more damaged due to past clearing or plantation activity, but there are some wide sections of rainforest on that side as well.There are also extensive areas of blackwood forest, with some myrtle beech scattered within it.
The major section of rainforest is in the north/west corner of the headwaters. There are many skirted and slender tree ferns in this section.
There are a number of important habitat areas in the South Middle Creek Catchment. The major area of mountain ash regrowth is in the north/east corner, adjacent to the Tarra Valley Road. There is a small area of mountain ash regrowth and understorey vegetation on the steep slopes of the south east corner.
There are large areas of blackwood forest north of the creek, below plantation and a small area of mountain ash regrowth in the northwest corner. There are fewer areas of regrowth in the southern side, but some small areas remain in the south-west section.
As there are very few areas of mature eucalypts left in the Strzeleckis, and the remaining few are rapidly disappearing, these areas of native vegetation need to be preserved."
Rainforests of the Strzelckis by Elaina Fraser.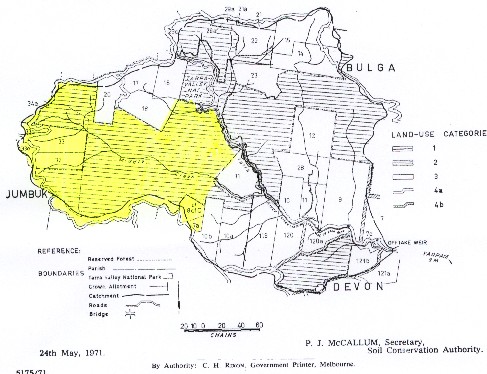 Map above indicates the extent of Hancock land from this plantation which lies within the Tarra River Proclaimed Water Catchment.
For full details of all of Hancock land lieing within this catchment click here.
Herbicides Used by Grand Ridge Plantations - Strzelecki Ranges and Gippsland Victoria
| | | | | | |
| --- | --- | --- | --- | --- | --- |
| Herbicide | Label Rate max as kg/ha | Used to control | Euc/Rad | Notes | Application |
| Clopyralid | 2.55 | Woody Weeds | Radiata and Eucalypts | Highly Toxic/Potential Ground water Contaminant | aerial or ground |
| Glufosinate Ammonium | 1 | Woody Weeds | Radiata | | aerial or ground |
| Glyphosate | 3.6 | Herbaceous and woody weeds, noxious weeds | Radiata, Eucalpts and Custodial | | |
| Haloxyfop-methyl | 0.13 | Annual and Pernneial Grasses | Eucalypts | Carcinogen | aerial or ground |
| Hexazinone | 4 | Woody Weeds | Radiata | Ground Water Contaminant | Aerial, ground, spot |
| Metsulfuron-Methyl | 0.06 | Woody Weeds, Noxious Weeds | Radiata, Eucalyptus and Custodial | Potential Ground Water Contaminant | Aerial, ground or spot |
| Sulfometuron Methyl | 0.6 | Annual and Perennial Grasses and broadleaf weeds | Eucalyptus | Potential Ground Water Contaminant | Aerial or Ground |