Hancock Site visit November 2001:
Plantation mass which appears in two separate areas. The bulk of the plantation stretches from Mount Fatigue in the east to Beolarong in the west.
The other plantation mass is just east of Mount Square Top and consists of a pine plantation established in the early seventies of eighties and hardwood established in the late eighties. Some logging had just occurred in the plantation. The slopes range from steep to mild and the amount of native vegetation within the plantation appeared to be negligable, although there may well be remnant vegetation on the western banks of the Little Franklin River.

Hancock Site visit November 2001:
Access into this area was difficult and further investigation is warranted. Site visit November 01: Entered large area of the plantation unmarked by plantation boundaries on LEGL map. This area is near the old township of Beolarong This area contained many of the headwaters and northern tributaries of the Little Franklin River. It appeared that much of this area was pine and hardwood plantation with some remnant vegetation on the creek left as buffer zones. Access to the Little Franklin River was not made from this access road.
THREATENED FISH NOTES - STRZELECKI STREAMS: Habitat forSpotted Galaxias, Mountain Galaxias, Broadfinned Galaxias, Tupong , Blackfish and the FFG listed Australian Grayling..
Responsible Authority: South Gippsland Shire Council
Plantation Catchment: Many tribs Little Franklin River Many tribs Franklin River
This plantation was very likely to be aerially sprayed with 2,4,5-T between 1968 and 1977. The Dioxin TCDD may still exist in soil in this plantation. For more historical data on 2,4,5-T click here. For more information concerning the continuing health crisis concerning 2,4,5-T please forward to here.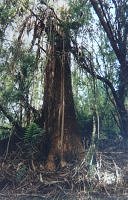 Nov 01: Non-plantation tree in tributary of Little Franklin River.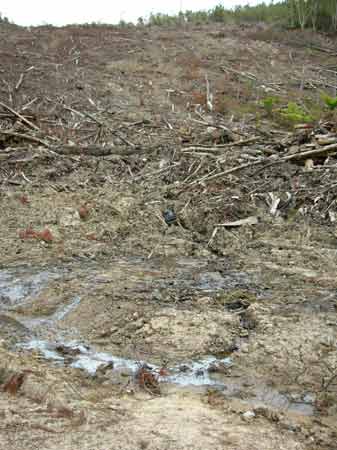 November 2007: drainage line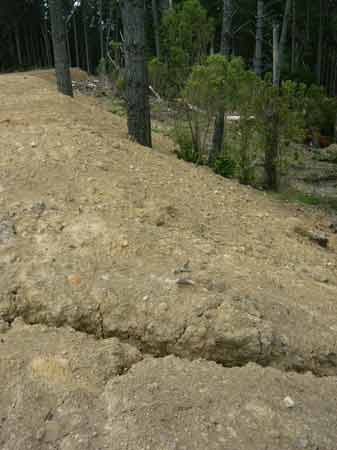 Nov 07: Several large eroding log dumps have recently been constructed in this plantation.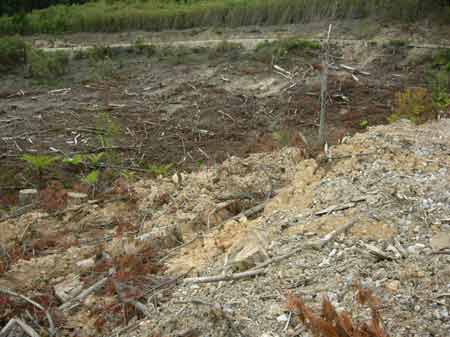 Herbicides Used by Grand Ridge Plantations - Strzelecki Ranges and Gippsland Victoria
| | | | | | |
| --- | --- | --- | --- | --- | --- |
| Herbicide | Label Rate max as kg/ha | Used to control | Euc/Rad | Notes | Application |
| Clopyralid | 2.55 | Woody Weeds | Radiata and Eucalypts | Highly Toxic/Potential Ground water Contaminant | aerial or ground |
| Glufosinate Ammonium | 1 | Woody Weeds | Radiata | | aerial or ground |
| Glyphosate | 3.6 | Herbaceous and woody weeds, noxious weeds | Radiata, Eucalpts and Custodial | | |
| Haloxyfop-methyl | 0.13 | Annual and Pernneial Grasses | Eucalypts | Carcinogen | aerial or ground |
| Hexazinone | 4 | Woody Weeds | Radiata | Ground Water Contaminant | Aerial, ground, spot |
| Metsulfuron-Methyl | 0.06 | Woody Weeds, Noxious Weeds | Radiata, Eucalyptus and Custodial | Potential Ground Water Contaminant | Aerial, ground or spot |
| Sulfometuron Methyl | 0.6 | Annual and Perennial Grasses and broadleaf weeds | Eucalyptus | Potential Ground Water Contaminant | Aerial or Ground |
Catchment Managment Authority: West Gippsland Catchment Management Authority
Franklin River, Foster: A fast flowing stream rising in timbered hilly country, rock bottom. Middle and lower reaches are highly modified by agriculture. Access difficult and in most places walking is necessary. The headwaters contain brown trout to 400g, occasional larger fish, average 160g, some river blackfish and eels. In the lower reaches mainly shallow but some deep holes, sluggish flow, mud and sand bottom. Contains an abundance of eels. Few other fish caught. Estuarine section contains the usual estuarine fish found in district, including estuary perch to 1.4kg.
Source: A Guide to the Inland Angling Waters of Victoria by BR Tunbridge, PL Rogan, CA Barnham. Department Conservation and Environment. Arthur Rylah Institute for Environmental Research, 123 Brown St, Heidelberg, 3084. (4th ed - 1991)