Region: Strzeleckis

Legal Number: LEGL/93-78/1

Plantation: Livingston Block

Conservation Priority: High




93-78a: July 2001. Plantation harvesting Comp 9 Road. Appropriate buffers surrounding gully, although two logging roads through top end of gully, where one would have sufficed. Note Hancock have left buffers, whereas under previous Hancock management at least 40-50 metres down the slope would have been logged. This is a definite improvement.

Plantation/Native forest located ~12km south east of Boolara.

Major Sacrifice Area for Maryvale Pulp Mill
Area within PaperlinX area of supply.
Area within Planthard Hardwoods (Drouin West Sawmills) area of supply.
Area within Brown and Dureau Softwoods (Morwell) area of supply.
This plantation was very likely to be aerially sprayed with 2,4,5-T between 1968 and 1977. The Dioxin TCDD may still exist in soil in this plantation. For more historical data on 2,4,5-T click here. For more information concerning the continuing health crisis concerning 2,4,5-T please forward to here.

1967 Aerial Photo of approximately 60% of this plantation in the Morwell River Catchment. North at top of photo. This photo reveals that a large portion of this area had been recently logged - with some areas being very intensively worked over during the sixties.
Herbicides Used by Grand Ridge Plantations - Strzelecki Ranges and Gippsland Victoria
| | | | | | |
| --- | --- | --- | --- | --- | --- |
| Herbicide | Label Rate max as kg/ha | Used to control | Euc/Rad | Notes | Application |
| Clopyralid | 2.55 | Woody Weeds | Radiata and Eucalypts | Highly Toxic/Potential Ground water Contaminant | aerial or ground |
| Glufosinate Ammonium | 1 | Woody Weeds | Radiata | | aerial or ground |
| Glyphosate | 3.6 | Herbaceous and woody weeds, noxious weeds | Radiata, Eucalpts and Custodial | | |
| Haloxyfop-methyl | 0.13 | Annual and Pernneial Grasses | Eucalypts | Carcinogen | aerial or ground |
| Hexazinone | 4 | Woody Weeds | Radiata | Ground Water Contaminant | Aerial, ground, spot |
| Metsulfuron-Methyl | 0.06 | Woody Weeds, Noxious Weeds | Radiata, Eucalyptus and Custodial | Potential Ground Water Contaminant | Aerial, ground or spot |
| Sulfometuron Methyl | 0.6 | Annual and Perennial Grasses and broadleaf weeds | Eucalyptus | Potential Ground Water Contaminant | Aerial or Ground |
Hancock Watch Site visit December 2001:
Large land mass bounded by the Grand Ridge Road to the south. It stretches for 5 km north to south and over 6km from west to east. The eastern part of the plantation is bounded by the Midland Highway. This area takes in the entire headwaters and main tributaries of the Morwell River West Branch and the entire area appears to be dominated by hardwood established from the early 1960's - therefore it will be difficult to assatain the difference between plantation and native vegetation regrowth. Much of the regrowth is concentrated in gullies and for several years Victorian Plantation Corporation and Hancock Victorian Plantations were targeting these areas claiming they were plantation. Many of these problems occurred in the western portion of the plantation. Now the loggers are increasingly logging the eastern portion of the plantation. Much of the recent logging is occurring on Radburns Road, Livingston Road and Hatchery Road. Some recent coupes appear to have decent enough buffers but more work is needed identifying and reviewing recent logging activity. Site visit December 01: Drove along northern most boundary of the plantation along Livingston Road. Came across some remnant old growth, however this area may be just outside Hancock's boundary in an area of private land designated inside Hancock's holdings. Most of the Hancock land along Livingston Road consists of hardwood 'plantation' established in 1971. There were a couple of small pockets of non-plantation species, including a small area of Messmate just west of Lens Track. A couple of recent logging operations were observed and one looked particularly messy with an access road being bulldozed through the head of a gully.
THOMSON/LATROBE RIVER: Australian Grayling are found in some streams in the catchment. Used to have a large population of Blackfish, but due to desnagging, sedimentation and destruction of riparian vegetation these populations have declined.Crayfish are an issue in catchment.
Responsible Authority: LaTrobe Shire Council
Plantation Catchment: Many HW creeks Morwell River East Branch/Morwell River/Latrobe River Many tribs Morwell River West Branch
Catchment Managment Authority: West Gippsland Catchment Management Authority

www.hancock.forests.org.au/docs/morwell.htm#content_top
www.hancock.forests.org.au/docs/legal.htm#content_top
"Morwell West Branch Rainforest: The Morwell West Branch rainforest area is bounded by Lewis Track to the north, the Grand Ridge Road to the west and south and Morwell West Branch Road to the east.
The main area of rainforest on the West Branch of the Morwell River is located on the tributary beginning at the Grand Ridge Road within the area of 1939 regrowth Mountain Ash regrowth. The rainforest extends down the West Branch to where Lewis Track branches off the Morwell West Branch Track. This rainforest contains both myrtle beech and southern sassafras and there are slender tree ferns and skirted tree ferns within this rainforest.
The sections where logging and the development of new plantations occurred in the 1960s/1970s, tend to have only scattered Myrtle Beech.
Recent logging operations in 1997/98 have put further areas of this rainforest at risk. On the eastern side of the West Branch clearing has been carried out right to the edge of the rainforest. No buffer has been left to protect the rainforest. This has occurred on the western side at Bell Boulevard. This section of rainforest is now at serious risk of destruction through myrtle wilt and should be monitored.
Morwell West Branch has an important area of 1939 regrowth on the north side of the Grand Ridge Road, opposite the Franklin Reserve. It is important that this area of regrowth be conserved as it provides an extension to the small habitat area of the Franklin Reserve. This has become of major importance since the removal of many habitat trees south of the reserve at Stronach's Road and Red Hill Track.
Most of the remaining old growth and habitat trees in this area have been removed in logging operations in 1996/97, in the narrow strip between the tributary and the West Branch Track in Bell Boulevard. However, there still remains another small area of 1939 regrowth on the south side of Craig Court. There is also an area of regrowth and native vegetation on the east side of the West Branch Track below Rodgers Road."
Rainforests of the Strzeleckis by Elaina Fraser.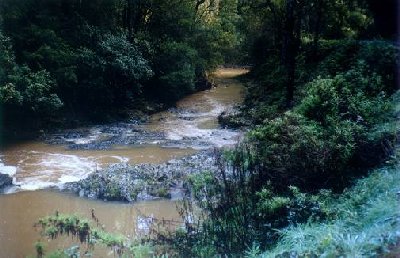 Morwell River: June 2001 - Strzelecki Ranges. Shot taken downstream from Livingston Block - LEGL 93-78. Sedimentation of rivers and creeks from logging activities has very negative impacts on freshwater ecology.
Morwell River, Morwell: Rises in mainly cleared hills, flows in a rock and mud bed through cleared river flats. Dense growth of willows on the banks below Boolara makes fishing difficult. Catchment is steep sided, and erosion has led to some of the middle and lower reaches becoming badly silted. A popular stream with local anglers. Some trout spawning occurs. Contains mainly brown trout to 560g, average is very small, also eels, spiny freshwater crayfish, carp, goldfish, tupong and river blackfish.
Source: A Guide to the Inland Angling Waters of Victoria by BR Tunbridge, PL Rogan, CA Barnham. Department Conservation and Environment. Arthur Rylah Institute for Environmental Research, 123 Brown St, Heidelberg, 3084. (4th ed - 1991)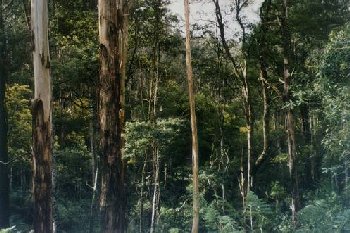 93-78b: July 2001 - Strzelecki Ranges. This gully will apparently not be logged. This is a great improvement in Hancock's Hardwood operations in the Strzeleckis. One year ago the entire gully vegetation would have most likely been eliminated.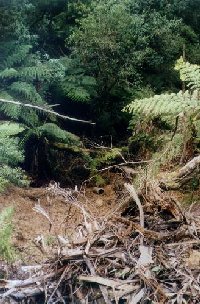 93-78c: July 2001. Gully 'blowout' on Comp 9 Road. Sediment will find its way into Morwell River West Branch.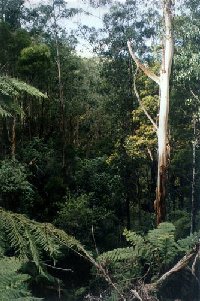 93-78d: July 2001 - Strzelecki Ranges. Non-logged gully on the eastern side of Comp 9 Road. Hancock would most likely have logged this gully one year ago. It appears that a change in staff has rectified this problem.
93-78e: July 2001 - Strzelecki Ranges. Comp 9 Road. Plantation logging. Apparently the young ash trees shown in this photo will remain as a buffer zone. One year ago Hancock would have logged at least 50 metres down this gully. This is a marked improvement.
93-78f: July 2001 - Strzelecki Ranges. Comp 9 Road. Close up of 'protected' gully. Hancock now employ a forester to walk the boundaries of each hardwood plantation before logging. He marks the boundaries with pink tape - as seen in this photo. The buffer here should have been further up the embankment by at least 10 metres, however this is a considerable improvement on past practices. The gully on the left side of the photo will apparently not be logged.
93-78g: July 2001. Ash 'plantation' logging near Radburn Road. Inappropriate buffer on gully at this location.
HOME