Region: Strzeleckis
Legal Number: LEGL/93-73
Plantation: Darlimurla

93-73f Jan 01: Recent logging. Main drainage line of Little Morwell River with innappropriate buffers.
Conservation Priority: Medium
Located within Rosedale Groundwater Management Area
Area within PaperlinX area of supply.
Area within Brown and Dureau Softwoods (Morwell) area of supply.

Google Earth image late 2010: Pine plantation located 3km north east of the town of Mirboo North.

Google Earth image late 2010: Looking into headwaters of Little Morwell River.
Herbicide Regime: (From incomplete information provided by Gippsland Water).
This plantation was very likely to be aerially sprayed with 2,4,5-T between 1968 and 1977. The Dioxin TCDD may still exist in soil in this plantation. For more historical data on 2,4,5-T click here. For more information concerning the continuing health crisis concerning 2,4,5-T please forward to here.
Herbicides Used by Grand Ridge Plantations - Strzelecki Ranges and Gippsland Victoria
| | | | | | |
| --- | --- | --- | --- | --- | --- |
| Herbicide | Label Rate max as kg/ha | Used to control | Euc/Rad | Notes | Application |
| Clopyralid | 2.55 | Woody Weeds | Radiata and Eucalypts | Highly Toxic/Potential Ground water Contaminant | aerial or ground |
| Glufosinate Ammonium | 1 | Woody Weeds | Radiata | | aerial or ground |
| Glyphosate | 3.6 | Herbaceous and woody weeds, noxious weeds | Radiata, Eucalpts and Custodial | | |
| Haloxyfop-methyl | 0.13 | Annual and Pernneial Grasses | Eucalypts | Carcinogen | aerial or ground |
| Hexazinone | 4 | Woody Weeds | Radiata | Ground Water Contaminant | Aerial, ground, spot |
| Metsulfuron-Methyl | 0.06 | Woody Weeds, Noxious Weeds | Radiata, Eucalyptus and Custodial | Potential Ground Water Contaminant | Aerial, ground or spot |
| Sulfometuron Methyl | 0.6 | Annual and Perennial Grasses and broadleaf weeds | Eucalyptus | Potential Ground Water Contaminant | Aerial or Ground |
April 2000: 140ha sprayed with 487.2 kg of Trounce (glyphosate and metsulfuron methyl) and 28kg of Pulse (a surfactant). Herbicide was used to kill Bracken and Manuka (Leptospermum scoparium).
October 2000: 138 ha sprayed with 1770kg of Velmac G and 400 kg of Velmac CR in order to kill regenerating Silver Wattle.
April 2001: 101.8 ha sprayed with 158.8kg Roundup Max, 8136 Litres of Metmac, 20.34 Litres of Pulse (a surfactant) and 159 kg of Simazine.
March - May 2001: Unknown quantity of herbicide applied.
September 2001: 68ha sprayed with 1020kg of Velmac G to kill native regeneration.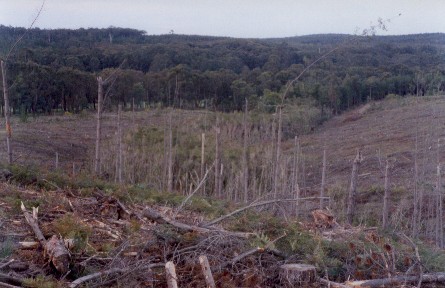 August 2003: Retained indigenous vegetation along tributary of Little Morwell River is a positive outcome - although the buffer did not extend along the entire length of the tributary. This plantation also has a high diversity of groundcover species which will very likely be killed with the application of herbicides.
Responsible Authority: South Gippsland Shire Council/LaTrobe Shire Council.
THOMSON/LATROBE RIVER: Australian Grayling are found in some streams in the catchment. Used to have a large population of Blackfish, but due to desnagging, sedimentation and destruction of riparian vegetation these populations have declined. Crayfish are an issue in catchment.
Plantation Catchment: 4 plantation areas
a) Many creeks into Little Morwell River/Morwell River/LaTrobe River
b) 1 creek trib Little Morwell River/Morwell River/LaTrobe River
1 HW Stony Creek/Morwell River/LaTrobe River
c) 1 HW Stony Creek/Morwell River - Borders Little Morwell River
d) Borders trib of Stony Creek/Morwell River/LaTrobe River

Catchment Managment Authority: West Gippsland Catchment Management Authority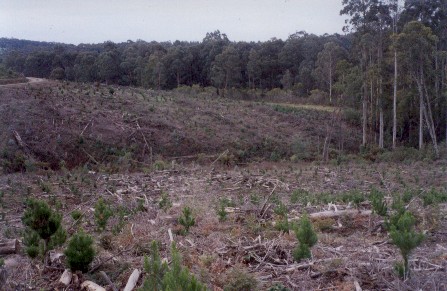 August 2003: This tributary of the Little Morwell River has very poor buffer zones and it appears that Hancock will not be replanting this tributary, thereby repeating problems that began when this plantation was initially established. The Class 1 Stream at the right of this photo also had very poor buffer zones.
Hancock Watch Site visit Jan 01: Drove into area via Old Darlimurla Road. Took left turn down Slaughteryard Road. Looked north into recent clearing of 1967 radiata pine. Area completely cleared. No adequate filter strips or buffers evident on any of the tribs feeding into Little Morwell River. Hancock had replanted area with pine. Turned left onto Railway Road. Drove past 3 tribs of Little Morwell River as witnessed earlier. Past Magazine Track the area on both sides of Railway Road contained regrowth eucalypt species. (Needs preserving). Road average to poor. Then drove into recently cleared 1969 radiata pine. Whole area cleared - extremely limited filter and buffer strips. Drove along Railway Road until Old Darlimurla Road. Travelled to recently cleared 1971 radiata pine on unmarked road. Poor soil retention. (Did not check potential native forest holdings on south/east-central aspect of plantation).
Drove out of main bulk of plantation at northern entrance onto Mirboo North Morwell Railway Road. Drove right through Darlimurla. Took road off to the left after about 1km. Hancock 1973 plantations on left side. Drove to corner of Krista Road. Turned right. Large amount of remnant regrowth (quite scrappy) but worth conserving. Drove to Krista Road/Domney Road? turnoff. Native veg extended for a couple of KM's along Domney Road. (On both sides of Krista Road, including left side of Domney Road? heading back to Darlimurla.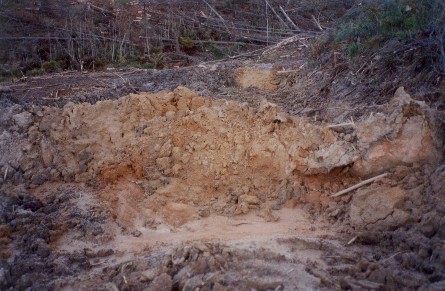 August 2003: Extremely poor snig track draining into tributary of Little Morwell River. This track had excessive amounts of soil exposed, ready to wash into the tributary which at this point was devoid of indigenous buffer zones.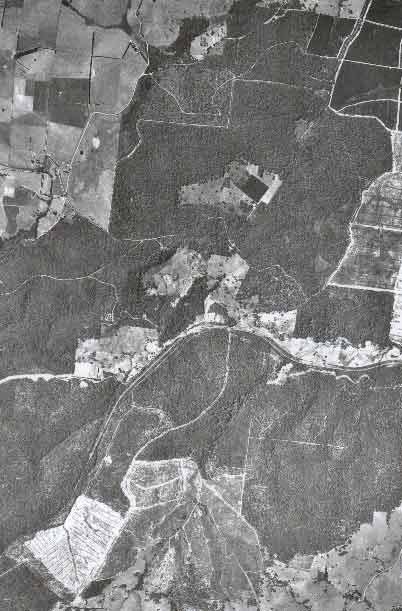 February 1967: Aerial photograph (North at top) showing the future Darlimurla radiata pine plantation. The entire site was native forest. Note recent clearfelling by State Government in southern portion. Also note APM plantations being established at top right of the photo in Parish of Narracan South.
Little Morwell River, Boolarra: A small stream, gravel bottom, containing brown trout to 550g, average 110g, eels to 1kg, river blackfish to 100g, average 25 g, and small spiny freshwater crayfish.
Morwell River, Morwell: Rises in mainly cleared hills, flows in a rock and mud bed through cleared river flats. Dense growth of willows on the banks below Boolara makes fishing difficult. Catchment is steep sided, and erosion has led to some of the middle and lower reaches becoming badly silted. A popular stream with local anglers. Some trout spawning occurs. Contains mainly brown trout to 560g, average is very small, also eels, spiny freshwater crayfish, carp, goldfish, tupong and river blackfish.
Source: A Guide to the Inland Angling Waters of Victoria by BR Tunbridge, PL Rogan, CA Barnham. Department Conservation and Environment. Arthur Rylah Institute for Environmental Research, 123 Brown St, Heidelberg, 3084. (4th ed - 1991)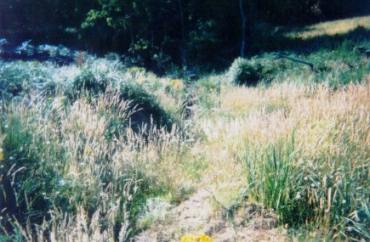 93-73a Jan 01: Drainage line feeding into Little Morwell River. Note lack of buffers.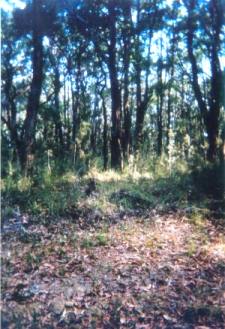 93-73b Jan 01: Native vegetation just off Krista Road.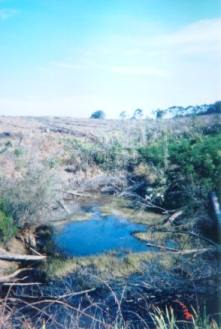 93-73c Jan 01: Backed up water along trib of Little Morwell River. Inadequate buffer zones.

93-73d Jan 01: Tributary of Little Morwell River. Note lack of buffers.

93-73e Jan 01: Wide angle shot of recent logging - note lack of buffers in centre right of plantation.

93-73g Regeneration along Railway Road.
HOME