Region: Strzeleckis
Legal Number: LEGL/93-101
Plantation: Bodman
Conservation Priority: High

The bulk of this plantation consists of native forest and plantations in the Spring Creek and Bodman Creek catchments. The plantations established within this area were planted between 1985-87 and consist of pine plantations. Approximately 200 hectares of native forest remains in the Hancock controlled Spirng Creek catchment, with another 200ha in the Bodman Creek catchment. Hundreds more hecatres of native forest lie in the Grieg Creek catchment (south of Spring creek) and the Bruthen Creek catchment (north of Bodman Creek). Hundreds of hectares of land was converted to bluegum plantations in the Bodman Creek catchment between 2008-10 by Great Southern Plantations.
Herbicides used during the eighties may have included Amitrole/Atrazine for grasses, Lontrel L (3,6-DCPA), hexazinone, glyphosate, triclopyr. Current herbicides used by Hancock (see below).
Herbicides in bluegum plantations are generally used only in the first two years. Common herbicides used in bluegum plantations include: Glyphosate, Metsulfuron Methyl*, Sulfometuron Methyl*, Simazine*, Amitrole*, Clopyralid*, Oxyfluorfen*, Haloxyfop, Terbacil* and Metosulam. Common herbicides used in radiata pine plantations include; Glyphosate, Hexazinone*, Metsulfuron Methyl*, Sulfometuron Methyl*, Haloxyfop, Carfentrazone-ethyl, Glufosinate ammonium, Triclopyr and Clopyralid*. Fertilisers, adjuvants and anti-antagonists are also used by plantation companies. (*Residual in aerobic or anaerobic soils for longer than 100 days). In terms of human health the underlined pesticides are of most concern. In new plantations, trees can be established right up to existing drainage lines, increasing the likelihood of pesticide runoff into waterways during rainfall.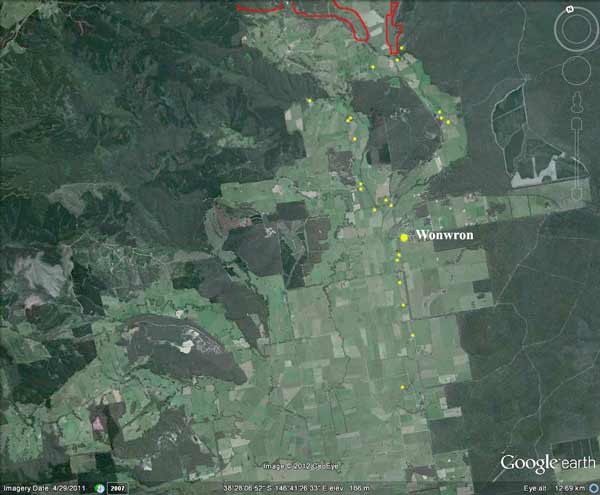 Image showing houses downstream of plantations in Spring Creek and Bodman Creek catchments. Perhaps 16 houses may pump water from Sping Creek and 6 from Bodman Creek. The community of Wonwron also lies in close proximity to both creeks. Bluegum plantations established 2008-10 highlighted in red.

October 2001: Greig Creek catchment. Note higher quality native vegetation on right side of photo near McPhails Track (LEGL 93-100) - also note supposed hardwood 'plantations' on far right of photo. Panorama Hill is located centre of photo dominated by radiata pine plantations. Younger regenerating native forest on left hand side of catchment with pine dominating ridgelines of LEGL 93-101. Regenerating blackwoods and eucalypts dominate foreground.
Area within PaperlinX area of supply.
Area within Planthard Hardwoods (Drouin West Sawmills) area of supply.
Area within Brown and Dureau Softwoods (Morwell) area of supply.
Located in Yarram Water Supply Protection Area - Groundwater
Responsible Authority: Wellington Shire Council

October 2001: Regenerating gullies on tributary of Bodman Creek.
Soils according to 1978 Carrajung Geological Survey Map:
Kls: Cretaceous (Lower Aptian) Paludal - Strzelecki Group: Feldspathic, lithic sandstone, siltstone and mudstone, minor black coal, quartzose sandstone, conglomerate, local carbonate concentrations. Abundant plant remains.
Tvo: Palaeocene/Eocene: Dense augite and olivine basalt, tuff, claystone and siltstone. Often extremely weathered and ferruginized.
Herbicides Used by Grand Ridge Plantations - Strzelecki Ranges and Gippsland Victoria
| | | | | | |
| --- | --- | --- | --- | --- | --- |
| Herbicide | Label Rate max as kg/ha | Used to control | Euc/Rad | Notes | Application |
| Clopyralid | 2.55 | Woody Weeds | Radiata and Eucalypts | Highly Toxic/Potential Ground water Contaminant | aerial or ground |
| Glufosinate Ammonium | 1 | Woody Weeds | Radiata | | aerial or ground |
| Glyphosate | 3.6 | Herbaceous and woody weeds, noxious weeds | Radiata, Eucalpts and Custodial | | |
| Haloxyfop-methyl | 0.13 | Annual and Pernneial Grasses | Eucalypts | Carcinogen | aerial or ground |
| Hexazinone | 4 | Woody Weeds | Radiata | Ground Water Contaminant | Aerial, ground, spot |
| Metsulfuron-Methyl | 0.06 | Woody Weeds, Noxious Weeds | Radiata, Eucalyptus and Custodial | Potential Ground Water Contaminant | Aerial, ground or spot |
| Sulfometuron Methyl | 0.6 | Annual and Perennial Grasses and broadleaf weeds | Eucalyptus | Potential Ground Water Contaminant | Aerial or Ground |
Hancock Watch site visit October 01: This supposed 'plantation' lies north of the Greig Creek catchment and encompasses much of the upper catchments of Bodman and Spring Creek, as well as much of the Grieg Creek catchment. The area is approximately 5km by 5km in size. There is substantial native vegetation inside the plantation boundaries and for this reason the area has been given a high conservation value. This area borders LEGL93/100 on its western boundary and LEGL/93-99 to the north. It appears to have an area of native vegetation south of Greigs Creek and east of Panorama Hill, although it could be somewhat degraded, although the native vegetation on the eastern edge of the plantation could be considered of high conservation significance.
Hancock Watch visit October 01: Drove into Hancock land along Carrajung Lower Road. Came across significant native vegetation on both sides of the road. Drove down Bowden Road for several kmís found that almost the entire northern side of Spring Creek catchment for about 2km is forested with non-plantation species. It is evident that pine dominates some of the southern side but the importance of this area should not be understated. Time made it impossible to investigate areas other than the ridge top and further work in this plantation is warranted. It is obviously important to link the remnant vegetatation of Greigs Creek, Spring Creek and Bodman Creek together. The major problem of course is the proliferation of pine plantations in the catchment. Perhaps some of these plantations could be converted back to areas of native vegetation after the next rotation.

November 2001: Bodman Creek catchment looking south east. Note lack of plantations.
Hancock Watch visit November 01: Drove down Carrajung Lower Road (LEGL 93-99) to the north of the Bodman Creek catchment. Drove past 1987 established pine plantation at the eastern boundary of the plantation. It is evident that much of the Bodman catchment remains as native vegetation - not plantation. Some of this native vegetation has recently been logged within the past 5 years - most likely by the Victorian Plantation Corporation. What could be seen of the Bodman Creek itself appears to be of high conservation quality.

November 2001: Looking north west into Bodman Creek. Note the infiltration of pine plantations on ridge line.
Plantation Catchment: a) 2 creeks HW Bodman Creek/Tarra River
b) Several creeks HW into Bodman + HW Main Bodman Creek/Tarra River
c) Many creeks Grieg Creek/Tarra River + several creeks Spring Creek/Tarra
Catchment Managment Authority: West Gippsland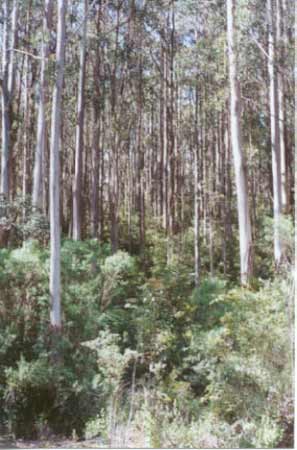 October 2001: Area of native forest regrowth - non-plantation in Bodman Creek catchment. Note understorey.
Tarra River - Downstream from Calrossie: Becomes sluggish, mud and sand bottom. Carries reasonable numbers of spiny freshwater crayfish, some brown trout to 350g, and river blackfish. Estuarine section contains estuary perch, Australian bass, mullet, luderick and trevally. Access good, a popular angling water.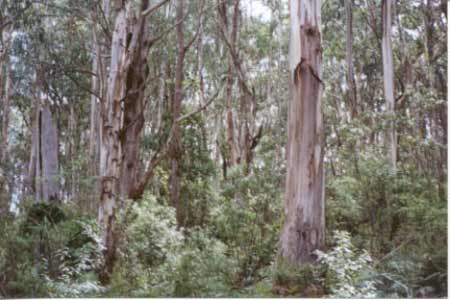 October 2001: Spring Creek catchment. Obviously non-plantation. Prolific understorey.
Greig Creek, Calrossie: Fast stream flowing through partly cleared hills, rock and gravel bottom. Remote and difficult to reach. Abundant river blackfish, occasional brown trout to 300g, and tupong.
Source: A Guide to the Inland Angling Waters of Victoria by BR Tunbridge, PL Rogan, CA Barnham. Department Conservation and Environment. Arthur Rylah Institute for Environmental Research, 123 Brown St, Heidelberg, 3084. (4th ed - 1991).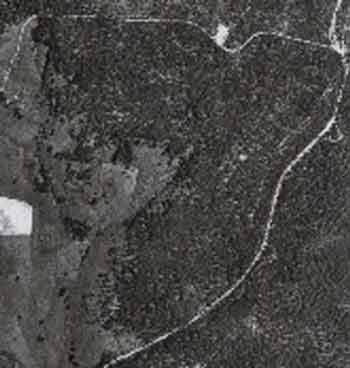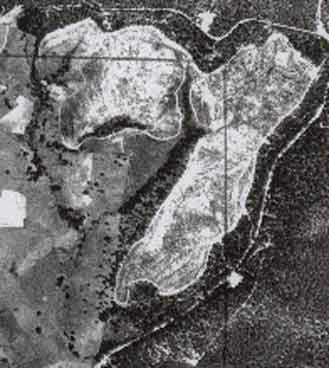 Changed forever - Two images: The shot on the left dates from 1966 and shows the portion of this plantation that lies on the corner of Yarram-Traralgon Road and Carrajung Lower Road. The second shot was taken in 1972 after the original native forest had been gutted and replaced with pine.