Region: Ovens
Legal Number: LEGL/93-150
Plantation: Hurdle Creek
Conservation Priority: High
Plantation within Australian Newsprint Mill (ANM) Ltd area of supply.

Plantation within Carter Holt Harvey (now owned by International Paper) area of supply.
Plantation within Dominance Industries (Alpine MDF Industries) area of supply.
Plantation within D & R Henderson/Monsbent area of supply.
First plantation in Victoria to trial use of Hexazinone in 1978
Proclaimed Water Catchment Area: This plantation area is located in the Ovens River (Wangaratta) Water Supply Catchment.
North East Victoria Plantation Map here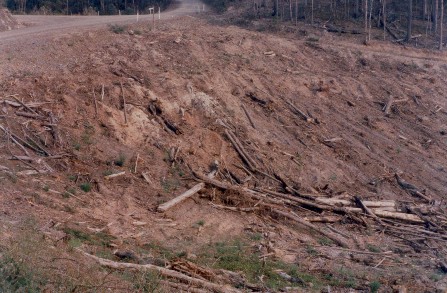 Feb 03: Recent clearfell logging in the Mayday Creek catchment. This photo taken on Hoffman Road. Extensive clearfelling has recently taken place in this plantation.
MURRAY RIVER SUPPLIES WATER TO YARRAWONGA, COBRAM, BARMAH, ECHUCA , KERANG, PIANGIL, SWAN HILL, ROBINVALE, MILDURA
Incomplete Herbicide Regime:
This plantation was aerially sprayed with 2,4,5-T between 1968 and 1977. The Dioxin TCDD may still exist in soil in this plantation. For more historical data on 2,4,5-T click here. For more information concerning the continuing health crisis concerning 2,4,5-T please forward to here.
July 1977: 162 ha sprayed with mixture of 1.4 litre a.i. butyl ester of 2,4,5-T in 48.6 litres of distallate per hectare in a portion of the plantation that drains into Scrubby Creek by Forest Commission. 2,4,5-T concentrations were below detection limit (0.3ug/l) in water in Scrubby Creek and in water from storages on private property. 2,4,5-T concentrations of up to 4.2ug/l were detected in a culvert pipe draining the main gully of the spray area on the 3rd, 4th and 5th day following spraying. (see 2,4,5-T Concentrations in Scrubby Creek Following Aerial Spraying of a young pinus radiata plantation - RJ McKimm & P Hopmans. Research Branch Report No. 93 Forests Commission 1977)
Pesticides Review Committee Meeting #144 15/12/78. Letter sent from Forests Commission Victoria. "Approval sought to conduct aerial spraying to evaluate effectiveness of Velpar (active ingredient Hexazinone) for controlling woody weeds such as wattles and eucalypts in newly established pine plantations. The experiment is to be conducted in co-operation with DuPont (Australia) in the Myrtleford Forest District during mid November 1978... Water for domestic use is irregularly pumped from Emu Creek approximately 2.5km below the spray area..."
Herbicides Used by Hancock in Pine Plantations - North East Region Victoria
| | | | | |
| --- | --- | --- | --- | --- |
| Herbicide | Label Rate max as kg/ha | Used to control | Notes | Application |
| Carfentrazone-Ethyl | 0.036 | | | |
| Clopyralid | 2.55 | Woody Weeds | Highly Toxic/Potential Ground water Contaminant | air or ground |
| Glyphosate | 3.6 | Herbaceous and woody weeds, noxious weeds | | |
| Hexazinone | 4 | Woody Weeds | Ground Water Contaminant | Aerial, ground, spot |
| Metsulfuron-Methyl | 0.06 | Woody Weeds, Noxious Weeds | Potential Ground Water Contaminant | Aerial, ground or spot |
| Triclopyr | 3 | Woody and Noxious Weeds | | Ground, spot, basal bark |


THREATENED FISH NOTES - OVENS RIVER: Most important river in Victoria in regard to the survival of the Murray Cod. Murray Cod spawn almost as far up as Myrtleford and the Ovens supplies recruitment for the Murray River as well. The Ovens has no dams and is a river of extreme national significance. Trout Cod are now being found in the Ovens and may set up a self sustaining spawning population. Trout Cod have been successfully stocked into Ovens and upper Ovens, downstream of Myrtleford and going up the King River - past Moyhu. All the tribs of the Ovens are important for native fish including King, Buffalo and Buckland Rivers.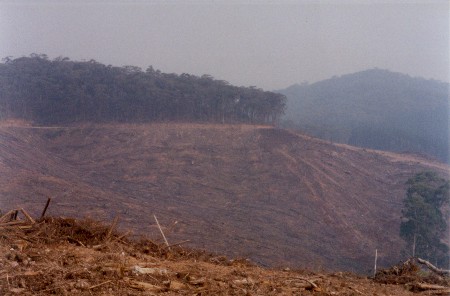 Feb 03: Recent logging in the Mayday Creek catchment. Smoke haze from the recent north east Victorian fires blurs the image somewhat. Massive logging has recently taken place in this catchment.
Responsible Authority: Wangaratta Shire Council/Alpine Shire Council

Plantation Catchment: Headwaters and many tributaries of Hurdle Creek. Headwaters and numerous tribuaties of Mayday Creek/Hurdle Creek/King River/Ovens River. Numerous tributaries of Emu Creek/Mayday Creek/Hurdle Creek. Several tributaries of Scrubby Creek/Hurdle Creek.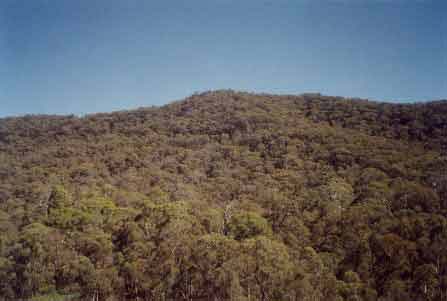 April 2003: A large area within this plantation has been retained as native vegetation. This hill between Emu Creek and Mayday Creek is within Hancock's holdings and has been retained by the company. This segment of native vegetation extends over 5km's in a northerly direction and provides a wildlife link up the catchment to State Forest in the Mount Emu area.

Catchment Managment Authority: North East Catchment Management Authority.
Hancock Watch Visit Feb 03: Extensive plantation area extending 5km east to west and 4km north to south. We only scouted a small portion of the plantation. It would appear that this area could have an extensive area of native vegetation within its boundaries on the western slopes of Mayday Creek and the eastern slopes of Emu Creek. This area could extend to up to 4 km in length (north to south) and up to 500 hectares in size. Further scouting work at this plantation is warranted.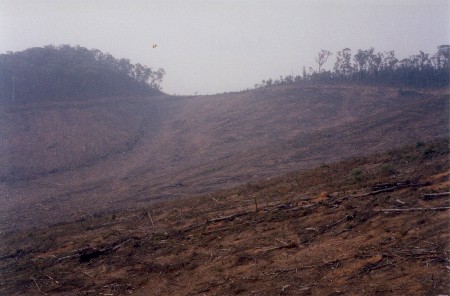 Feb 03: Recent clearfell plantation logging in the Hurdle Creek catchment. This area had decent enough buffers just outside this photo, but the headwaters were left relatively unprotected.
ôSpecial Investigation: North-Eastern Victoria - Ovens Softwood Plantation Zone. Land Conservation Council 1981.
p11 Central Region To the north and east of the Eastern Boundary Fault lies an extenisive area of mountainous terrain composed of Ordovician sandstones and mudstones that are less resistant to erosion than the rocks of the south-western region. The drainage pattern is dendritic and the streams are seperated by sharp ridges and spurs. The mountains to the south of Mount Buffalo are typical of this region, which extends east to Mount Beauty and north to Myrtleford.
In the north-west around Moyhu and Bobinalwarral the ridges of Ordovician sediments become buried beneath the alluvial deposits of the riverine plain. Within the region, exposures of granitic rocks have intruded into the surrounding Ordovician sediments. Intense heat associated with the intrusions has altered (or metamorphosed) the adjacent sedimentary rocks. The granite outcrops at Mount Buffalo and Mount Emu are extremely resistant, while the surrounding sedimentary rocks which are less resistant have been deeply dissected.
In contrast, the granite in the Pinnacles area to the east of Myrtleford is more susceptible to weathering and erosion and as a consequence the terrain in this area is more subdued. A ridge of metamorphic rocks borders Happy Valley to the east of Myrtleford. Friable reddish and brownish gradational soils occur on the Ordovician sediments of this region, while the granitic rocks of Buffalo Plateau and Mount Emu exhibit a variety of soil types. Stony loams are characteristic of rocky outcrops while poorly drained sites contain organic loams and peats. Sandy loams and friable gradational soils are found on the lower slopes of these intrusions. The less resistant granitic rocks at the Pinnacles and Abbeyard carry a variety of gradational soils on the upper slopes and a range of duplex soils at lower elevations. The gradational soils are suitable for softwoods, but the poorly drained duplex soils are not.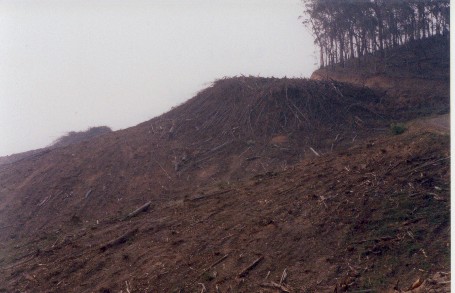 Feb 03: Extremely large logging debris dump. We envisage that this log dump will be set alight in the next months probably adding to phosphorous loads entering the Mayday Creek catchment. Then the entire logged area will be aerially sprayed with herbicides.
Ovens River: The rivers all flow north, from heavily forested mountain country through excessive river flats to the Murray River. Murray cod populations close to the Murray River. Small river blackfish are common in many rivers, Macquarie Perch are still occasionally caught, and catches of golden perch are also being reported. Brown trout widely distributed through system with rainbow trout most abundant in upper reaches.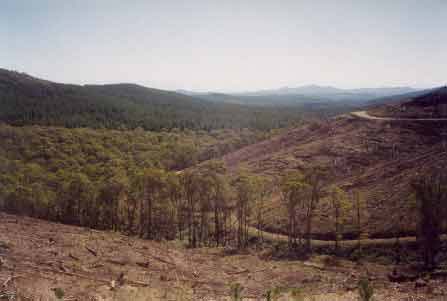 LEGL93-150: Photo looking north west down the Mayday Creek catchment. Large scale clearfell logging of plantations has recently occurred in this plantation.

Hurdle Creek - Wangaratta: Flows through grazing land and forest, sand bottom. Joins the King River below Moyhu. Catchment highly modified by forestry and agriculture. Stream has silted up badly in the middle and lower reaches and water is very low and warm in summer. A small stream that has only limited prospects for trout and cannot sustain more than light angling pressure. Contains mostly brown trout average 85g, maximum 1.2 kg, rainbow trout to 300g, average 45g, from a self-supporting population. River blackfish to 220g, and small redfin to 200g in the lower reaches.

Source: A Guide to the Inland Angling Waters of Victoria by BR Tunbridge, PL Rogan, CA Barnham. Department Conservation and Environment. Arthur Rylah Institute for Environmental Research, 123 Brown St, Heidelberg, 3084. (4th ed - 1991)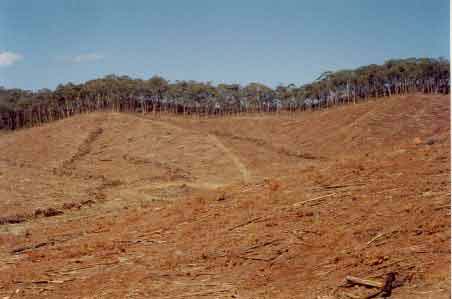 April 2003: Recent clearfell logging in the headwaters of the Hurdle Creek catchment. Whole catchments have been clearfelled in a relatively short space of time.

Other Notes: Possibly plantation mentioned in FFG as being only site for Concave Pomaderris. "The species is known only from one locality near Carboor Upper, approximately 40km south east of Wangaratta. The population comprises 204 plants covering 0.3 ha. It is almost entirely on Crown land managed by the Victorian Plantation Corporation. Four plants are on adjoining private land".
HOME