Region: Ovens

Legal Number: LEGL/93-126

Plantation: Bright FD

Conservation Priority: Med/High

Plantation within Australian Newsprint Mill (ANM) Ltd area of supply.


Plantation within Carter Holt Harvey (now owned by International Paper) area of supply.






93-126: March 01: Old growth buffer zone along Running Creek.
Plantation within Dominance Industries (Alpine MDF Industries) area of supply.
Plantation within D & R Henderson/Monsbent area of supply.
North East Victoria Plantation Map here
Water Catchment Area: MURRAY RIVER SUPPLIES WATER TO ALBURY/WODONGA, TANGAMBALANGA, KIEWA, RUTHERGLEN, YARRAWONGA, COBRAM, BARMAH, ECHUCA , KERANG, PIANGIL, SWAN HILL, ROBINVALE, MILDURA
Herbicides Used by Hancock in Pine Plantations - North East Region Victoria
| | | | | |
| --- | --- | --- | --- | --- |
| Herbicide | Label Rate max as kg/ha | Used to control | Notes | Application |
| Carfentrazone-Ethyl | 0.036 | | | |
| Clopyralid | 2.55 | Woody Weeds | Highly Toxic/Potential Ground water Contaminant | air or ground |
| Glyphosate | 3.6 | Herbaceous and woody weeds, noxious weeds | | |
| Hexazinone | 4 | Woody Weeds | Ground Water Contaminant | Aerial, ground, spot |
| Metsulfuron-Methyl | 0.06 | Woody Weeds, Noxious Weeds | Potential Ground Water Contaminant | Aerial, ground or spot |
| Triclopyr | 3 | Woody and Noxious Weeds | | Ground, spot, basal bark |


THREATENED FISH NOTES - KIEWA RIVER: Murray Cod found in Kiewa River. River needs environmental flows. Yackandandah Creek has populations of Mountain Galaxias and Blackfish, however stream levels do fluctuate and the creek is very temperamental to slight changes upstream. Mountain Galaxias (Galaxias olidusi) taxonomy is under review. Outcome could determine a separate species in the North East.

Responsible Authority: Alpine Shire Council

Plantation Catchment: Numerous creeks feeding into Running Creek/Smarts Creek/Kiewa River.

Catchment Managment Authority: North East Catchment Management Authority

Hancock Watch site visit Mar 01: Interesting plantations. Much of the bulk of this plantation consisted of an extensive buffer zone running along quite a significant portion of Running Creek. This buffer zone consisted of some old growth manna gums. However it was evident that the site had not been properly maintained as was shown by the extent of blackberry infestation both throughout the buffer zone and the plantation itself. Due to buffer zone this plantation warrants a high priority.
"Special Investigation: North-Eastern Victoria - Ovens Softwood Plantation Zone. Land Conservation Council 1981.
p12 The eastern region The eastern part of the study area - which extends north from Mount Beauty, along the Kiewa Valley, and as far west as Havilah - consists of mountainous terrain composed of metamorphic rocks. These rocks are more resistant to erosion than the sedimentary rocks of the central region and have been subjected to intensive faulting, which in turn has influenced the alignment of major streams in the area. The Kiewa Valley is bounded by faults, and many of its tributaries - for example, Running Creek and Glen Creek - follow fault lines. Friable reddish and brownish gradational soils dominate the steep mountainous country, while duplex soils are common on the lower valley slopes and alluvial fans. These soils are generally suitable for the growth of softwoods unless they are poorly drained."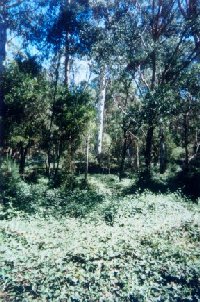 93-126 March 01: Blackberry infestation along Running Creek buffer zone.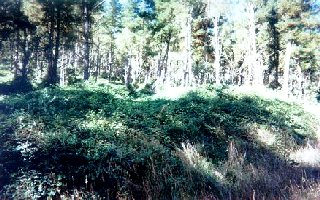 93-126: March 01: Blackberry infestation along Running Creek buffer zone.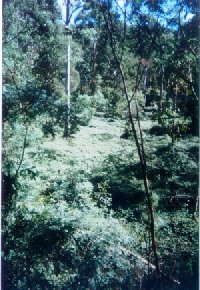 93-126 March 01: Blackberry infestation along Running Creek buffer zone.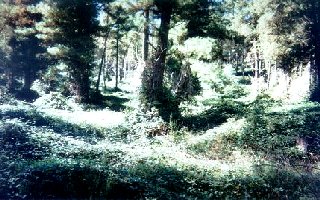 93-126 March 01:Blackberries infesting and inhibiting understorey.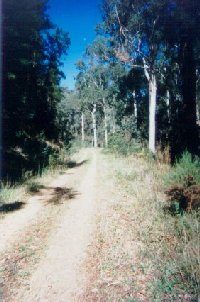 93-126 March 01:Buffer zone along Running Creek.