Legal Number: LEGL/93-124/1
Plantation: Braithwaites & Junction
Conservation Priority: Med

Plantation located on north side of Ovens River. Note close proximity to the Ovens. Google Earth image circa early 2001.
Plantation within Australian Newsprint Mill (ANM) Ltd area of supply.

Plantation within Carter Holt Harvey (now owned by International Paper) area of supply.
Plantation within Dominance Industries (Alpine MDF Industries) area of supply.
Plantation within D & R Henderson/Monsbent area of supply.
North East Victoria Plantation Map here
This plantation was very likely to be aerially sprayed with 2,4,5-T between 1968 and 1977. The Dioxin TCDD may still exist in soil in this plantation. For more historical data on 2,4,5-T click here. For more information concerning the continuing health crisis concerning 2,4,5-T please forward to here.
Herbicides Used by Hancock in Pine Plantations - North East Region Victoria
| | | | | |
| --- | --- | --- | --- | --- |
| Herbicide | Label Rate max as kg/ha | Used to control | Notes | Application |
| Carfentrazone-Ethyl | 0.036 | | | |
| Clopyralid | 2.55 | Woody Weeds | Highly Toxic/Potential Ground water Contaminant | air or ground |
| Glyphosate | 3.6 | Herbaceous and woody weeds, noxious weeds | | |
| Hexazinone | 4 | Woody Weeds | Ground Water Contaminant | Aerial, ground, spot |
| Metsulfuron-Methyl | 0.06 | Woody Weeds, Noxious Weeds | Potential Ground Water Contaminant | Aerial, ground or spot |
| Triclopyr | 3 | Woody and Noxious Weeds | | Ground, spot, basal bark |

Declared Water Catchment Area: This plantation area is located in the Ovens River (Wangaratta) Water Supply Catchment.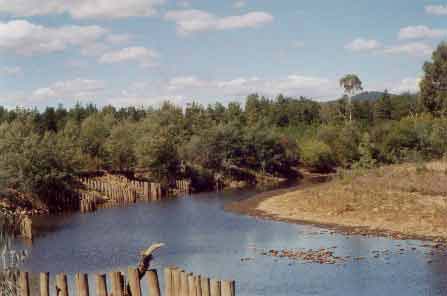 93-124: This photo shows the close proximity of the plantation to the Ovens River.
MURRAY RIVER SUPPLIES WATER TO YARRAWONGA, COBRAM, BARMAH, ECHUCA , KERANG, PIANGIL, SWAN HILL, ROBINVALE, MILDURA

THREATENED FISH NOTES - OVENS RIVER: Most important river in Victoria in regard to the survival of the Murray Cod. Murray Cod spawn almost as far up as Myrtleford and the Ovens supplies recruitment for the Murray River as well. The Ovens has no dams and is a river of extreme national significance. Trout Cod are now being found in the Ovens and may set up a self sustaining spawning population. Trout Cod have been successfully stocked into Ovens and upper Ovens, downstream of Myrtleford and going up the King River - past Moyhu. All the tribs of the Ovens are important for native fish including King, Buffalo and Buckland Rivers.

Responsible Authority: Alpine Shire Council

Plantation Catchment: Plantations run along banks of Ovens River and Buckland River..

Catchment Managment Authority: North East Catchment Management Authority.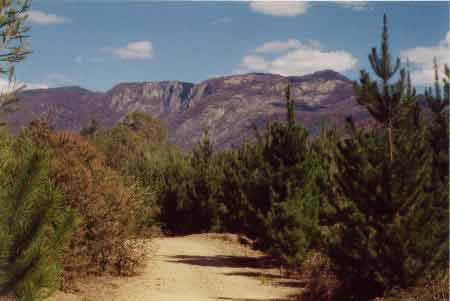 93-124: Shot of Braithwaite plantation and Mount Buffalo as the impressive 'backdrop'.
Hancock Watch Visit 03: This LEGL is actually two seperate plantations (Braithwaite and Junction) located approximately 2 & 3 km's north west of the settlement of Porepunkah. Both plantations lie in very close proximity to the Ovens River - Braithwaite on the north bank, Junction on the south bank Junction actually sits immediately downstream from the junction of the Ovens and Buckland Rivers.
Because these plantations are located on riverflats, slope problems do not occur here. We visited the Braithwaite plantation. Some logging had taken place several years ago on the western portion of the plantation. The only issue of concern was that the plantation is located almost on the banks of the Ovens River. Major flood events could wash sediment and herbicides/fertilisers into the river post logging. The risks of this occurring are limited, but possible. For this reason we have given these plantations a medium conservation importance.
"Special Investigation: North-Eastern Victoria - Ovens Softwood Plantation Zone. Land Conservation Council 1981.
p12 The northern plains region The north-west of the study area towards Wangaratta contains part of the extensive riverine plains. The plains, which border the major streams such as the King and Ovens Rivers and their tributaries, consist of alluvial deposits, often more than 50m deep. Alluvial fans occur along the foothill margins, and features such as river terraces and ox-bow lakes, typical of a riverine flood plain occur along the major river valleys. The river terraces are characterised by uniform sandy loams and gradational soils, while the alluvial sediments of the fllod plain are duplex soils, usually consisting of a sandy loam overlying a clay subsoil. These soils are found in all major river valleys throughout the study area. . ."

Ovens River: The rivers all flow north, from heavily forested mountain country through excessive river flats to the Murray River. Murray cod populations close to the Murray River. Small river blackfish are common in many rivers, Macquarie Perch are still occasionally caught, and catches of golden perch are also being reported. Brown trout widely distributed through system with rainbow trout most abundant in upper reaches. Upstream from Myrtleford - Brown Trout to 1.3kg, some rainbow trout, small redfin and river blackfish.
Source: A Guide to the Inland Angling Waters of Victoria by BR Tunbridge, PL Rogan, CA Barnham. Department Conservation and Environment. Arthur Rylah Institute for Environmental Research, 123 Brown St, Heidelberg, 3084. (4th ed - 1991)
HOME