Region: Central

Legal Number: LEGL/93-70

Plantation:Healesville

(Narbethong Plantation 1570ha)

Conservation Priority: High

COOL TEMPERATE RAINFOREST FOUND HERE




December 00: Pines replacing native forest?
Plantation within Australian Newsprint Mill (ANM) Ltd area of supply.
Plantation within Dominance Industries (Alpine MDF Industries) area of supply.

Plantation image taken late 2004. Source: Melbourne University School of Resource Management Land & Food Resources.
Plantation within GB Timber (Narbethong) area of supply.
Plantation within Softwood Pine Exports (SPE) area of supply.

Feb 2005: Cool Temperate Rainforest found on Stony Creek on Crown Land on land immediately adjoining this plantation. The rainforest extends for about 500 metres along Hancock land.

Feb 2005: Pine planted in very close vicinity to Cool Temperate Rainforest along Stony Creek.
February 2005: More Stony Creek rainforest images from this plantation.
Water Catchment Area: GOULBURN RIVER CATCHMENT POTENTIAL WATER FOR ALEXANDRA, AVENEL, CONGUPINA, MOLESWORTH, MOOROOPNA, MURCHISON, NAGAMBIE, SEYMOUR, SHEPPARTON, TALLAROOK, TALLYGAROOPNA, TOOLAMBA
MURRAY RIVER SUPPLIES WATER TO BARMAH, ECHUCA , KERANG, PIANGIL, SWAN HILL, ROBINVALE, MILDURA
Herbicides Used by Hancock in Pine Plantations - North East Region Victoria
| | | | | |
| --- | --- | --- | --- | --- |
| Herbicide | Label Rate max as kg/ha | Used to control | Notes | Application |
| Carfentrazone-Ethyl | 0.036 | | | |
| Clopyralid | 2.55 | Woody Weeds | Highly Toxic/Potential Ground water Contaminant | air or ground |
| Glyphosate | 3.6 | Herbaceous and woody weeds, noxious weeds | | |
| Hexazinone | 4 | Woody Weeds | Ground Water Contaminant | Aerial, ground, spot |
| Metsulfuron-Methyl | 0.06 | Woody Weeds, Noxious Weeds | Potential Ground Water Contaminant | Aerial, ground or spot |
| Triclopyr | 3 | Woody and Noxious Weeds | | Ground, spot, basal bark |
THREATENED FISH NOTES - GOULBURN RIVER: Seven Creeks has the only self sustaining population of Trout Cod in Victoria - below Polly McQuinns dam.  Seven Creeks also has a big population of Macquarie Perch. Macquarie Perch are also present at the bottom of King Parrot creek.  Macquarie Perch have disappeared from the Goulburn largely due to dams, flow reduction and sedimentation.  Two Spined Blackfish inhabit the mid to upper reaches of streams north of the Great Divide, whereas River Blackfish inhabit lower reaches of streams north of the Divide.  The Acheron river has populations of Blackfish and Mountain Galaxias/possibly Barred Galaxias also.
Responsible Authority: Murrundindi Shire Council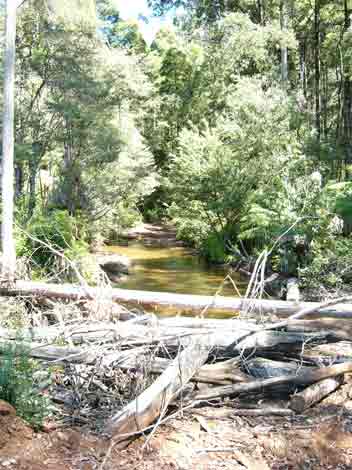 February 2005: Credit needs to be given to Hancock for attempting to shut down this logging track which ran through cool temperate rainforest and Stony Creek. Trail bike riders have still recently used this track, however 4WD's have been effectively stopped from using this old logging track.
Plantation Catchment: Racecourse Creek, Stony Creek, Old Mill Stream Creek, Bullyard Creek, Williams Creek/Acheron River/Goulburn River.
This plantation is about 7km in length and about 3km wide. It's northern aspect adjoins LEGL93-71. The plantation is about 1km north west of the town of Narbethong.
February 2005: View looking south west over the plantation's south west corner into State Forest a couple of kilometres north of the Great Dividing Range. A rainforest of Regional Significance lies just over this ridgeline at Hermitage Creek less than a kilometre from the Narbethong plantation.
Catchment Managment Authority: Goulburn Broken Catchment Management Authority
Hancock Watch Site visit Dec 00: Pine plantations. Some recent clearing in south-central portion of 1970 plantations. Saw evidence of poorly maintained silt traps. Areas of native vegetation appeared easily seperated from pine plantations by access roads. Some very good established buffer zones. Clearing of pine appeared to take no native vegetation which was left intact. Massive blackberry infestation in pine plantations. Saw evidence of some clearing of native vegetation for pine. Massive clearcuts with no remnant vegetation. Sparse native vegetation remaining inside open cuts. Most logging of native vegetation done by DNRE outside of plantation area.
Hancock Watch site visit May 2003: Widespread clearfelling has recently occurred in the southern portion of this plantation. Generally the topography is quite flat and the erosion hazard probably quite low. Probably more than half of this plantation has been logged in a couple of years. Buffers appeared to be retained, although Hancock had done nothing to restore habitat links within the plantation.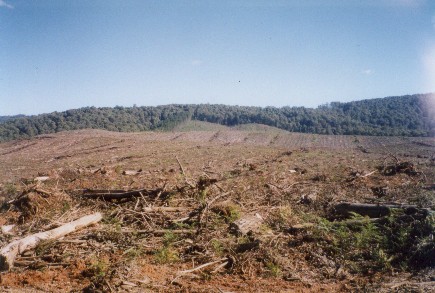 May 2003: Widespread clearing of this plantation has occurred in the past year. About half of the plantation has probably been logged. A plantation this size will use about 3000 million litres of water per year more than a similar sized property used for pasture.
Incomplete Herbicide Regime:
This plantation was aerially sprayed with 2,4,5-T between 1968 and 1977. The Dioxin TCDD may still exist in soil in this plantation. For more historical data on 2,4,5-T click here. For more information concerning the continuing health crisis concerning 2,4,5-T please forward to here.
July 1977: 108 ha of Old Mill Stream catchment sprayed with 1.12kg a.i. butyl ester of 2,4,5-T in 48.6 litres of distillate (120kg used on the target area). Stream immediately below the sprayed area was sampled twice daily for 5 days before spraying and at 12 minute intervals for a period of 13 days during and following spraying. 2,4,5-T was detected in samples on 7th and 8th day following spraying, during a period of heavy rain. On the 7th day the maximal concentration was 10ug/l with all other values of 4.3ug/l or less. 8th day concentration was 1.0ug/l . . . 2,4,5-T could not be detected (ie less than 0.3 ug/l) in samples collected 2.5 km downstream of the spray area at any time during the period of study (see 2,4,5-T Residues in Stream Water Following Aerial Spraying for Woody Weed Control in the Narbethong Plantation by RJ McKimm & P Hopman Research Branch Report No 112. June 1978 Forest Commission).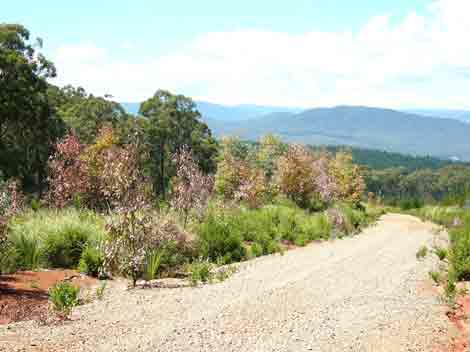 February 2005: Recent poisoning of regenerating eucalypts in the Old Mill Stream Creek catchment. These trees were probably killed by stem injection. Profuse native regeneration is occurring in this plantation after logging.
Many log trucks leaving this plantation head south to the Softwood Pine Export mill in Geelong. Their route takes them over the Black Spur then on to Healesville, where they then head towards the Western Ring Road near Greensborough. Their route also takes them along Eltham-Yarra Glen Road in the Watsons Creek area. Locals in this area are fighting to stop the Eltham-Yarra Glen Road being widened largely to accomodate log trucks. See the Bad Developers site for further details.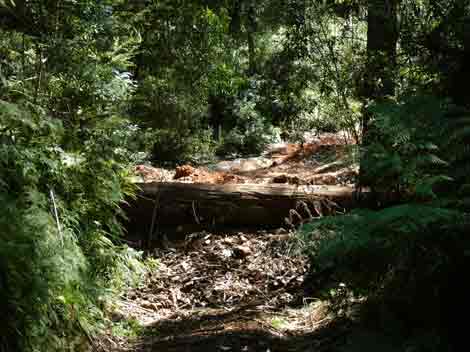 February 2005: A log positioned over old logging track to stop 4WD's and trail bikes using this track. The track is located in cool temperate rainforest in the Stony Creek catchment.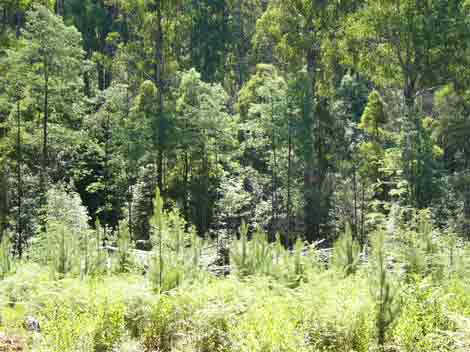 February 2005: Pines planted in very close proximity to cool temperate rainforest on Stony Creek.
Acheron River, Buxton: Rises in forested country and flows through cleared grazing land below Buxton. Mainly a gravel bed with mud in the deeper pools downstream. Some siltation in the lower reaches from erosion upstream. Low flow and water level in summer and some water is extracted for pasture irrigation. An excellent trout water in its headwaters but deteriorates in the middle and lower reaches. A trout nursery stream for the Goulburn River. Contains small brown trout average 160g in the headwaters, with larger fish average 300g and occasional rainbow trout, average 130g, but some fish to 450g.
Source: A Guide to the Inland Angling Waters of Victoria by BR Tunbridge, PL Rogan, CA Barnham. Department Conservation and Environment. Arthur Rylah Institute for Environmental Research, 123 Brown St, Heidelberg, 3084. (4th ed - 1991)
Dec 00: Blackberry infestation inside pine plantation. Blackberries and other weeds find a haven in pine plantations and require intensive chemical management..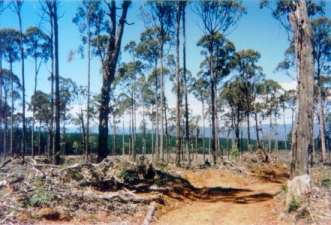 Dec 00: Recent logging of native forest by DNRE - looking east into plantation.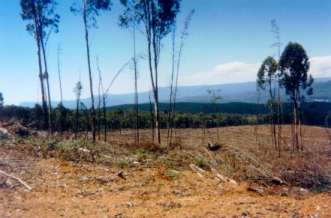 Dec 00: Remnant trees after plantation cleared.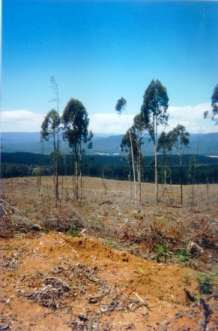 Dec 00: A couple of survivors.

July 2001. View looking north east over plantation.
July 2001. Native vegetation gets the chop in western side of plantation.
HOME