Region: Central

Legal Number: LEGL/93-67/1

Plantation: Alexandra FD (Mohican Plantation).

1197ha

Conservation Priority: High




93-67a Dec 00: Inadequate buffer zones around soak and drainage lines. Buffer to be replanted with pine?
Plantation within Australian Newsprint Mill (ANM) Ltd area of supply.
Plantation within Dominance Industries (Alpine MDF Industries) area of supply.
Plantation within GB Timber (Narbethong) area of supply.
Plantation within Softwood Pine Exports (SPE) area of supply.

The bulk of this plantation lies 4km north west of the township of Buxton.
This plantation was very likely to be aerially sprayed with 2,4,5-T between 1968 and 1977. The Dioxin TCDD may still exist in soil in this plantation. For more historical data on 2,4,5-T click here. For more information concerning the continuing health crisis concerning 2,4,5-T please forward to here.
Herbicides Used by Hancock in Pine Plantations - North East Region Victoria
| | | | | |
| --- | --- | --- | --- | --- |
| Herbicide | Label Rate max as kg/ha | Used to control | Notes | Application |
| Carfentrazone-Ethyl | 0.036 | | | |
| Clopyralid | 2.55 | Woody Weeds | Highly Toxic/Potential Ground water Contaminant | air or ground |
| Glyphosate | 3.6 | Herbaceous and woody weeds, noxious weeds | | |
| Hexazinone | 4 | Woody Weeds | Ground Water Contaminant | Aerial, ground, spot |
| Metsulfuron-Methyl | 0.06 | Woody Weeds, Noxious Weeds | Potential Ground Water Contaminant | Aerial, ground or spot |
| Triclopyr | 3 | Woody and Noxious Weeds | | Ground, spot, basal bark |
Water Catchment Area: GOULBURN RIVER CATCHMENT POTENTIAL WATER FOR ALEXANDRA, AVENEL, CONGUPINA, MOLESWORTH, MOOROOPNA, MURCHISON, NAGAMBIE, SEYMOUR, SHEPPARTON, TALLAROOK, TALLYGAROOPNA, TOOLAMBA
MURRAY RIVER SUPPLIES WATER TO BARMAH, ECHUCA , KERANG, PIANGIL, SWAN HILL, ROBINVALE, MILDURA
THREATENED FISH NOTES - GOULBURN RIVER: Seven Creeks has the only self sustaining population of Trout Cod in Victoria - below Polly McQuinns dam.  Seven Creeks also has a big population of Macquarie Perch. Macquarie Perch are also present at the bottom of King Parrot creek.  Macquarie Perch have disappeared from the Goulburn largely due to dams, flow reduction and sedimentation.  Two Spined Blackfish inhabit the mid to upper reaches of streams north of the Great Divide, whereas River Blackfish inhabit lower reaches of streams north of the Divide.  The Acheron river has populations of Blackfish and Mountain Galaxias/possibly Barred Galaxias also.
Responsible Authority: Murrundindi Shire Council
Plantation Catchment: Tribuatories of Tin Creek/Acheron River. Several easterly flowing tributaries of the Acheron River. Numerous tributaries of Mill Creek/Acheron River/Goulburn River. Tributaries of Health Creek/Acheron River.
This plantation is commonly known as the Mohican Plantation. The plantation is in two main parts, with the main bulk being some 5km x 3.5km in size. The smaller northern plantation is about 2km in length and 1 km wide lieing in a north westerly/south easterly direction. The Mohican plantation lies about 3km north west of the town of Buxton.
Catchment Managment Authority: Goulburn Broken Catchment Management Authority
Hancock Watch Site visit Dec 00: Drove into south eastern portion of established pine plantations. Large amount of recent clearing of established pine plantations. Mass clear cuts several km's in size - whole foothills cleared with sparse (zero) native vegetation. Clearing right up to creeks and natural springs. No buffer zones/filter strips apparent in areas in the middle of clearcuts. Good buffers were present along some identified creeks - however areas sacrificed to pine often have no protection whatsoever. Saw some evidence of the burning of native vegetation inside radiata pine plantations - however in general it appeared that most remaining areas of native vegetation had been spared from clearing. Perhaps an isolated tree here and there had been taken. Thus logging activities appear confined to established plantations. Apr 01: Drove into plantation from northern aspect. Again massive clearfelling in operation. Some existing buffer zones are very good, however on drainage lines that do not have buffer zones the logging has been most severe. Also found what appears to be spilt herbicide on some of the logging roads. Took samples for analysis.
Hancock Watch site visit July 2001: Widespread clearfelling had just occurred in the Mill Creek catchment. One particular drainage line had been levelled (see photos on next page). Tree planting had resumed with the drainage line as marked on topographical maps, bulldozed and re-established with pine.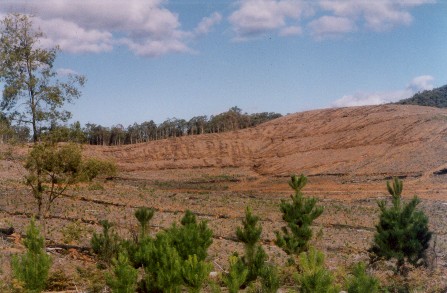 May 2003: Note retained habitat tree. This recently levelled plantation lies in the Mill Creek catchment. A tributary of the Acheron River.
Hancock Watch site visit May 2003: More widespread clearing taken place in the Mill Creek catchment on the northern aspect of the plantation. A lack of habitat trees was evident throughout the recently clearfelled region. Bulldozers had been operating in drainage lines and the scale of the recent clearfelling was very large. Some of the drainage lines appeared to stop before reaching the creek proper, probably meaning that the impact on waterways was lessened considerably.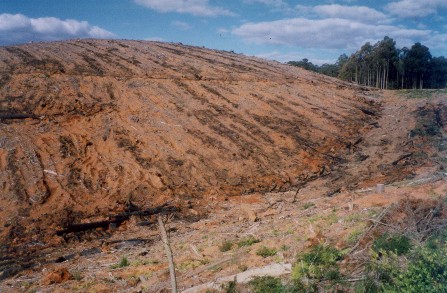 May 2003: Recent clearfelling inside drainage line of Mill Creek. Plantations are very thirsty, meaning that when plantation trees are regrown, they suck up 2 million litres of water per hectare per year, more than if that same area was retained as pasture. Hancock do not pay a cent for the water that their plantations use. This unaccounted subsidy amounts to many millions of dollars each year.
Many log trucks leaving this plantation head south to the Softwood Pine Export mill in Geelong. Their route takes them over the Black Spur then on to Healesville, where they then head towards the Western Ring Road near Greensborough. Their route also takes them along Eltham-Yarra Glen Road in the Watsons Creek area. Locals in this area are fighting to stop the Eltham-Yarra Glen Road being widened largely to accomodate log trucks. See the Bad Developers site for further details.
Acheron River, Buxton: Rises in forested country and flows through cleared grazing land below Buxton. Mainly a gravel bed with mud in the deeper pools downstream. Some siltation in the lower reaches from erosion upstream. Low flow and water level in summer and some water is extracted for pasture irrigation. An excellent trout water in its headwaters but deteriorates in the middle and lower reaches. A trout nursery stream for the Goulburn River. Contains small brown trout average 160g in the headwaters, with larger fish average 300g and occasional rainbow trout, average 130g, but some fish to 450g.
Source: A Guide to the Inland Angling Waters of Victoria by BR Tunbridge, PL Rogan, CA Barnham. Department Conservation and Environment. Arthur Rylah Institute for Environmental Research, 123 Brown St, Heidelberg, 3084. (4th ed - 1991)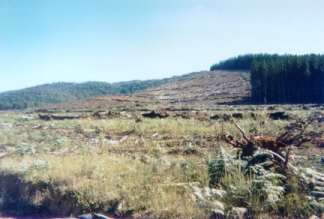 93-67b Dec 00: Recent pine logging.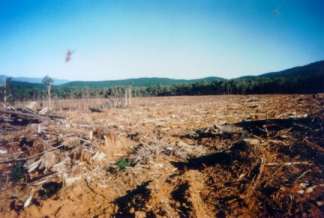 93-67c Dec 00: Large logging operation. Decent enough buffer zones in distance, however inadequate protection of drainage lines in foreground.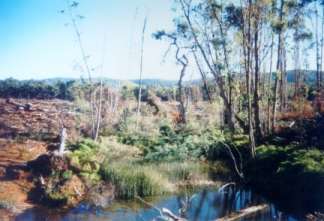 93-67d Dec 00: Minimal buffer zones afforded for this wetland/creek. What will happen to this wetland after the aerial application of herbicides?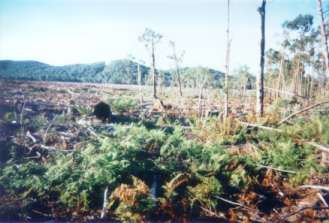 93-67e Dec 00: Logging right up to wetland. To be replanted with pine?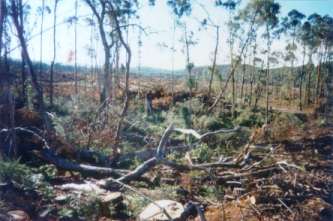 93-67f Dec 00: Pine logging has caused the destruction of native vegetation. Minimum protection for waterway.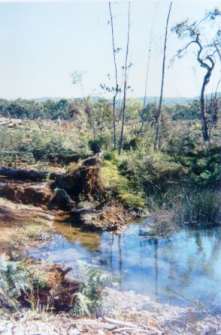 93-67g Dec 00: Lack of buffers to protect the wetland from the impact of aerially sprayed herbicides such as Hexazinone..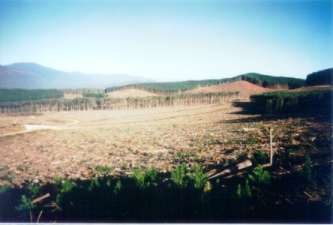 93-67h Dec 00: Recent pine logging. Minimal buffer zones in foreground.