Region: Ballarat

Legal Number: LEGL/93-55/1

Plantation: Bells Reef

Conservation Priority: High

Plantation within AKD Softwoods area of supply.

Plantation within SPE Exports (Geelong) area of supply.

Responsible Authority: Hepburn Shire Council

Approximate Size: 500ha




93-55a: Feb 01: Dam at northern end of creek that runs through plantation. Trib of Maclachlan Creek.
Declared Water Catchment Area: Plantation lies within Cairn Curran Proclaimed Water Catchment. Proclaimed 30/5/62.
Entire Plantation lies within Daylesford Mineral Springs Recharge Area.
Click here for map of Hancocks' Ballarat region plantations.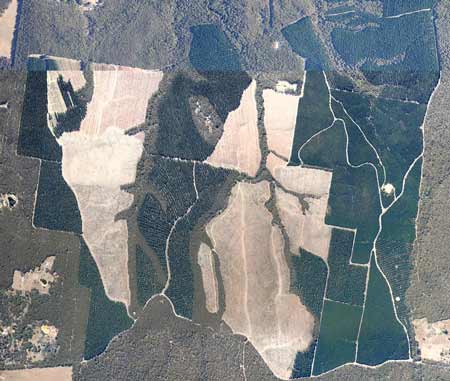 Plantation located ~5km south west of the town of Daylesford, getting another "haircut" in early 2012, about 10 years after Hancock Watch first visited the plantations - short rotations - why? Image Source Nearmap
This plantation was very likely to be aerially sprayed with 2,4,5-T between 1968 and 1977. The Dioxin TCDD may still exist in soil in this plantation. For more historical data on 2,4,5-T click here. For more information concerning the continuing health crisis concerning 2,4,5-T please forward to here.
Herbicides Used by Hancock in Pine Plantations - Ballarat Region Victoria
| | | | | |
| --- | --- | --- | --- | --- |
| Herbicide | Label Rate max as kg/ha | Used to control | Notes | Application |
| Clopyralid | 2.55 | Woody Weeds | Highly Toxic/Potential Ground water Contaminant | air or ground |
| Glufosinate Ammonium | 1 | Woody Weeds | | |
| Glyphosate | 3.6 | Herbaceous and woody weeds, noxious weeds | | |
| Hexazinone | 4 | Woody Weeds | Ground Water Contaminant | Aerial, ground, spot |
| Metsulfuron-Methyl | 0.06 | Woody Weeds, Noxious Weeds | Potential Ground Water Contaminant | Aerial, ground or spot |
| Triclopyr | 3 | Woody and Noxious Weeds | | Ground, spot, basal bark |
Plantation Catchment: Numerous creeks. HW McLachlan Creek/Joyces Creek/Cairn Curran Reservoir.
Ex Gold Mine Area: It is highly likely that Feehma Gold Mine was located on the eastern aspect of this plantation in the 19th century.
Catchment Managment Authority: North Central Catchment Management Authority
Hancock Watch Site visit Feb 01: Headed into this plantation from the north. Saw recent clearfelling in plantation. Main gully line in centre of plantation was covered with some native vegetation, however most was not buffered at all. A dam has been built at northern aspect of plantation where creek flows into, appeared that trees had been cut into gully line where it was also evident of a heavy weed infestation - especially blackberry. No wilding infestation seen along plantations eastern edge in Hepburn Regional Park, although more work on this matter is warranted.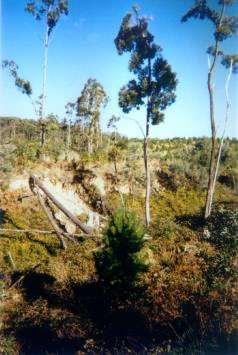 93-55b: Feb 01: Almost no buffer stream on this creek in places. Pine growing over an understorey of blackberry.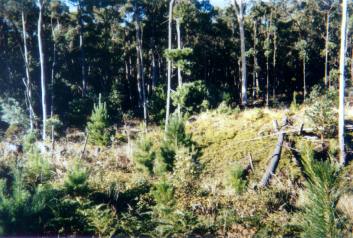 93-55c:Feb 01: Buffer zone inside plantation replanted with pine.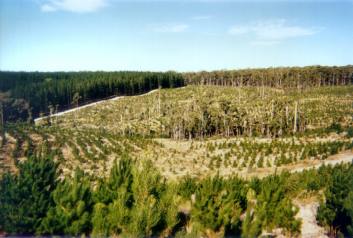 93-55d: Feb 01: Tributary of Machlachan Creek. Buffer zone does not extend throughout creek buffer zone.
HOME