Region: Ballarat

Legal Number: LEGL/93-36

Plantation: Avoca River

Conservation Priority: High




93-36a: Feb 01: DNRE/Hancock licence area. This area may possibly be logged in the future?
Plantation within AKD Softwoods area of supply.
Plantation within SPE Exports (Geelong) area of supply.
The Nationally Threatened Temperate Grassland & Grassy Eucalypt Woodland Ecological Community may occur in this plantation or in close proximity.
More Information:
http://www.environment.gov.au/epbc/publications/pubs/grasslands-victoria.pdf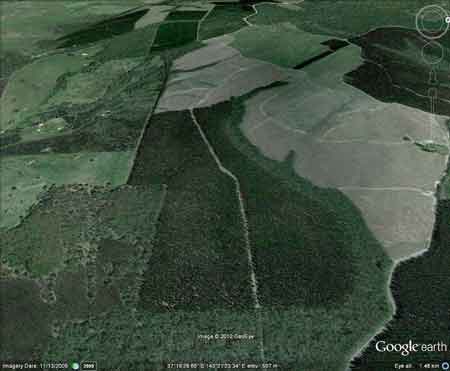 Looking west across the headwaters of the Trawalla Creek catchment
Click here for map of Hancocks' Ballarat region plantations.
Most of this plantation lies in the Declared Water Catchment of Trawalla Creek. Proclaimed 16/10/63. Slopes mainly 10-17%.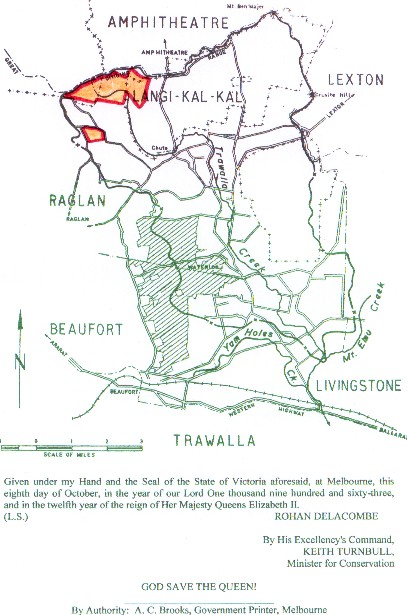 Above - map of Trawalla Creek Declared Water Supply Catchment showing extent of Hancock plantations in headwaters (in orange).
Click here for maps of Glenelg-Hopkins RegionWater Supply Catchments
This plantation was very likely to be aerially sprayed with 2,4,5-T between 1968 and 1977. The Dioxin TCDD may still exist in soil in this plantation. For more historical data on 2,4,5-T click here. For more information concerning the continuing health crisis concerning 2,4,5-T please forward to here.
Herbicides Used by Hancock in Pine Plantations - Ballarat Region Victoria
| | | | | |
| --- | --- | --- | --- | --- |
| Herbicide | Label Rate max as kg/ha | Used to control | Notes | Application |
| Clopyralid | 2.55 | Woody Weeds | Highly Toxic/Potential Ground water Contaminant | air or ground |
| Glufosinate Ammonium | 1 | Woody Weeds | | |
| Glyphosate | 3.6 | Herbaceous and woody weeds, noxious weeds | | |
| Hexazinone | 4 | Woody Weeds | Ground Water Contaminant | Aerial, ground, spot |
| Metsulfuron-Methyl | 0.06 | Woody Weeds, Noxious Weeds | Potential Ground Water Contaminant | Aerial, ground or spot |
| Triclopyr | 3 | Woody and Noxious Weeds | | Ground, spot, basal bark |
Plantation where the Secretary CNR retains specified rights to harvest hardwood sawlogs.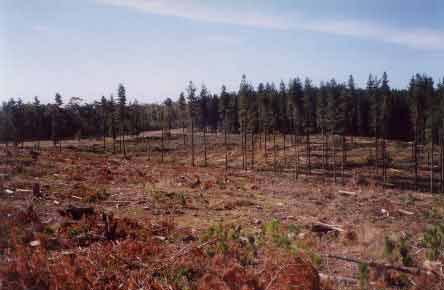 April 04: Trawalla Creek headwaters being clearfelled for pine.
Responsible Authority: Pyrenees Shire Council
Plantation Catchment: Headwaters and all tributaries of Flume Gully which flows west into Fiery Creek. 5-6 tributaries of Fiery Creek. Numerous tributaries and probable Headwaters of Trawalla Creek/Mount Emu Creek/Hopkins River.
Catchment Managment Authority: Glenelg-Hopkins Catchment Management Authority/North Central Catchment Management Authority
Hancock Watch Site visit Feb 01: Entered area through Graveyard Track. This joins Red Hill Track. Area on left side of Red Hill Track is native vegetation although this is likely to be outside plantation boundary. Turned left onto King Track - drove towards DNRE concession zone. Came across intact gully line of native vegetation after almost 1 km. Drove along track until DNRE concession zone. Saw what appeared to be Messmate with possibly Manna Gums. This area was quite extensive and adjoined further native vegetation to the west. Came across quite extensive gully communities in what appeared to be a large native forest mass inside the plantation - however this could have also laid outside the plantation boundarys. The area was a an extensive gully catchment (Flume Gully) which appeared to adjoin the DNRE concession boundary on the map. Drove along track to the corner of Ridge Road and Gully road. Drove in an easterly direction along the ridge line dividing the plantation with native forest. Drove into LEGL 93-37/1. More study of the area is warranted.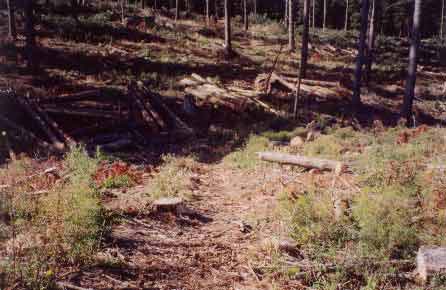 April 04: Natural drainage line in Trawalla Creek catchment, which has recently had bulldozers driven through it and logs stacked in it. The Code of Forest Practice however only defines drainage lines as being at least 30cm deep, meaning that this natural drainage line does not qualify.
Other Notes: Soil Conservation Authority: An Ecological and Land Use Survey of the Trawalla Creek Catchment 1962.
"p2 . . . The catchment is within hilly country composed of Ordovician sediments and is adjacent to the Great Dividing Range near Beaufort . . . The only source of freshwater are likely to be those tributaries draining sedimentary hills and Trawalla Creek is the biggest of these streams and it is desirable for the high quality waters in Trawalla Creek to be maintained . . .
p3 The Headwaters of Trawalla Creek rise on the southern slopes of the Great Dividing Range to the north of Beaufort in the Central Highlands Region. After flowing for ten miles in a south easterly direction it empties into Mt. Emu Creek near Trawalla . . .
p4 Hills of Ordovician shales and mudstones have been maturely dissected by Trawalla Creek and its tributaries . . . The catchment is sharply defined on the east, north and west by high ridges from which spurs and lower hills gradually drop in elevation until the plain of Trawalla Creek is reached . . . The northern ridge is part of the Great Dividing Range whose elevation above sea level is generally between 1500 feet and 1700 feet culminating in Ben Major at 2000 feet . . .
p5 Solodic soils are the dominant soil group. They are divisible into two sub-groups, namely, red solodics and yellow solodics, and their chief feature is a sharp and marked texture boundary. Red solodic soils are associated with the Ordovician hill slopes. They derive their name from the red to reddish-brown clay of the subsoil which underlies a light brown, gravelly, sandy loam. A characteristic feature of these soils is the large amounts of quartz stone in the upper horizons, the stones being particularly noticeable on those profiles exposed along road cuttings. Sometimes red podzolics are found which differ from red solodics in having a clay loam horizon between the sandy loam and clay . . .
p6 Associated with the Ordovician hills and red solodics is a mixed dry sclerphyll forest of messmate, red stringybark, narrow-leaf peppermint, long leaf box and apple box . . .
p11 The contribution made by Trawalla Creek to Mt Emu Creek includes both the quantity of water and its quality . . . the quality of water from Trawalla Creek is of greater importance to Mt Emu Creek than the quantity . . . Trawalla Creek drains the area of highest rainfall within Mt Emu Creek's catchment . . . It appears that Trawalla Creek contributes most the of the good quality water that enters Mt Emu Creek and dimunition of this quality would increase the salinity of Mt Emu Creek . . .
p12 In view of the low productivity and revenue arising from the present eucalypt forests, the Forests Commission should be asked to investigate the suitability of the Reserved Forests for pine plantations as an alternative cover to the present eucalypt forests . . ."
Mount Emu Creek: Flows through forest and grazing land, (basalt country) with a rocky bottom in many sections and deep pools. Scattered red gums along banks. Considerable erosion in the upper catchment.
Source: A Guide to the Inland Angling Waters of Victoria by BR Tunbridge, PL Rogan, CA Barnham. Department Conservation and Environment. Arthur Rylah Institute for Environmental Research, 123 Brown St, Heidelberg, 3084. (4th ed - 1991)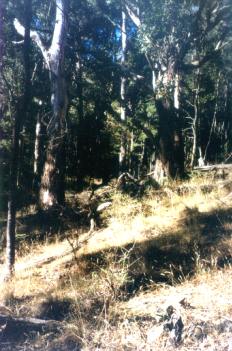 93-36b: Feb 01: DNRE/Hancock licence area in south face of plantations in the Flume Gully catchment.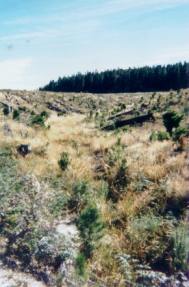 93-36c: Feb 01: Pines reestablished in creek buffer zone of Fiery Creek.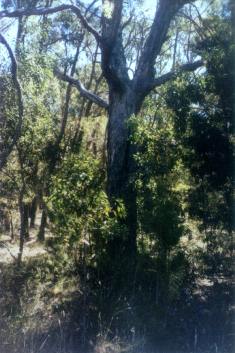 93-36d: DNRE/Hancock licence area in Flume Gully catchment. Will this area be logged?