Region: Ballarat

Legal Number: LEGL/93-34

Plantation: Yarrawee

Conservation Priority: High




93-34c Feb 01: Failed plantation. Much of this plantation was mined for gold in the 19th Century. Hancock Watch estimates that up to 5 hardrock gold mines were located and mined within and near this plantation boundary.

In 2004 Ballarat Goldfields N.L. acquired Mining Lease MIN4847 from Datafast Telecommunications for $200,000. Lihir Gold then purchased the mine. Castlemaine Goldfields Limited purchased the mine from Lihir in 2010. Castlemaine Gold was then taken over by Singapore based LionGold in October 2012.

The licence area is on Crown Land, lies predominantly within pine plantations and is the site of a number of historical working (shafts and open pits). Hancock Watch is at this stage unsure whether Hancock is still involved with leasing any of this area.
Plantation within AKD Softwoods area of supply.
Plantation within SPE Exports (Geelong) area of supply.
Responsible Authority: Ballarat City Council.
The Nationally Threatened Temperate Grassland & Grassy Eucalypt Woodland Ecological Community may occur in this plantation or in close proximity.
For recent images of southern portion of plantation see December 2012 updates.
More Information:
http://www.environment.gov.au/epbc/publications/pubs/grasslands-victoria.pdf
Plantation impacted by Bag Moth (1959) and 400 acres aerially sprayed with DDT and Dieldrin. "There is intense bird activity in the affected areas, large flocks of crows have congregated in the plantation... Also lesser numbers of white-winged choughs, magpies and many smaller birds."
Plantation, south of Whitehorse Road, impacted by Tip Moth (1961) and 913 acres aerially sprayed with 5 oz of Dieldrin in 1/1/2 gallons No.2 fuel per acre at a flying height of <150 feet.
January 27 2011: Petition demands pine plantation clearing (ABC Ballarat)
November 5 2010: Mt Helen Permit Fix Close
October 8 2010: CFA Chief Speaks on Mt Helen Permits
October 7 2010: Mt Helen Building Permits Council Moves To End Stalemate
August 7 2010: Housing Permits Denied Due To Mt Helen Fire Risk
Castlemaine Goldfields owned by Singapore based LionGold since October 2012.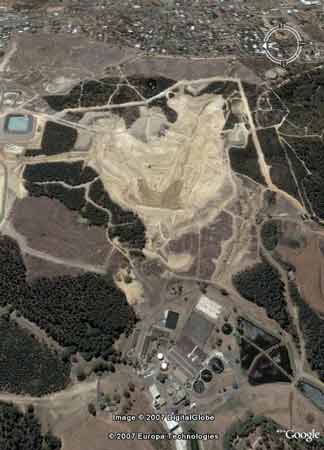 Google Earth image taken probably in 2006. This plantation is now a gold mine.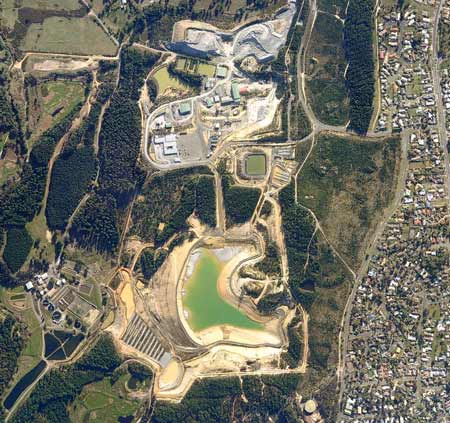 Same plantation area 6 years later in early 2012. Image Source Nearmap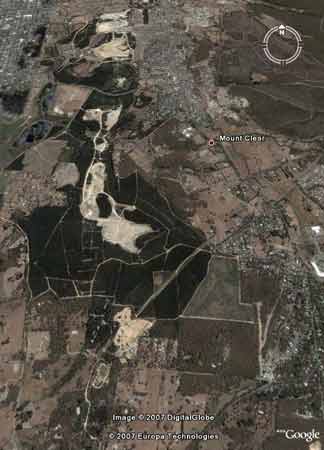 View looking north of the plantation that is being converted into a gold mine. Note the southern portion of the plantation scalped in 2005 and remaining scalped 7 years later. Is this a forest site or is it a plantation?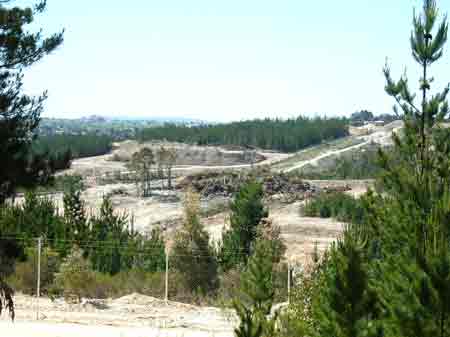 November 2005: Recent scalping of landscape within plantation boundary.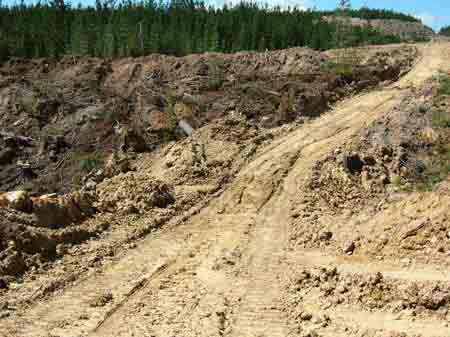 November 2005: Horrific creek crossing over a tributary of Yarrowee Creek, just upstream from the Central Highlands Water Sewage treatment plant.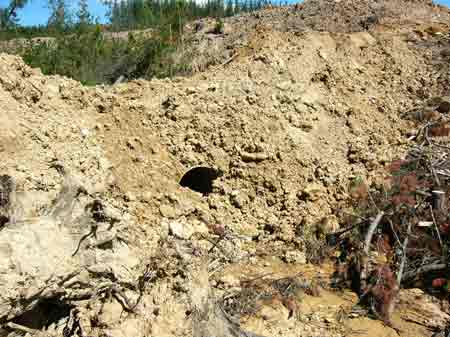 November 2005: Horrific creek crossing over a tributary of Yarrowee Creek, just upstream from the Central Highlands Water Sewage treatment plant. This creek crossing may have been the work of Ballarat Goldfields. If this was a forestry operation it would definately breach the logging code of practice. Who is responsible for monitoring compliance of mining roads?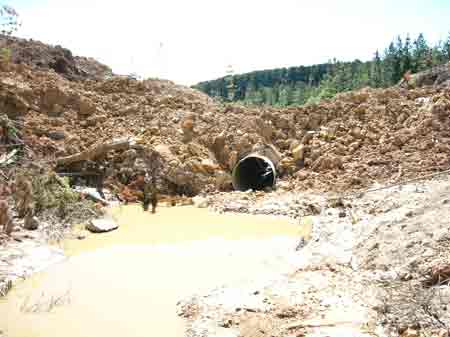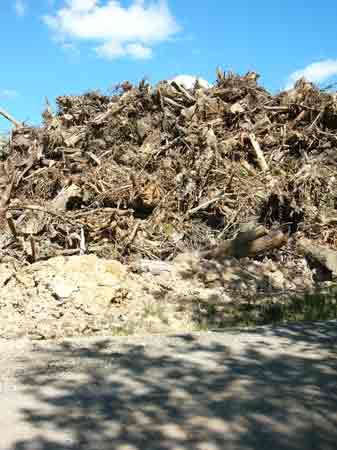 November 2005: The end of the line for Hancock's plantations within the mining lease of Yarrowee Plantation.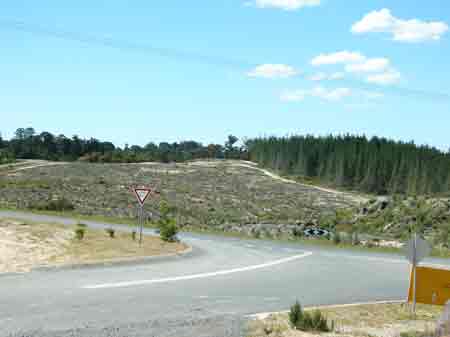 November 2005: This charming vista must be a real turn on for local residents. This area probably lies outside the mining lease, which raises the question, will this area be reestablished with plantations, with associated use of herbicides in a residential area?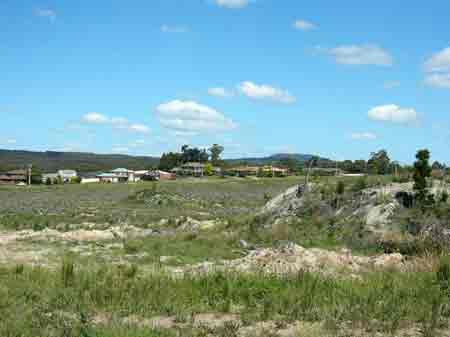 November 2005: Recently logged plantations in very close proximity to Tinworth Avenue. Will this area be reestablished with pine in such close proximity to residents?
Click here for map of Hancocks' Ballarat region plantations.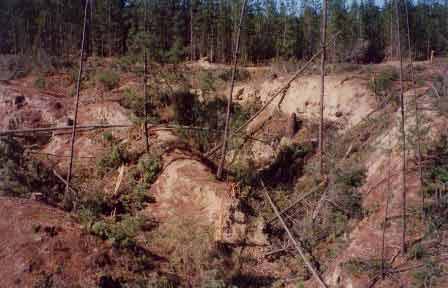 April 04: Recent logging of pine occurring in old gold mining sites. Much of the pine at this plantation was grown to stabilise mine tailings. What is the risk of causing erosion during logging. We recommend that these old gold mines need to be revegetated with native species and retired from timber production.
THREATENED FISH NOTES - BARWON RIVER: Probably Blackfish in mid to upper reaches. The lower reaches have 1 of 2 of the main spawning areas for Australian Grayling west of Melbourne.
Google Earth images taken 2006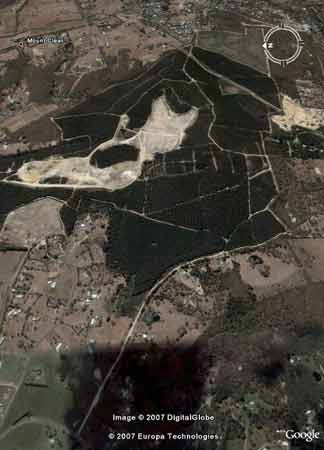 Ex-Gold Mining area: Gold workings occurred extensively throughout this plantation. At least 5 hardrock gold mines including Woah Hawp1, Woah Hawp2, Woah Hawp Central, Reward and Indicator, were most likely located within this plantation boundary. The area was also extensively mined along gullies including Terrible Lead, White Horse Lead and Magpie Lead.
Soils: Sourced from Geological Maps of Victoria
Oll: Ordovician/Lancefieldian: Deep marine deposits: sandstone and mudstone and black shale; dominantly sand-rich turbidite facies, moderately to well sorted, variably rounded quartz with minor feldspar and lithic grains in quartz silt or clay matrix, medium to very thick bedded; sparsely fossil iperous with phyllocarids and grapholites, weathered to partly Kaolinised.
Qrc: Quaternary/Recent: Colluvial deposits, active outwash fans, scree aprons and colluvium, ubiquitous around hill bases and in gullies, polymictic gravel, sand, silt, clay: poorly sorted, variably rounded, stratified, laminated or massive.
Qrn2: Pliocene/New Volcanics: Sheet flow basalts; numerous superimposed flows with interbasaltic sediment; vents generally discernible, lateral streams developed; positively magnetized, dominantly weathered tholeite to mildly alkatic olivine-basalt.
April 04: View of Tinworth Avenue near Mt Pleasant which lies in very close proximity to the east of this plantation. One must mention the high fire risk to houses located in close proximity to pine plantations. The Canberra bush fires of 2003 are testiment to the dangers of inappropritately located pine plantations.
Plantation Catchment: Several creeks flow west into Yarrowee River/Barwon River. Plantation stretches for about 5km to the south east of Ballarat.
Catchment Managment Authority: Corangamite Catchment Management Authority
Hancock Watch Site visit Feb 01: Plantation is divided into two main areas between the road connecting Sebastopol and Cape Clear. Took road that headed north came across water treatment plant lieing outside of plantation boundary. Drove along roads of poor quality with equally poor creek crossings. Came across in centre of plantation an area whcih appeared to be old gold diggings. The roads were amongst the worst logging roads imaginable. Creek crossings appalling. Also saw an area of about 1 hectare in size which appears to be a gravel extraction site? Roads leading to this site were heavily eroded. Saw dam full of very murky water lieing upstream of crossing which was basically logs thrown into washed out gully. Tracks appear to be used in wet weather as there were wheel ruts. Site was basically a bomb site. Area south of Cape Clear - Sebastopol Road adjoins Goldminco gold mine. April 04: Logging had been occurring in the Northern plantation on ex gold mine sites. Erosion risks at these sites was high. The Magpie plantation lies to the south and was probably replanted with pine several years ago. The plantation mass stretches for about 5km in a north to south direction. Recent suburban sprawl has meant that houses are located very close to this plantation, posing a very high fire risk.
Yarrowee River: Also known as the Leigh River. Flows through grazing land, mud bottom. Polluted and is unsafe for drinking or swimming. Water level can become low in summer. Carries some brown trout to 900g, average size is smaller, redfin to 450g, eels and tench.
Source: A Guide to the Inland Angling Waters of Victoria by BR Tunbridge, PL Rogan, CA Barnham. Department Conservation and Environment. Arthur Rylah Institute for Environmental Research, 123 Brown St, Heidelberg, 3084. (4th ed - 1991)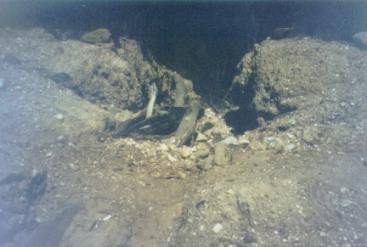 93-34a Feb 01: Abysmal creek crossing inside plantation feeding into the Yarrowee Creek catchment. Newer roads have remeditaed many of these poorer creek crossings (update April 04).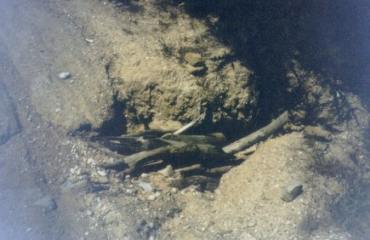 93-34b Feb 01: Appalling creek crossing inside plantation.
HOME