Region: Ballarat

Legal Number: LEGL/93-26

Plantation: Wylies

Conservation Priority: High

Plantation within AKD Softwoods area of supply.




93-26a Feb 01: Ancient remnant tree located on northern boundary of plantation. Hundreds of years old and still surviving.
Plantation within SPE (Exports) Geelong area of supply.
Responsible Authority: Golden Plains Shire Council.
The Nationally Threatened Temperate Grassland & Grassy Eucalypt Woodland Ecological Community may occur in this plantation or in close proximity.
More Information:
http://www.environment.gov.au/epbc/publications/pubs/grasslands-victoria.pdf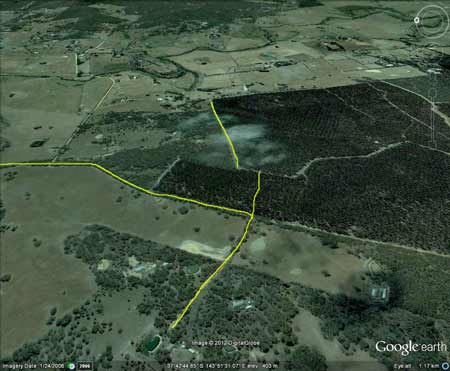 Large sections of roadsides on the northern aspect of the plantation are covered by a Vegetation Protection Overlay under the Golden Plains Shire Planning Scheme.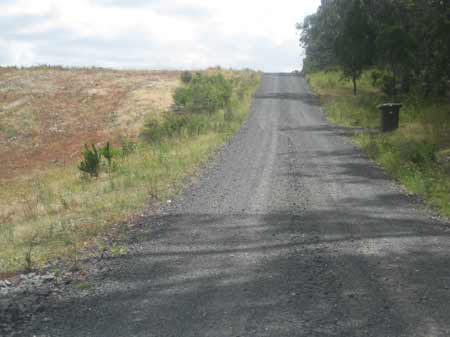 December 2012: Lockyers Road VPO. Clearfelling of plantation along roadside. Note native vegetation emerging on roadsides. What is the conservation status of this and was similar vegetation removed by Hancock during recent logging operations?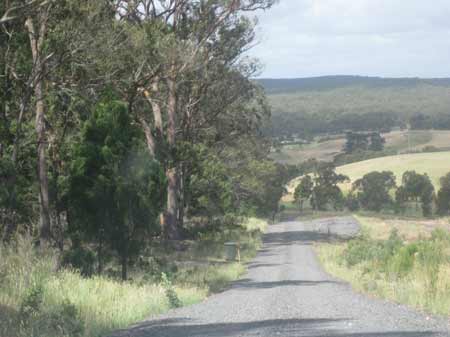 December 2012: Remanant vegetation and regenerating native vegetation on Lockyers Road.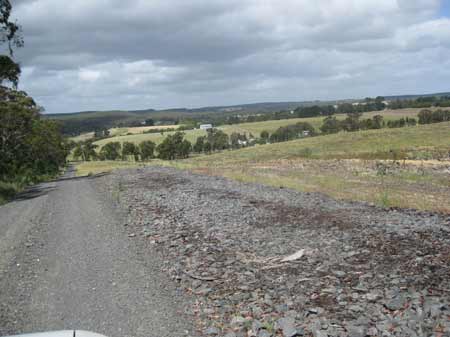 December 2012: Several portions of the roadside of Lockyers Road have had bluestone laid over them. Was this area covered by VPO's?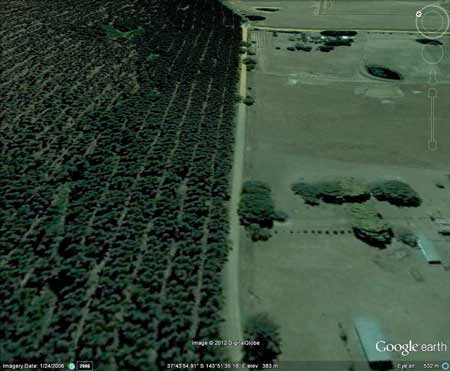 A smaller VPO is located on Hardies Hill Road.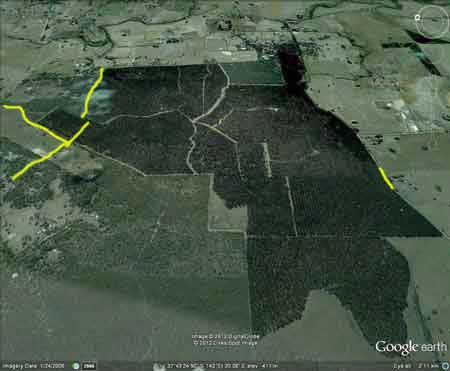 Rough location of VPO's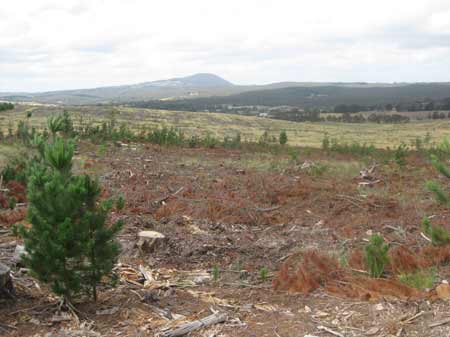 Recent clearfelling across a large portion of the plantation. Mt Buninyong in the distance.
December 2012: Clearfelling of tributary of Yarrowee Creek
December 2012: Plenty of wildings growing in neighbouring native forest.
Click here for map of Hancocks' Ballarat region plantations.
This plantation was very likely to be aerially sprayed with 2,4,5-T between 1968 and 1977. The Dioxin TCDD may still exist in soil in this plantation. For more historical data on 2,4,5-T click here. For more information concerning the continuing health crisis concerning 2,4,5-T please forward to here.
Herbicides Used by Hancock in Pine Plantations - Ballarat Region Victoria
| | | | | |
| --- | --- | --- | --- | --- |
| Herbicide | Label Rate max as kg/ha | Used to control | Notes | Application |
| Clopyralid | 2.55 | Woody Weeds | Highly Toxic/Potential Ground water Contaminant | air or ground |
| Glufosinate Ammonium | 1 | Woody Weeds | | |
| Glyphosate | 3.6 | Herbaceous and woody weeds, noxious weeds | | |
| Hexazinone | 4 | Woody Weeds | Ground Water Contaminant | Aerial, ground, spot |
| Metsulfuron-Methyl | 0.06 | Woody Weeds, Noxious Weeds | Potential Ground Water Contaminant | Aerial, ground or spot |
| Triclopyr | 3 | Woody and Noxious Weeds | | Ground, spot, basal bark |
THREATENED FISH NOTES - BARWON RIVER: Probably Blackfish in mid to upper reaches. The lower reaches have 1 of 2 of the main spawning areas for Australian Grayling west of Melbourne.
Plantation Catchment: Several creeks flow into east of plantation/then Yarrowee River/Barwon River. Also known as the Leigh River. Flows through grazing land, mud bottom. Polluted and is unsafe for drinking or swimming. Water level can become low in summer. Carries some brown trout redfin eels and tench.
Soils: Sourced from Geological Maps of Victoria
Oll: Ordovician/Lancefieldian: Deep marine deposits: sandstone and mudstone and black shale; dominantly sand-rich turbidite facies, moderately to well sorted, variably rounded quartz with minor feldspar and lithic grains in quartz silt or clay matrix, medium to very thick bedded; sparsely fossil iperous with phyllocarids and grapholites, weathered to partly Kaolinised.
Qrc: Quaternary/Recent: Colluvial deposits, active outwash fans, scree aprons and colluvium, ubiquitous around hill bases and in gullies, polymictic gravel, sand, silt, clay: poorly sorted, variably rounded, stratified, laminated or massive.
Qra: Alluvial floodplain, point bar and channel lag deposits: active meandering drainage systems, polymictic gravel, sand, silt and clay, variably sorted and rounded, stratified, laminated or massive.
Catchment Managment Authority: Corangamite Catchment Management Authority
Hancock Watch Site visit Feb 01: Plantation of older radiata pine established on flat land. Saw some native vegetation along roadside on south-western aspect of the plantation but these trees probably accounted for about 20 trees in all.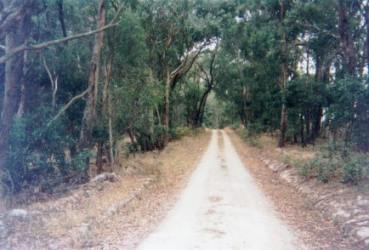 93-26b Feb 01: Hardies Hill Road. Narrow strip of HCV vegetation on the boundary of a plantation almost totally devoid of indigenous plants. A small Vegetation Protection Overlay is located further west of this location.
HOME