Region: Central Highlands

Legal Number: LEGL/93-118

Plantation: Loch Valley




93-118a April 01: Recent pine logging. During this month this plantation was sprayed with 231.8kg of Roundup, 4968 Litres of Metmac and 16.56 Litres of Pulse (a surfactant).
Conservation Priority: High
Proclaimed Water Catchment Area: Entire plantation lies within the Deep Creek and Loch River (Noojee) Water Supply Catchment. Provides drinking water to Noojee. (Gazetted 1 Aug 1990).
Cool Temperate Rainforest Located in this plantation.
Hancock has ~150ha of native forest in this plantation.

Myrtle Beech, rainforest species (on left) located in close proximity to young Shining Gum plantations in Leadbeater Gully. Much of the pine is being logged and replanted with Shining Gum.
Area within PaperlinX area of supply.
Area within Brown and Dureau Softwoods (Morwell) area of supply.

June 2002: Very poor access roading on western side of Loch River. Hancock was fined by the Shire of Baw Baw in October 2002 for their poor logging operations (Breach of Code of Forest Practices) in this domestic water supply catchment.
Herbicide Regimes (Incomplete list compiled from a number of sources including Gippsland Water):
Loch Valley was one of the first plantations to be aerially sprayed with 2,4,5-T in the late 1960s. . p17 "Aerial spraying of 670 acres of wattle regrowth at Warrenbayne and Loch Valley Plantation with 1 pound active of technical 2,4,5-T Butyl Ester in 5 gallons of distillate (diesel) effectively killed off competing wattle growth . . . p35 Test aerial spraying with 2,4,5-T has been carried out in the Loch Valley Plantation..." Forests Commission 1968-69 Annual Report.
This plantation was aerially sprayed with 2,4,5-T between 1968 and 1977. The Dioxin TCDD may still exist in soil in this plantation. For more historical data on 2,4,5-T click here. For more information concerning the continuing health crisis concerning 2,4,5-T please forward to here.
127.7ha sprayed with 510.8kg of Velpar ULW in October 1989. The application was made under an experimental chemical permit obtained from the Department of Agricultural and Rural Affairs. Herbicide was detected at 6.0ug/L, 1 hr after spraying was completed and 7.5ug/L, 6 days after spraying and after light rain had been falling. . . Monitoring was undertaken 2 to 3 km downstream of the treated areas detected trace residues of hexazinone in only three of the 24 samples analysed, the maximum concentration being 1.3ug/L. (See Weed Control in Radiata Pine plantation by aerial application of granulated hexazinone-Lands and Forests Technical Report No. 5. Conservation and Environment 1991).
Herbicides Used by Grand Ridge Plantations - Strzelecki Ranges and Gippsland Victoria
| | | | | | |
| --- | --- | --- | --- | --- | --- |
| Herbicide | Label Rate max as kg/ha | Used to control | Euc/Rad | Notes | Application |
| Clopyralid | 2.55 | Woody Weeds | Radiata and Eucalypts | Highly Toxic/Potential Ground water Contaminant | aerial or ground |
| Glufosinate Ammonium | 1 | Woody Weeds | Radiata | | aerial or ground |
| Glyphosate | 3.6 | Herbaceous and woody weeds, noxious weeds | Radiata, Eucalpts and Custodial | | |
| Haloxyfop-methyl | 0.13 | Annual and Pernneial Grasses | Eucalypts | Carcinogen | aerial or ground |
| Hexazinone | 4 | Woody Weeds | Radiata | Ground Water Contaminant | Aerial, ground, spot |
| Metsulfuron-Methyl | 0.06 | Woody Weeds, Noxious Weeds | Radiata, Eucalyptus and Custodial | Potential Ground Water Contaminant | Aerial, ground or spot |
| Sulfometuron Methyl | 0.6 | Annual and Perennial Grasses and broadleaf weeds | Eucalyptus | Potential Ground Water Contaminant | Aerial or Ground |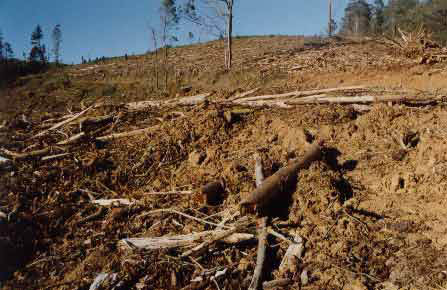 October 2003: Disturbed soil from logging operation in Noojee Water Supply catchment.
13.3 ha sprayed with 66.5 kg Velpar ULW in late 1991 to kill A. Dealbata (Silver Wattle).
56ha sprayed with unknown quantity of Velmac G granular herbicide between 15 September 1999 and 30 October 1999.
30ha sprayed with 104.4kg of Trounce (glyphosate and metsulfuron methyl) & 6 kg Pulse (a surfactant) to kill silver wattle and dogwood (cassina) in early April 2000.
52 ha sprayed with 978.5 kg of Velmac G herbicide to kill regenerating silver wattle and eucalypts in October 2000.
83 ha sprayed with 231.8 kg of Roundup Max, 4968 Litres of Metmac and 16.56 Litres of Pulse (a surfactant) in late April 2001.
83 ha sprayed with 1042.2kg of Velmac CR in September 2001 to kill woody weeds (native regeneration).
Unknown amount of herbicide sprayed in April 2002.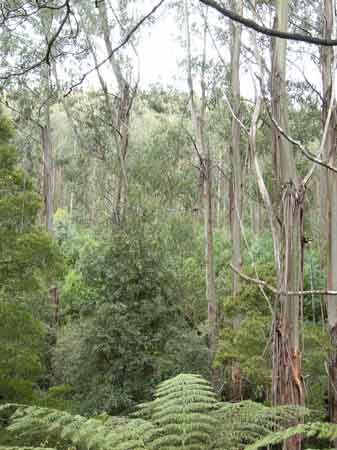 Cool temperate rainforest in Leadbeater Gully.
THOMSON/LATROBE RIVER: Australian Grayling are found in some streams in the catchment. Used to have a large population of Blackfish, but due to desnagging, sedimentation and destruction of riparian vegetation these populations have declined. Crayfish are an issue in catchment.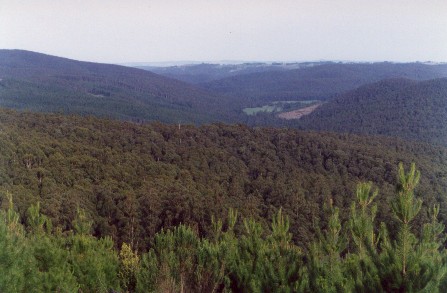 June 2002: Quite a significant stand of native vegetation (150ha) has been retained within this plantation boundary (foreground). This view is looking south into the Loch Valley catchment.
Responsible Authority: Baw Baw Shire Council
Plantation Catchment: SW corner 2 unnamed creeks entering Loch River/LaTrobe River. Main plantation mass lies on eastern side of Loch River. Numerous creeks entering into Loch River including Icy Creek (buffers) Loch River. West of plantation Hayman Creek about 2500m without buffer, some of its headwaters in pine.
Catchment Managment Authority: West Gippsland Catchment Management Authority
Hancock Watch Site Visit Apr 01: Large plantation located mostly on east side of Loch Valley Road - north of the town of Noojee. Entered the site along Leskie Road. It was soon apparent that Hancock had been very busy logging this plantation. Headed north along South Road which runs approximately along the ridge line. Massive clearcutting with minimal buffer zones. It was also apparent that some erosion was evident on slopes to the west. Plantation to the east had not been logged as yet. Drove onto Mannara Road headed east then turned south onto Cascade Creek Road. This road is the eastern boundary of the plantation. Quite serious weed infestation along Cascade Creek. Drove back onto Mannara Road until Toorongo Road. Drove along substantial buffer zone 'protecting' Icy Carter Creek. Some weed infestation present and some Ash trees probably 50 years old and younger. Positive sign to see buffer protected. Some logging going on in north eastern side of plantation. Drove back onto Loch Valley Road headed to the north of the plantation possibly onto Middle Road. Recent logging had just been completed. Lack of appropriate buffer zones apparent and serious road erosion was evident on some snig tracks.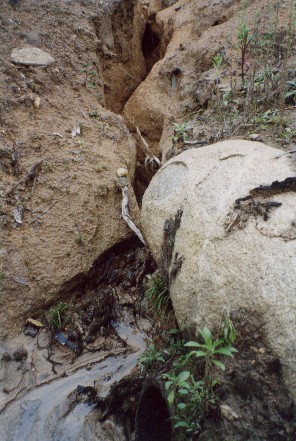 June 2002: Culvert erosion on logging road in Icy Creek catchment. Poor standard roading will play havoc with native fish populations as increased sediment loads will enter waterways blanketing creek substratum. "p5 The Loch River at the Loch River Road failed one draft SEPP biological objective. The fairly sandy substratum suggests that logging and significant softwood plantations in the catchment may have impacted on this site. The site also had moderately elevated nutrient levels at the time of sampling" EPA Publication 832 March 2002 Environmental Condition of Rivers and Streams in the Latrobe, Thoamson and Avon Catchments.
Hancock Watch Site Visit June 02: Visited this site after tip off from local fishermen. Logging during the year had made a right mess in the south west corner of the plantation on the western side of the Loch Valley. Roading and culverting was substandard and numerous breaches to the Code of Forest Practices were identified. Also in the main plantation area, a large portion of the buffer supposedly protecting Icy Creek had been destroyed with many Silver Wattles being cut. This is very poor practice with plantation logging occurring within a couple of metres of Icy Creek.
Numerous other Code breaches were identified at this plantation. Friends of the Earth Melbourne contacted Baw Baw Shire in September complaining about the standard of logging at this plantation.
For photos of these sloppy practices please go to;
http://www.hancock.forests.org.au/docs/logging_practices_8-02.htm
http://www.hancock.forests.org.au/docs/logging_practices_7-02_updates.htm
Large quantities of remnant vegetation were also identified inside the plantation near the centre of the plantation. Baw Baw Shire agreed that breaches to the Code of Forest Practice were identified and actually fined Hancock for logging breaches at this site:
In a letter to Friends of the Earth Melbourne from Baw Baw Shire
"30 October 2002. Re: Breaches to the Code of Forest Practices for Timber Production in the Loch Valley at Hayman Corner. I wish to advise that the above matter was brought to the Developments Approvals Committee Meeting of the 23rd October 2002. After carefully examining the relevant information Council resolved to issue a fine to the company responsible for the Timber Harvesting and require rectification works to be carried out. Rectification works include the construction and maintenance of cross drains and culverts along access tracks and the establishment of a biolink along Icy and Kennedy Creek. . ."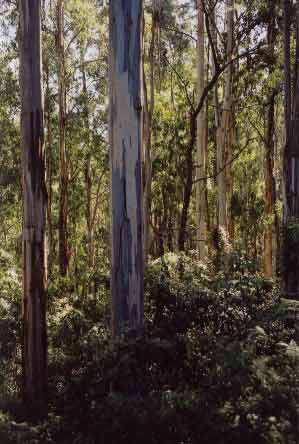 October 2003: Inside impressive buffer zone between Loch River and Icy Creek. Remnant vegetation.
Loch River, Noojee - A clear fast flowing stream, mud, sand and gravel bottom, joining the LaTrobe River at Noojee. Contains abundant small brown trout, some fish to 600g, river blackfish, spiny freshwater crayfish and some eels.
LaTrobe River: Above Narracan Lake - A clear fast flowing stream, mud, sand and gravel bottom. The valley is largely cleared but there is dense cover on the banks. Contains mainly brown trout to 700g and river blackfish, also eels, tench, redfin, spiny frehwater crayfish and carp up to Willow Grove. Best fishing area is Noojee, with brown trout to 1.1kg, average 400g.
Source: A Guide to the Inland Angling Waters of Victoria by BR Tunbridge, PL Rogan, CA Barnham. Department Conservation and Environment. Arthur Rylah Institute for Environmental Research, 123 Brown St, Heidelberg, 3084. (4th ed - 1991)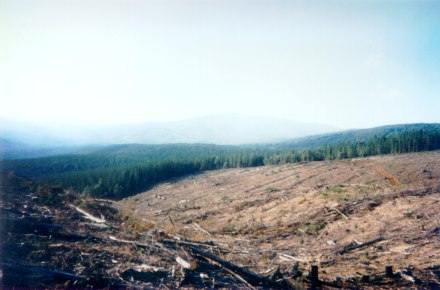 93-118b April 01: No buffer zones after logging. Photo looking north west.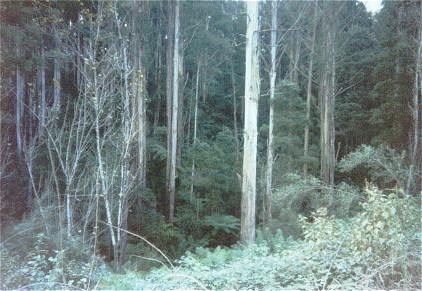 93-118c April 01: Remnant vegetation along Icy Creek - a tributary of the Loch River in the Latrobe River catchment..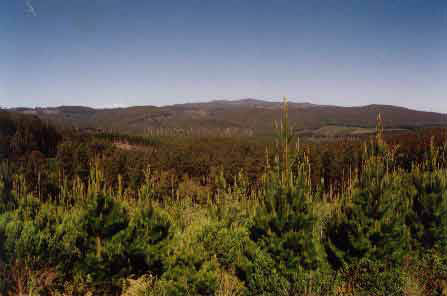 October 2003: Recent clearfelling in Loch Valley by Victorian Government outside of Hancock plantation area.