Region:
BENALLA / MANSFIELD

Legal Number: LEGL/93-60

Plantation: Piper

Conservation Priority: High




93-60a -c Mar 01: Regenerating forest inside DNRE/Hancock licence area. This native forest could possibly be logged in the future.
Strathbogies and Central North East Plantation Map here
Hancock lobbying local shire for change to planning scheme:
[http://www.strathbogie.vic.gov.au/Page/Page.asp?Page_Id=566]
Council Submission close November 30 2010
Planning and Environment Act 1987
STRATHBOGIE PLANNING SCHEME
Notice of Preparation of Amendment Amendment C48
Authorisation AO1593
The Strathbogie Shire Council has prepared Amendment C48 to the Strathbogie Planning Scheme. In accordance with section 8A(3) of the Planning and Environment Act 1987, the Minister for Planning authorised the Strathbogie Shire Council as planning authority to prepare the amendment.
The land affected by the amendment is Allotment 20B Section D (CA20B) in the Parish of Strathbogie. The amendment proposes to rezone the land from Public Conservation and Resource Zone (PCRZ) to Farming Zone (FZ). (Images Here)
Plantation where the Secretary CNR retains specified rights to harvest hardwood sawlogs.
Plantation within Australian Newsprint Mill (ANM) Ltd area of supply.
Plantation within Dominance Industries (Alpine MDF Industries) area of supply.
Plantation within D & R Henderson/Monsbent area of supply.
Plantation within Benalla Timber area of supply.
DECLARED WATER CATCHMENT: About 100ha of this plantation lies in the SEVEN CREEKS AND MOUNTAIN HUT CREEK WATER CATCHMENT. PROCLAIMED 4/7/84. POTENTIAL DRINKING WATER FOR EUROA.
DECLARED WATER CATCHMENT: PART OF PLANTATION LIES IN THE UPPER GOULBURN WATER CATCHMENT. PROCLAIMED 19/1/57.
LAKE EILDON CATCHMENT - POTENTIAL DRINKING WATER FOR EILDON, BONNIE DOON. MURRAY RIVER SUPPLIES WATER TO BARMAH, ECHUCA , KERANG, PIANGIL, SWAN HILL, ROBINVALE, MILDURA
THREATENED FISH NOTES - GOULBURN RIVER:Seven Creeks has the only self sustaining population of Trout Cod in Victoria - below Polly McQuinns dam.  Seven Creeks also has a big population of Macquarie Perch. Macquarie Perch are also present at the bottom of King Parrot creek.  Macquarie Perch have disappeared from the Goulburn largely due to dams, flow reduction and sedimentation.  Two Spined Blackfish inhabit the mid to upper reaches of streams north of the Great Divide, whereas River Blackfish inhabit lower reaches of streams north of the Divide.  The Acheron river has populations of Blackfish and Mountain Galaxias/possibly Barred Galaxias also.
Responsible Authority: Strathbogie Shire Council?/Delatite Shire Council
Herbicides Used by Hancock in Pine Plantations - North EastRegion Victoria
| | | | | |
| --- | --- | --- | --- | --- |
| Herbicide | Label Rate max as kg/ha | Used to control | Notes | Application |
| Carfentrazone-Ethyl | 0.036 | | | |
| Clopyralid | 2.55 | Woody Weeds | Highly Toxic/Potential Ground water Contaminant | air or ground |
| Glyphosate | 3.6 | Herbaceous and woody weeds, noxious weeds | | |
| Hexazinone | 4 | Woody Weeds | Ground Water Contaminant | Aerial, ground, spot |
| Metsulfuron-Methyl | 0.06 | Woody Weeds, Noxious Weeds | Potential Ground Water Contaminant | Aerial, ground or spot |
| Triclopyr | 3 | Woody and Noxious Weeds | | Ground, spot, basal bark |
Plantation Catchment: 3 separate plantation areas.                            
a)  Adjoins Seven Creeks
b)  Seven Creeks/Goulburn River
c)  HW of Gerar Creek/Brankeet Creek/Lake Eildon.  Borders HW creek of Seven Creeks
Catchment Managment Authority: Goulburn Broken Catchment Management Authority
Mt Barranhet Controversy (November 2010)

March 2001, looking south to Mt Barranhet (Mt Piper). Obvious non plantation land with high conservation potential. This is allotment 20B Section D Parish of Strathbogie that Hancock as of November 2010 are lobbying Council to change the Planning Scheme from Public Conservation and Resource Zone to Farming Zone.
a) This area is uncleared farmland with 50% covered in bushland, as well as some riparian vegetation which we summised to be on a tributary of Seven Creeks. No sign of plantation establishment at the site. Area should be retired from future plantation activity and allowed to regenerate or allowed to revegetate with indigenous vegetation. All of this plantation lies within the Seven Creeks & Mt Hut Proclaimed Water Supply Catchment (Water for Euroa). This land is located just north of Mt Barranhet (Mount Piper) and is approximately 250ha in size.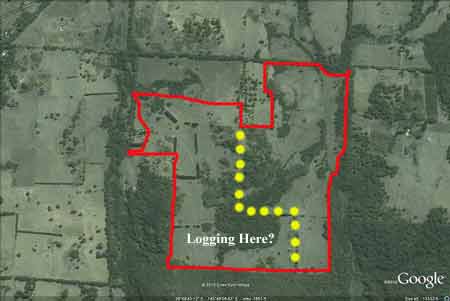 Approximate location for (a). Note extent of native vegetation within this site. It would be far better for Hancock to manage this site as a conservation holding.
b)Pine plantation, just south of Mount Barranhet, some of which was being harvested.Good buffer zones along what we determined to be a trib of Brankeet Creek. Minimal slopes with some small areas of native vegetation at the site. Logging operations made it difficult to get a better look. Did not look at eastern edge of plantation which runs along Seven Creeks -although the map appears to have quite well defined buffer zones.  Also large scale pine clearance taking place on road entering plantation which is not Hancock's operation.Some regeneration of what appeared to be Bluegum on the Hancock site. The most eastern portion of this plantation lies in the Seven Creeks & Mt Hut Proclaimed Water Supply Catchment (Water for Euroa).
c)Most of plantation is pine, however the south west corner of the plantation is a DNRE licence area which is also the tributaries of Gerar Creek. These buffers were quite extensive consisting of good regrowth plus some older boxes and manna gums.Also near the southern fence line is some young regenerating bush on what appeared to be once farmland. High priority area. Almost the entire plantation lies within the Upper Goulburn Proclaimed Water Catchment, with a portion of the plantation also bordering into the Seven Creeks & Mt Hut Proclaimed Water Supply Catchment (Water for Euroa).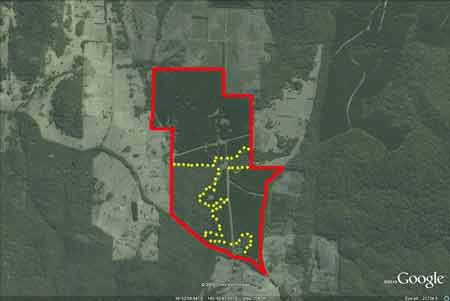 c) Indicating extent of native forest within this 'plantation' area - marked by yellow dots.
Other Notes: Seven Creeks and Mount Hut Creek Catchments (Euroa Water Supply) - Soil Conservation Authority 1984.
"p1 The streams from which the township of Euroa derives its water supply, drain the upper reaches of the Seven Creeks catchment and the Mount Hut Creek Catchment. . . p2 The whole of the catchments are situated within the area of the Strathbogie Plateau, an elevated area formed on the Strathbogie pluton (granite). The emplacement of granite was associated with major volcanic activity (Violet Town Volcanics) during the Upper Devonian periods. The Plateau has a gently rolling land form on which a characteristic rectangular drainage pattern has developed. Land dips from the east (average elevation 650m), to the west (average elevation 500m) where both creeks outfall via an escarpment to the plains, some 200m lower . . .
p7 Soils formed on the granite are sandy in nature and mainly reddish duplex types, weakly bleached friable gradational types or friable reddish gradational types. All have weakly structured subsoils often sandy in nature . . . The northern, eastern and southern ridges of the catchment and adjacent hills form a slightly elevated rim surrounding the central valley of Seven Creeks, thereby creating a moderate rain shadow along the valley. Annual average rainfall varies from 1200mm at the head of the valley to 900mm on the lower country. Light snowfalls occur regularly on the plateau . . .
p8 Predominant timber species were messmate, stringybark, narrow leaf peppermint and broad leaf peppermint associated with red box, long leaf box and Mt swamp gum . . .
p20 Water from the Sevens Creeks is diverted at the Gooram offtake weir for gravity feed directly to the town service basin or alternatively to the Mt Hut reservoir in the adjacent catchment . . . p23 Forestry operations are not expected to have a marked effect on the water quality. Increases in run-off and turbidity during rainfall could be expected with the construction of roads and tracks. However, with the use of appropriate conservation measures during operations and with adequate maintenance of tracks and roads, the deterioration in water quality should be minimised . . ."
Sevens Creek, Euroa - Upstream from Polly Mcquinns Dam - A small, deep stream fowing through open country, sand bed with rock outcrops. Carries Macquarie perch, river blackfish and a few brown trout plus possibly a few rainbow trout. The area around Polly Mcquinns Dam is fishable but is silting badly.
Sevens Creek, Polly Mcquinns Dam to Watchbox Creek - One of the few waters in the State containing a population of the endangered trout cod, with one of the best populations of the species in south-east Australia. Completely closed to angling to protect this fish species.
Gerar Creek, Merton - A small stream that is under-exploited mainly because access is a problem.Tributory of Merton Creek, low water flow and level in summer are not a problem as most of the stream is in Crown Land and well shaded.Contains brown trout to 400g.
Brankeet Creek, Merton - A very small stream that can only support a limited fishery. Low summer water flow and level. Contains small brown trout, rainbow trout average 100g and roach.
The distribution of Trout Cod is more restricted than in the past (Cadwallader &Gooley 1984). They were once widespread in the Murray-Darling system, mostly in the upper reaches (e.g. Mitta Mitta, Ovens, King and Goulburn Rivers), though recorded as far downstream as Mannum in South Australia (Cadwallader &
Backhouse 1983, Cadwallader & Gooley 1984). In Victoria the only known viable population occurs in Seven Creeks, upstream of Euroa between Gooram Falls and Polly McQuinns Weir, and originates from fish translocated from the Goulburn River in 1921 and 1922.
The Department of Conservation and Natural Resources (CNR) and its predecessors have released fish into Koetong, Hughes, Ryans and Buffalo Creeks and the Coliban and Broken Rivers. There are also unconfirmed reports of Trout Cod in a number of waters, including the King, upper Ovens, and lower Goulburn Rivers, and Cutting, Narial, Cudgewa, Morses and Broken Creeks.
Source: A Guide to the Inland Angling Waters of Victoria by BR Tunbridge, PL Rogan, CA Barnham. Department Conservation and Environment. Arthur Rylah Institute for Environmental Research, 123 Brown St, Heidelberg, 3084. (4th ed - 1991)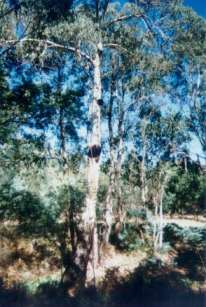 93-60b -c Mar 01: Remnant forest inside DNRE/Hancock licence area. This native forest will most likely be logged.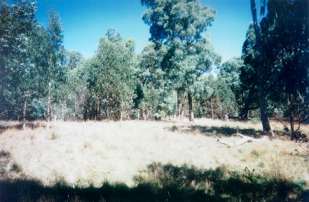 93-60c -c Mar 01: Regenerating forest inside DNRE/Hancock licence area. This native forest will most likely be logged.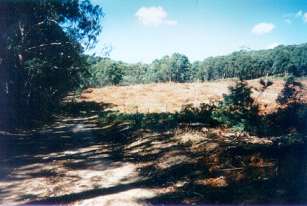 93-60d -b Mar 01: Pine harvesting. Fair buffers on creeks. This plantation adjoins the extremely important Seven Creeks.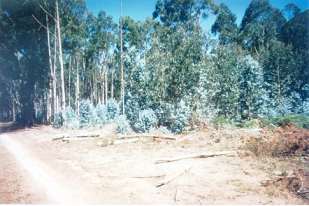 93-60e -b Mar 01: Planted bluegum?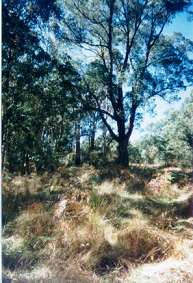 93-60f -c Mar 01: Regenerating forest inside DNRE/Hancock licence area. This native forest will most likely be logged.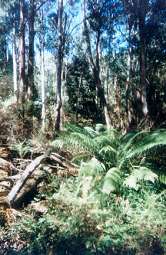 93-60g -c Mar 01: Regenerating forest inside DNRE/Hancock licence area. This native forest will most likely be logged. Gully feeds into Gear Creek.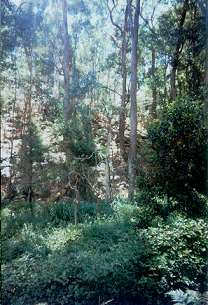 93-60h -c Mar 01: Regenerating forest inside DNRE/Hancock licence area. This native forest will most likely be logged. Note blackberries. Gully feeds into Gear Creek.