Region: Ballarat

Legal Number: LEGL/93-35

Plantation: Douglas

Conservation Priority: High

Approximate Size: 660ha.




93-35a Feb 01: Inside temporary stream feeding into Wimmera River cluttered with logging debris.
Plantation within AKD Softwoods area of supply.
Plantation within SPE Exports (Geelong) area of supply.
The Nationally Threatened Temperate Grassland & Grassy Eucalypt Woodland Ecological Community may occur in this plantation or in close proximity.
More Information:
http://www.environment.gov.au/epbc/publications/pubs/grasslands-victoria.pdf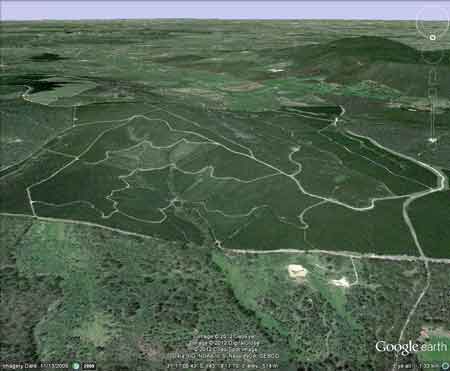 Looking south into headwaters of Wimmera River system.
Click here for map of Hancocks' Ballarat region plantations.
Most North flowing streams from this plantation lies in the Declared Water Catchment of Wimmera Systems. Proclaimed 4/9/59.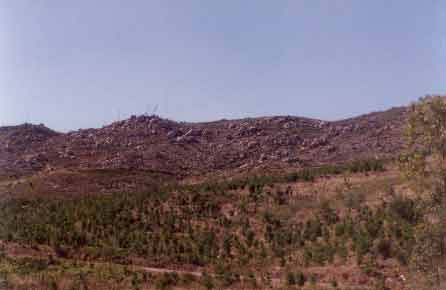 April 04: Fiery Creek catchment ridgeline. Note rocky outcrops which were dominated by pine plantations and have recently been logged.
Click here for map of Wimmera Declared Water Catchments.
This plantation was very likely to be aerially sprayed with 2,4,5-T between 1968 and 1977. The Dioxin TCDD may still exist in soil in this plantation. For more historical data on 2,4,5-T click here. For more information concerning the continuing health crisis concerning 2,4,5-T please forward to here.
Herbicides Used by Hancock in Pine Plantations - Ballarat Region Victoria
| | | | | |
| --- | --- | --- | --- | --- |
| Herbicide | Label Rate max as kg/ha | Used to control | Notes | Application |
| Clopyralid | 2.55 | Woody Weeds | Highly Toxic/Potential Ground water Contaminant | air or ground |
| Glufosinate Ammonium | 1 | Woody Weeds | | |
| Glyphosate | 3.6 | Herbaceous and woody weeds, noxious weeds | | |
| Hexazinone | 4 | Woody Weeds | Ground Water Contaminant | Aerial, ground, spot |
| Metsulfuron-Methyl | 0.06 | Woody Weeds, Noxious Weeds | Potential Ground Water Contaminant | Aerial, ground or spot |
| Triclopyr | 3 | Woody and Noxious Weeds | | Ground, spot, basal bark |
THREATENED FISH NOTES - WIMMERA RIVER: The Wimmera has a good assemblage of native species such as Blackfish and Yellow Belly and also has the best population of Catfish in Victoria - which is extremely significant and registered on the Flora and Fauna Guarantee Act.
For more information on effects of sedimentation on waterways, please go to Impacts on Fish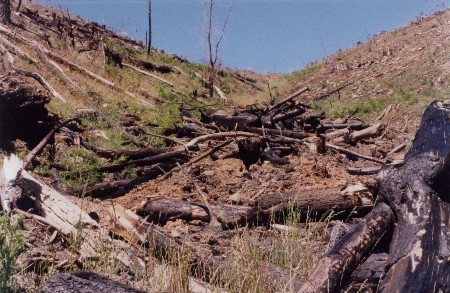 Feb 03: Wimmera River System Headwaters. Logging debris bulldozed into headwater gullies at Lunatic Gully and torched. This is a totally unacceptable practice. Lunatic Gully feeds into Cotty Creek which merges Tom the Tailor Creek and then with the Wimmera River about 8km downstream from where this photo was taken.
Responsible Authority: Pyrenees Shire Council
Plantation Catchment: HW of a couple of tributaries of the north flowing Wimmera River. Headwaters and all major tributaries of Lunatic Gully/Cotty Creek/Tom the Tailor Creek/Wimmera River. Also several tributaries of the south flowing Fiery Creek/Lake Bolac/Salt Creek/Hopkins River. Fiery Creek also includes a swamp/wetland in the south west portion of the plantation.
Catchment Managment Authority: Wimmera Catchment Management Authority/Glenelg-Hopkins Catchment Management Authority
Hancock Watch Site visit Feb 01: Went into eastern portion of this plantation. Due to poor maps did not continue. Looks like all pine, however further investigation is warranted. Site visit Feb 01: Drove into the western aspect of this plantation from Raglan. Drove past the divide into the Wimmera Catchment. HW of trib recently harvested. Saw very bad roading on northern most road of plantation. Also checked out main tributary draining north into Wimmera. From evidence it appeared that there are minimal buffers in place. Some of the buffers are pine, some are native vegetation. Slopes quite steep. Also saw evidence of pines cut into buffer,drainage strips. Drove out of Wimmera catchment into Fiery Creek catchment to the south. Recent establishment of pines and recent harvesting of pines near portion of Fiery Creek which flows through plantation. Minimal buffer zones on tribs entering Fiery Creek with pine established in them. Fiery Creek has some buffers of reeds and such but buffers are slight.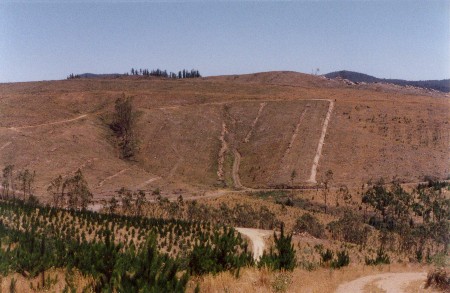 Feb 03: Recent logging in the headwaters of Lunatic Gully in the Wimmera River system. In no way can such a land use ever claim to be sustainable. The new growing plantation will consume a large amount of water - especially in the headwaters of a river as important and stressed as the Wimmera. Hancock will most likely aerially spray this plantation with Hexazinone. This could also impact negatively on the biodiversity of the Wimmera River. Click here for further information.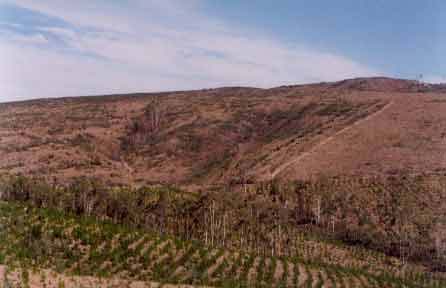 April 04: Lunatic Gully slowly regenerating. The green tinge in the background is naturally regenerating Silver Wattle. These species are usually killed by plantation companies by aerial application of Hexazinone. Hancock Watch recommends that the steeper areas of the gully should be allowed to regenerate back to native forests - not plantation.
Hancock Watch Site Visit Feb 03: The Wimmera Catchment was heavily logged by Hancock for pine over the past year. The extent of logging was huge. We were very shocked to realise that plantations had been established in the very important recharge areas of the catchment. Logging standards were dubious and many examples of pine debris being bulldozed into gully lines and torched were observed. Haulage tracks had been cut into the headwaters of Lunatic Gully and a lack of buffers were observed. It appeared that a very poor logging operation had been conducted in this area in the past 12 months. No remedial vegetation had been planted in the buffer strips meaning that this whole sorry process will be repeated in 20 years or so when the next rotation occurs.
For other photos also see: March 03 updates
Recent studies of the Wimmera River have discovered that the river is subject to high salinity at low water and during these flow conditions "slugs" of saline water in larger pools.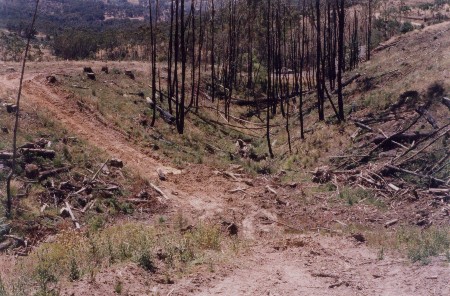 Feb 03: The headwaters of the Lunatic Gully in the proclaimed Wimmera River water catchment. Logging tracks straight through the River. Lack of buffer zone apparent. This area was logged some months ago.
Fiery Creek: Flows through farmland to Lake Bolac, gravel and mud bottom. Carries some rainbow trout and brown trout, redfin and eels.
Source: A Guide to the Inland Angling Waters of Victoria by BR Tunbridge, PL Rogan, CA Barnham. Department Conservation and Environment. Arthur Rylah Institute for Environmental Research, 123 Brown St, Heidelberg, 3084. (4th ed - 1991)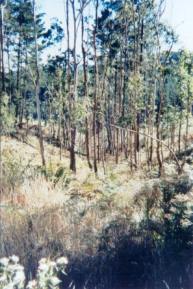 93-35b Feb 01: Drainage line for (Lunatic Gully) Wimmera River with very small stand of native vegetation. About 250 ha of this plantation lies in the Wimmera River catchment.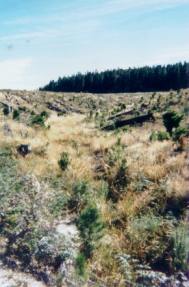 93-35c Feb 01: Fiery Creek drainage line. Pines planted inside the drainage line offering no long term protection to this drainage line.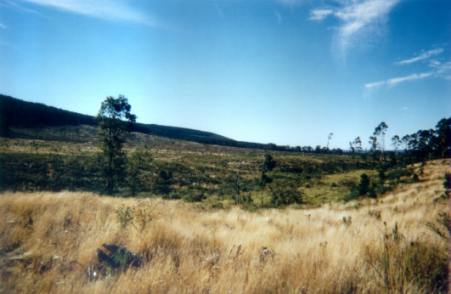 93-35f: Feb 01: Fiery Creek 'buffer zone'. Fiery Creek flows south and is not in the Wimmera or Trawalla Creek Proclaimed water catchments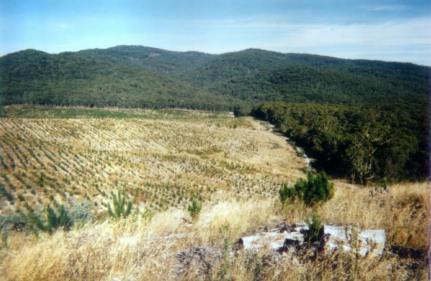 93-35g: Feb 01: View looking west near the headwaters of the Wimmera River. Headwaters of river catchments are very poor locations for plantations as the plantations tend to decrease water yield further down the catchment.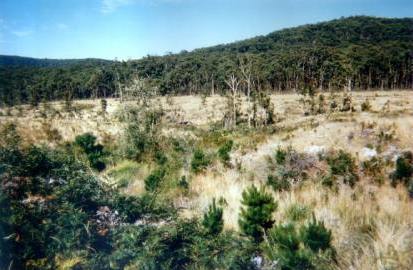 93-35h: Feb 01: A tributary of Fiery Creek replanted with pine.
HOME