Region: Ballarat

Legal Number: LEGL/93-24

Plantation: Castlemaine

Plantation is located approximately 2km north east of the town of Castlemaine and represents a major fire hazard.

Conservation Priority: High

Plantation within AKD Softwoods area of supply.




93-24a Feb 01: Southern boundary track. Photo doesn't pick up steepness of the track, but this track is one of the worst examples found.
February 12 2013: Castlemaine Pines Fire Causes Concern
February 18 2013: Castlemaine Plantation a High Fire Risk Says Research
Castlemaine Goldfields Limited currently conducting Gold Exploration in this plantation.
"We have carried out a conceptual study into locating a portal and plant nestled within the plantation. We are comfortable with permitting issues at this time in this area that is devoid of any park values and buffered away from housing."
Plantation within SPE Exports (Geelong) area of supply.
Responsible Authority: Mount Alexander Shire Council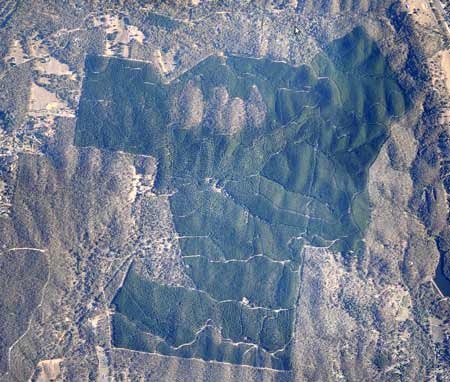 Image of plantation early 2012: Image Source Nearmap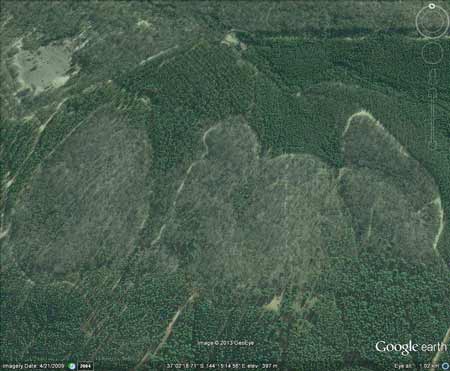 Over 20ha of native forest lies within this plantation boundary. The plantation is also surrounded by thousands of pine wildings.
Click here for map of Hancocks' Ballarat region plantations.
This plantation was very likely to be aerially sprayed with 2,4,5-T between 1968 and 1977. The Dioxin TCDD may still exist in soil in this plantation. For more historical data on 2,4,5-T click here. For more information concerning the continuing health crisis concerning 2,4,5-T please forward to here.
Herbicides Used by Hancock in Pine Plantations - Ballarat Region Victoria
| | | | | |
| --- | --- | --- | --- | --- |
| Herbicide | Label Rate max as kg/ha | Used to control | Notes | Application |
| Clopyralid | 2.55 | Woody Weeds | Highly Toxic/Potential Ground water Contaminant | air or ground |
| Glufosinate Ammonium | 1 | Woody Weeds | | |
| Glyphosate | 3.6 | Herbaceous and woody weeds, noxious weeds | | |
| Hexazinone | 4 | Woody Weeds | Ground Water Contaminant | Aerial, ground, spot |
| Metsulfuron-Methyl | 0.06 | Woody Weeds, Noxious Weeds | Potential Ground Water Contaminant | Aerial, ground or spot |
| Triclopyr | 3 | Woody and Noxious Weeds | | Ground, spot, basal bark |
Declared Water Catchment: Plantation located in Cairn Curran Proclaimed Water Catchment. Proclaimed 30/6/62.
Click here for map of North Central Water Supply Catchments
Plantation Catchment: Numerous creeks flow through Castlemaine. Forest Creek/Loddon River?

Catchment Managment Authority: North Central Catchment Management Authority.
Ex Gold Mine Area: It is highly likely that Coppers Gold Mine was located on the northern aspect of this plantation in the 19th century. Numerous Reefs included; Nimrod, Greater Ox, Fiddlers, Magenta, Bismark, Sebastopol, Welcome, Napiers. Cappers, Shellback, Specimen, Tongues, Peelers Flat etc

Hancock Watch Site visit Feb 01: Drove into area from west - Castlemaine side. Drove up main logging road to top of plantation. Saw wildings growing outside of plantation. Roads appeared to be OK. Some recent thinning had taken place. Drove on logging road that headed in a southerly direction. Came to plantation boundary road. Extreme slopes and very poor roading stretching the entire length of the south face of the plantation. Exposed bedrock. Massive erosion potential. Drove back to centre of plantation took a logging track that headed north. Came upon quite a large wetland/dam probably denying water for the stream downstream - which was bone dry. Saw some erosion problems along gully and road line. Boundary road needs to be shut down in places.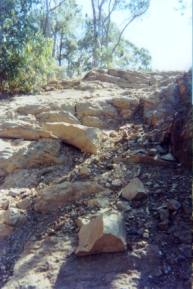 93-24b Feb 01: Close up of southern boundary track which breaches the Code of Forest Practices.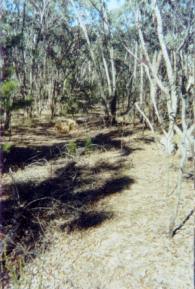 93-24c Feb 01: Pine wildings emerging in native bush east of the plantation.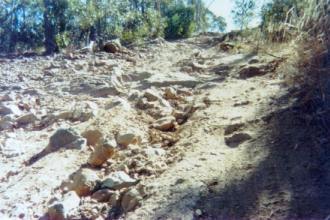 93-24d Feb 01: Close up of southern boundary track.
93-24e Feb 01: Wildings in native bush to the east of the plantation.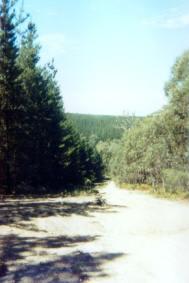 93-24f Feb 01: Plantation boundary eastern edge.
HOME